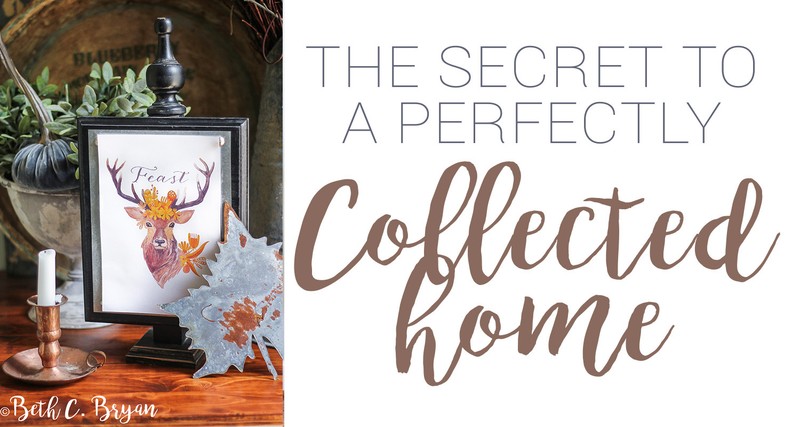 I consider myself to be a collector.
And no, I'm not talking about salt and pepper shakers from the local truck stop. I collect one-of-a-kind vintage goods that cannot be found in any retail store. I like to call my style Flea Market Fancy. This sounds way better than calling myself a hoarder, which is probably more accurate.

The things I search for do not have a "Made in China" sticker on the bottom. My home is filled with treasures that I've found while digging through estate sales and dusty old barns filled with junk on the side of the road. I love wandering around flea market bins, searching for unique things that will make my house a unique home. I especially enjoy finding the oldest, dirtiest pieces with a juicy story attached to them.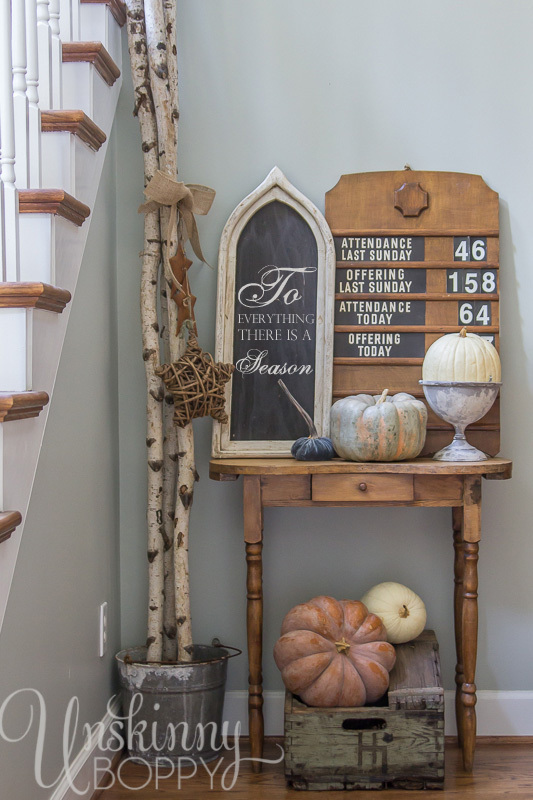 Add a caption
An old church attendance sign surrounded by fall decor and a gothic chalkboard- a perfectly collected vintage vignette.
Thankfully, I married a guy who shares this exact same passion, and we like to go searching for treasures together. He is quite a romantic soul who buys me the greatest gifts, like these glass apothecary jars that were found in an old pharmacy that had burned to the ground in Mississippi. The rest of the store was destroyed, but these hand painted labels survived, preserved behind glass covers. For us, it's as much about the history of an item as the actual goods.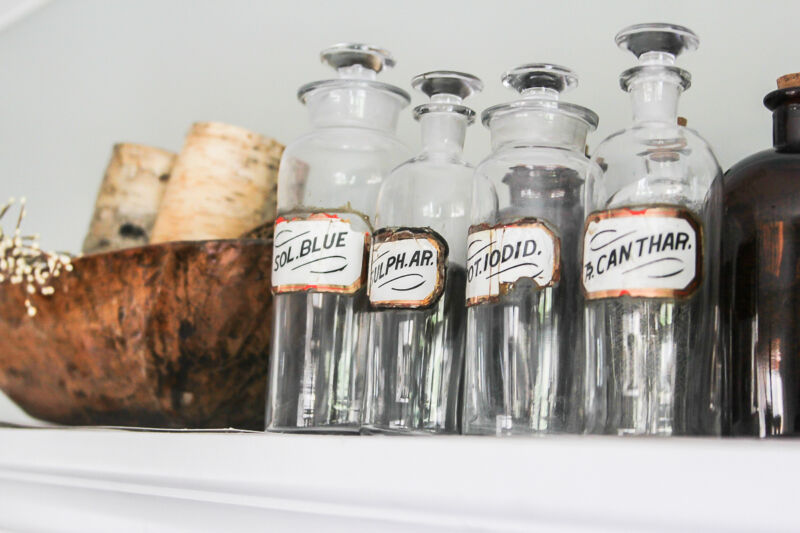 Add a caption
Antique Glass Apothecary Jars with handpainted labels
As a blogger, I am often asked where I find items in my home.
People want to recreate vignettes that they see on my blog inside their own homes. This is a problem, because too often I come up empty-handed with information for them to purchase. I have so many rare things that were not found in nationwide retail stores, but salvaged from the back shelf of an old flea market. I cannot send them a quick link to purchase the vintage stuff arranged on my end tables.
This is why I started sending readers to eBay. Around my blog, "eBay it!" has become synonymous with "Google it!". There is no better place on earth to find unique goods than eBay. If I thought those glass apothecary jars in the photo were one-of-a-kind, I would be wrong.
A quick search for the term
"Antique Apothecary Pharmacy Glass Jar Stopper"
gives me quite a few choices that are very similar to those sitting on top of my office hutch. Maybe they aren't so rare after all...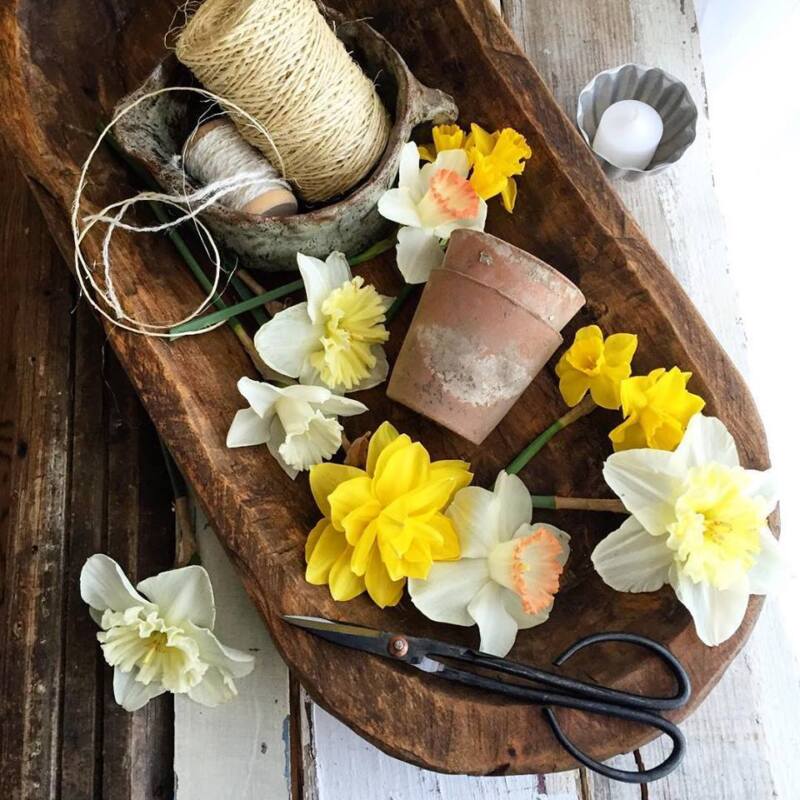 Add a caption
Collections of vintage goods look great, no matter the occasion. As long as you love it, display it.
Spilling my secrets.
As a Master Collector, I want to share some of my secrets for scoring the best one-of-a-kind items to display in your collected home. With millions of listings changing every day, searching for items on eBay can sometimes feel like finding a needle in a haystack. But never fear! With just a few small shifts in your search results, you'll be racking up the perfect vintage goods.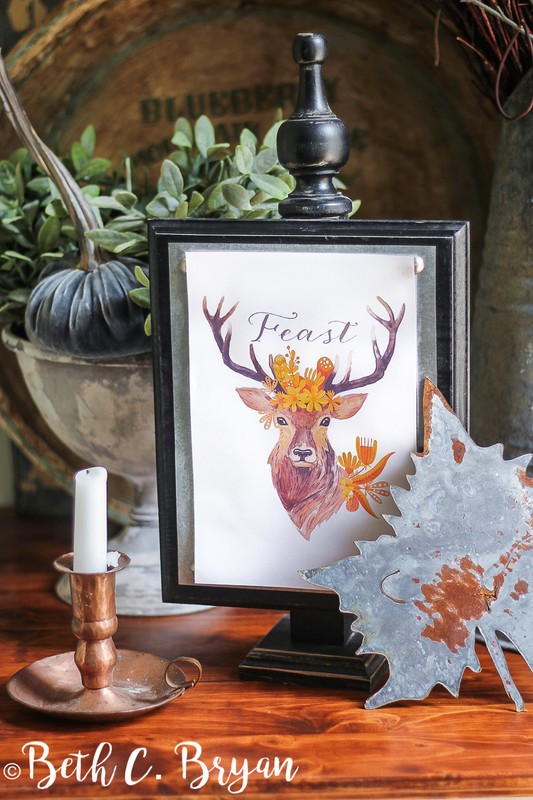 Add a caption
'Feast' deer printable with galvanized maple leaf and a vintage copper candlestick holder.
1. Be very specific. (Like, extremely.)
Last year I fell in love with all things copper. I knew that I wanted a very old copper candle holder- something like Laura Ingalls could have carried to her attic bedroom. Granted, hers would probably have been made out of tin, but I wanted copper. Rather than searching for a generic "copper candle holder", I used very specific search terms such as "
Vintage Primitive Copper Finger Loop Candle Holder
". This search produced 0 results, but eBay is smart enough to know what I want, and shows me a long list of related items. Within those related items? The perfect copper candle holder for my fall decor.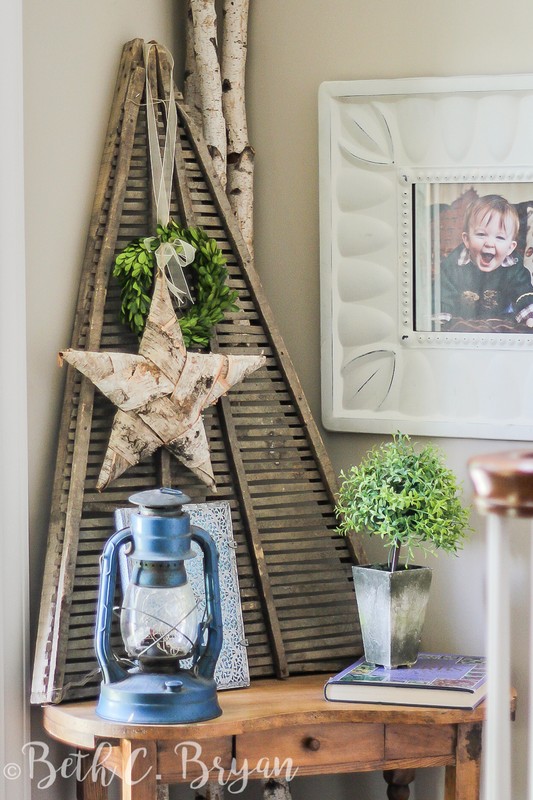 Add a caption
Vintage French Herb Drying Rack with Antique Blue Dietz Lantern
2. Brands Matter (Even Vintage Brands)
I found this old blue lantern at an estate sale that I stumbled upon while riding the back roads of Alabama one late fall afternoon. If I type in "blue lantern" on eBay, I get 24,146 search results, most of them involving a Superhero or circuit boards. But, when I type in "
Dietz Blue Lantern
" I get 142 results featuring the exact same lantern that is sitting in my foyer right now. I know to search "Dietz" because it is stamped right onto the metal base of the lantern. If you know the exact brand you are searching for, that makes things so much simpler!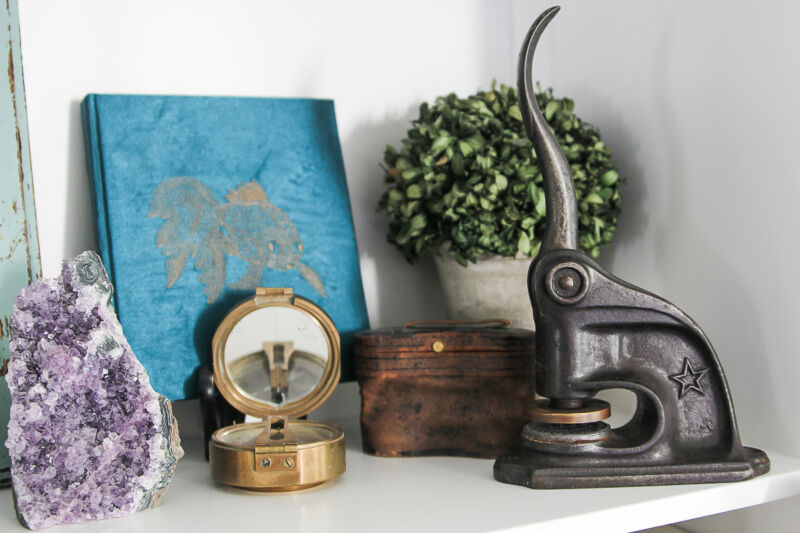 Add a caption
As seen in my collected home: Vintage Embossing Seal, Brass Surveyors Compass, Old Binoculars and an amethyst geode.
3. Don't be too picky.
Sometimes it doesn't matter if you find an exact match to an item as long as you can get a close resemblance. The vintage embosser in the photo above stamps a seal that says "Majestic Land Company, Birmingham, Alabama". But, you wouldn't know that just by looking at it. There are quite a few really cool
vintage seal embossers
on eBay, so my readers can get one that is uniquely their own instead of one exactly like mine.
Same goes for the compass. There are over 9,000 listings for "
brass compass
", many of which look just like mine and many that don't. If you're not too picky, you can surely find something you like out of 9,000 brass compasses, right? If you ARE picky, then a quick search for "
brass surveyor compass
" reveals 29 listings that are more similar to mine.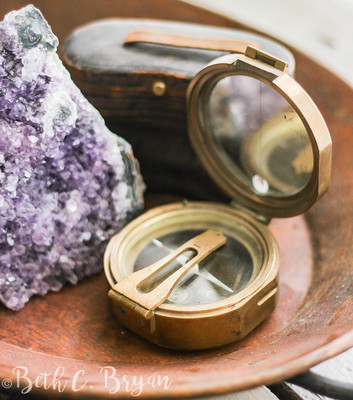 Add a caption
Brass Surveyor Compass- the perfect engagement ring box.
Still, I wouldn't trade a single one of those 29 others for the brass compass that is sitting on my shelf. That one truly is one-of-a-kind, because it is the compass that my husband used to hold my engagement ring when he got down on one knee and asked me to marry him so many years ago. We were out in the middle of the lake, fishing poles in hand, when he reached into his bag and pulled out this compass. He gave a flowery speech about being my true north and always finding our way back to each other, but my eyes were focused on the big ol' diamond that sat glittering inside.
I told y'all he was a romantic soul. We are a match made in vintage-lovers heaven.
If you are a vintage lover seeking treasure, you came to the right place.
Now,
go eBay it
!