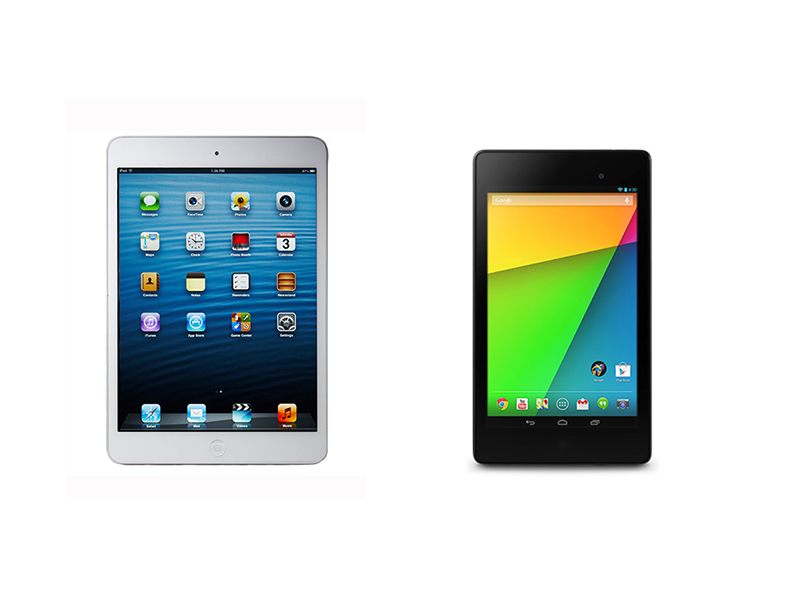 Mobile devices are quickly moving from fun gadgets to essential products. A large number of people are purchasing smart devices like the Nexus 7 or iPad Mini. These gadgets do much more than simply play music. Both the Nexus 7 and iPad Mini have a number of capabilities that are sure to make most owners' lives easier.
Tablet computers of this calibre lie somewhere between smartphones and laptops in terms of portability and function. They both come handy with a number of applications that can make anyone's life significantly easier. For example, they both contain applications for e-book reading and GPS navigation. Yet the Nexus 7 and iPad mini are different in a number of ways.
However, buyers can obtain these products through a number of means. Plenty of brick and mortar stores sell these and other types of smartphones, but purchasing one of these products through eBay can potentially save the buyer a good deal of money at no sacrifice of quality.


The Nexus 7
This miniature computer is capable of doing just about any casual tasks one needs to accomplish with a regular PC. It is also surprisingly capable of some moderately demanding tasks as well. It has a 7-inch screen, which is roughly half the size of most laptops but significantly larger than most smartphone screens. The Nexus 7 is capable of storing up to 32 GB of data, meaning that entire libraries worth of books are capable of being stored in this small device. This is perfect if the main reason for purchasing this device is to be able to read e-books on the go.
Battery Life
The battery life that goes with the Nexus 7 is impressive. This little product can play up to 8 hours of HD video, browse the web for 10 hours, and last for 300 hours in standby mode. The engineers at ASUS put a tremendous amount of effort and care into the making of this product. The processor contains four main cores, and a fifth core that only turns on when the device requires minimal processing. This is a small part of what gives the Nexus 7 its battery life, and one of the many technological innovations that put this product above the competitors.
The Android Operating System
The Nexus 7 comes equipped with the Android 4.2 operating system. This is essentially the tablet or portable alternative to Windows. It is capable of many of the same activities one is used to with a conventional PC. Files can be stored in folders. Commonly used programs, applications, and videos can be stored in a main screen in icon form so they are more easily accessible.
This just scratches the surface of what can be accomplished with Android 4.2 operating system. The platform is capable of going much further than simply storing files and icons. Android 4.2 comes with a feature called "Gesture Typing." This allows the user to hold down certain keys as they type, making the experience more accurate. As soon as even one letter is typed, a number of word suggestions pop up on the screen. These suggestions are primarily based on the context of the sentence. These suggestions become more accurate as more words are put into the sentence. The task of typing long emails or blocks of text is made much easier once the Gesture Typing feature is mastered.
Android 4.2 also allows users to share whatever is on their screen with another user by simply tapping the two devices together. It makes more sense to transfer an image or file to someone who happens to be sitting next to you through this method rather than going through the trouble to email them.
Google Play is also included in Android 4.2. This is an application that allows you to experience an almost infinite number of applications and useful tools. Millions of songs can be downloaded through Google Play, and they also have the world's largest library of e-books. A number of other applications, such as games, can be downloaded as well. Some of these are fun and frivolous, while others, such as the GPS navigation programs, are extremely useful and practical. All in all, the Nexus 7 offers a number of options for casual and hardcore fans of portable technology.

The iPad Mini
The iPad mini is exactly what it sounds like: a slightly smaller iPad which is, in essence, a fully functional tablet. It still has many of the features that iPad fans are used to.
The Visual Aspect
This device has a slightly larger screen at 7.9 inches, but it is still capable of storing up to 32 GB of data. The iPad mini is capable of taking 1080p high definition photographs. A camera faces the user for conference calls as well as the usual camera facing outward, allowing one to take a picture of what they're seeing
This translates very well to the FaceTime feature, which is a form of video calling unique to Apple products. FaceTime allows the user to video chat with anyone who has a similar device and is connected through a cellular plan or Wi-Fi system. Once connected, users can show each other live videos of what is front of the tablet, and then switch the perspective to their face with the push of a button. Apple prides itself on creating products that are easy and fun to use.
The Benefits of Siri
Siri is a feature unique to Apple products. It is a voice-activated search engine that is surprisingly capable of understanding what the user is conveying. It can be argued that this feature is really what sets portable Apple products apart from the rest as it is both incredibly intricate yet surprisingly easy to use. Just ask Siri about anything, and it does not stop responding until it provides a suitable answer.
Many people use Siri to ask about nearby restaurants, but it is also capable of communicating with other people in the user's contact list. For example, an iPad mini user can activate Siri and ask a question like "Let my brother know I'll be in town in an hour." and the task is done. Although it is not perfect, it opens up the product for a number of people who are otherwise confused by newer technology.

Comparison of the Nexus 7 and the iPad Mini
Is it possible to tell which product is better than the other? The answer is both yes and no. It mainly depends on why the device is being purchased. The Nexus 7 is great for those who are a bit more familiar with the technology while the iPad Mini is perfect for anyone looking for great functionality and aesthetic. The following chart sheds some light on some of the main differences.

| Product Name | Screen Size | Notable Features | Battery Life | Price |
| --- | --- | --- | --- | --- |
| Nexus 7 | 7 inches | Millions of downloadable options via Google Play | 8 hours of HD video, 10 hours of web browsing, and 300 hours in standby mode | $$ |
| iPad Mini | 7.9 inches | Easy to use, Siri allows users to ask a number questions and produces fast results | Up to 10 hours on a single charge | $$$$$ |

The price is likely going to be decisive factor for many who are on the fence about these products. The iPad mini is significantly more expensive than the Nexus 7, but they are very similar products. The iPad mini has a few incredible features and a slightly larger screen, and those who are very new to devices of this nature may benefit from it. However, anyone else on the fence many not gain much value from purchasing the iPad Mini over the Nexus 7.

How to Purchase a Nexus 7 or iPad Mini on eBay
Buying smartphones from eBay is simply and does not require a long term commitment to any service provider plan. Just go to any eBay page and type the name of the product in the search bar to buy one of these devices. The results are more precise if you type in more product details along with the name. For example, typing in "Nexus 7 32 GB" provides a more precise result than simply typing "Nexus 7" into the search bar. Most searches yield a large listing of results, all of which can be narrowed down by clicking one of the many optional filters such as price range, condition, and location of seller.

Conclusion
Both the Nexus 7 and iPad Mini are capable of things that seemed unimaginable just a few years ago. They allow people to keep in touch with one another anywhere at any time. The Nexus 7 is great for those who have a more capable grasp on the technology and are less concerned with ease of use. The iPad Mini makes a great gift for anyone new to technology and the features contained within are certainly nothing to scoff at.
The price difference is the biggest issue here, but utilizing eBay could dramatically reduce that difference. Whether it is to play games, read e-books, keep up on current events, or contact friends and loved ones, both of these products accomplish those goals in a similar fashion.