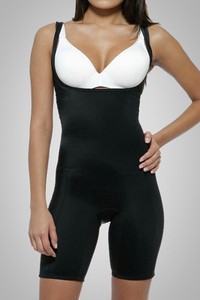 Many women shy away from shapewear because they have had bad experiences with it in the past, or perhaps no experience at all because they shudder to even think of the girdles and corsets of yesteryear. The truth is that modern shapewear is actually quite comfortable and gives clothes a sleek look that can be attained no other way. Body shapers allow women to wear a wider range of fashions than they might normally feel confident to wear with their body type. Avoiding supportive foundation garments limits what a woman can wear.
In order to find the most comfortable shapewear, one should first become acquainted with the main types of modern shapers and the levels of support available to zone in on exactly the right products. Next, detailed fitting tips for each type of foundation as well as features to look for will help every woman get the right size and level of comfort for her. Specific tips on trying shapewear on assist the buyer through the shopping process. Finally, buying guidelines for shapewear help women get started on the road to a newer, sleeker look.

Types of Shapewear
One of the keys to getting comfortable shapewear is buying the right item for one's figure concerns. Wearing more control than is necessary will result in discomfort, or at least dissatisfaction. The five main types of shapewear garments are explained in the table below.

| Shapewear Type | Description |
| --- | --- |
| Bodysuit | Also called all-in-ones, bodysuits can provide all-over slimming to the bust, back, waist, abdomen, hips, buttocks, and thighs, depending on the design |
| Brief | Control panties or briefs look like brief-cut underpants and help to slim the abdomen, hips, and buttocks; may shape the waist if cut high enough and the thigh if the legs are elongated, like bike shorts or leggings |
| Shaping top | Shaping tops usually look like camisoles, either with a built-in bra or cut low to accommodate a woman's regular bra; these items work to shape the bust, back, waist, and sometimes abdomen (depending on the top's length) |
| Slip shaper | A slip shaper looks like an ordinary half slip but gives extra control to the abdomen, hips, buttocks, and thighs |
| Waist cincher | Most waist cinchers look like wide belts that fasten around the midsection; these items help support the lower back, waist, and abdomen |

Levels of Shapewear Support
Another aspect of comfort in shapewear is choosing the right level of support for one's specific figure and preferences. A woman who buys a firm control brief may be unhappy and uncomfortable if she was really just looking for something to smooth her out and control jiggling. The following table indicates the levels of support available in most shapewear.

| Control, Support, or Compression Level | Description |
| --- | --- |
| Light | Light control shapewear has just a touch of spandex to smooth out cellulite and prevent jiggling during movement |
| Moderate | A shapewear garment that provides moderate control may have more spandex and will also feature reinforced panels where the fabric is layered for extra strength and support |
| Firm | Shapewear with firm control is popular because most women who go to the trouble of wearing it want a significant improvement in their appearance; firm support involves very rigid fabrics and seaming |
| Extra firm | Extra firm support features rigid fabric, reinforced panels, seams, and sometimes boning |

Shapewear Fitting Tips
Most shapewear that covers the waist, abdomen, or bottom is sized like clothing: S, M, L, XL, and so on. Some shaping tops and bodysuits are sized by bra sizes to fit the breasts correctly, while others go by the clothing sizing if the chest area is cut out to accommodate a separate bra. The shaper size should be equivalent to the regular current clothing or bra size. A shaper purchased one size larger for comfort will not only lack proper support but may bunch, slip, or twist throughout the day. A shaper purchased one size smaller in the hopes of gaining more support will only push the body up and over the top of the shapewear, much like the "muffin top" effect created by low-rise jeans. The idea is compress the tissue, not redistribute it. Following is more information on each of the five main types of shaping garments.
Bodysuits
One of the most important factors in bodysuit comfort is the torso length. A bodysuit that is too short through the torso will, just like a too-short one-piece swimsuit, dig into the shoulders and crotch and ride up in the buttock area. This is not a feeling any woman wants to experience, no matter how sleek the results. A bodysuit that is too long will result in a droopy crotch area or slipping straps. Too-small shapers will be not only almost impossible to put on but extremely uncomfortable and restrictive and can cut off circulation. An all-in-one shaper that is too large is simply not worth wearing, as it does not provide the desired slimming effect.
Briefs
Control briefs should be as comfortable as regular brief underwear but feel a little bit snugger. Many women like the secure feeling of a light control panty, as it tends to minimize movement of abdominal fat. Like underpants, a shaping brief should fit well without the waistband rolling over or digging in and creating an unnatural indentation or line around the waist. Any cutting or digging is an indication that the item is too small. Again, an overly large brief will shift uncomfortably and not provide the desired level of support.
Shaping Tops
Top-heavy or apple-shaped women appreciate shaping tops, which give a sleeker look to the torso. Tops that include a bra should obviously match one's regular bra size, although some adjustments may need to be made when shopping in different brands. (A DD cup from one company may be labeled an E or F by another company, not to mention the fact that each company cuts their sizes slightly differently.) Keep in mind that not everyone who wears the same size bra has the same size body in general, so if one top does not fit well, do not be discouraged; simply move on to another design or brand.
Other top shapers include stretchy tanks that are worn over a woman's bra as well as camisoles that are cut high in the back to smooth out bulges but low in the front to allow a bra to be worn. These are normally sized by shirt sizes and are a bit easier to fit.
Slip Shapers
Slip shapers are particularly good for wearing under clingy knit skirts and dresses but are perfect underneath all skirts and dresses. Again, the typical letter sizing is used most often for these garments. Like briefs, the waistband should fit just right without digging in and causing a roll around the midsection. The bottom hem should not cut into the flesh of the thighs but should instead skim over the hips and upper legs.
Waist Cinchers
Most waist cinchers fasten with hooks and eyes or zippers, so they are sometimes easier to get on than other types of shapers that pull on. These items work to create the appearance of an hourglass shape by cinching the waist. Just be sure not to get one that is too tight; otherwise, the tissue will be redistributed upward and downward in an unattractive manner. Be sure that the cincher is wide (long) enough to prevent bulges at the edges.

Features to Look for in Shapewear
When it comes to selecting the most comfortable shapewear, there are a few things to keep in mind when shopping. Advanced technologies are constantly being developed to make shapewear more comfortable and more effective.
Spandex
Lycra spandex revolutionized the undergarment and foundation industry by allowing materials to stretch. Spandex replaced rigid "boning" (which is now usually made of plastic) in all but the firmest compression garments.
Crotch Closures
Most shapers that cover the bottom half feature a crotch with hooks and eyes, snaps, or Velcro closures that can be unfastened to make using the restroom much easier. Having to remove shapewear and put it back on is not only inconvenient but can result in discomfort from hurrying and not having the garment placed correctly on the body.
Silicone Edges
Many foundation garments now feature silicone edges to keep the items in place. For example, silicone along the bottom hem of a thigh shaper keeps the legs from sliding or rolling up. This makes the item more comfortable to wear because it is more likely to stay in place.
Separates
Very tall or very short women may have a hard time getting the right fit in a longline shaper or bodysuit, because their torso lengths differ greatly. The availability of separates makes it much easier to get a custom fit all over.
Seams
Strong seams in foundation garments have replaced much of the need for boning. Just as a seamed bra is generally more supportive than a seamless bra, seams in foundation garments provide extra strength and reinforcement while allowing certain areas to provide stronger support than others.
Adjustable or Stretch Straps
Tops or bodysuits with stretch straps are more comfortable in the shoulder area and allow for easier movement. Adjustable straps give a personalized fit and can make a garment more comfortable for taller or shorter women.

How to Try on Shapewear
Whether shapewear is purchased in a store or online, it must ultimately be tried on to determine whether or not it fits. Always try shapewear on over undergarments for sanitary reasons so that the item can be returned if necessary. (Check the seller's return policy carefully for rules on shapewear, as some will not accept any returns on intimates and undergarments.) To put on shapewear, gather it in the hands like pantyhose and follow the tips below.
For shaping bodysuits, briefs, and slips, step into the garment one leg at a time.
Slowly pull the shaper up to where it should end on the body. A bodysuit with thigh shaping may come down to just above the knee, whereas a slip might stop mid-thigh and a brief ends at the leg crease.
Holding the entire garment scrunched up in the hand, slowly pull it up while releasing the fabric.
Be sure that the crotch of the garment is where it should be.
Continue until the shaper is fully in place.
Smooth the shaper and check the back in a full-length mirror.
Go through a range of movements to assess comfort and size: sit down, bend forward and sideways from the waist, reach up with the arms, and squat down.
Put street clothes on over the shaper to see the difference the shaper makes. Go through the same movements in clothing to be sure that there is no restriction or discomfort, such as pinching.
Once these steps have been followed, check to be sure the garment is not too small or too large by following these tips:
Shapewear Is Too Small If
It digs in anywhere: shoulders, waist, crotch, thighs
Rolls of flesh are visible over the top of the shaper or beneath the bottom hem
There is any pinching or cutting feeling
Shapewear Is Too Large If
Wrinkles or rolls are visible in the material
The shaper does not lie flat against the body
The garment gets twisted around the body
Where to Buy Shapewear
The wearing of shapewear was fairly common and even expected during the early and middle 20th century but went out of vogue during the feminist freedom of the '70s, when even bras were burned in protest. While bras did not stay off for long, restrictive girdles and other such undergarments remained unpopular for some time. Shapewear is once again popular and available in most department stores and even discount stores. Stores that specialize in lingerie and foundation garments usually have the best selection and the widest range of sizes available.

How to Buy Comfortable Shapewear on eBay
eBay gives you the opportunity to browse through thousands of shapewear options and find the most comfortable options, all from the privacy of your own home. Simply visit the Fashion portal and navigate to Women's Clothing. From there, select Intimates and Sleep and then Shapewear. Then select one or more of the five styles: bodysuits, briefs, shaping tops, slip shapers, and waist cinchers. Choices can be narrowed down by brand, color, and even price range.

Conclusion
The benefits of wearing shapewear are so great that common misconceptions about its being "uncomfortable" keep many women from looking their best on a daily basis. Remember that selecting only the garments necessary for the "problem" areas will make the wearer most comfortable; having too much control or control where it is not wanted or needed will undo any benefits the garment offers. Women should decide whether they want a bodysuit, brief, top, slip, or waist cincher and pick a level of control from light to extra firm. Once a general product has been selected, women should know how to look for comfort-enhancing features and how each item should fit once it is on. Putting on shapewear is different from trying on regular clothing, so knowing the correct steps increases satisfaction during the try-on process. With all of these tips available, any woman can find a shaper that makes her look fabulous.