The Burger King Meatnormous Omelet Sandwich: The Pinnacle of Indulgence
If you've watched any sporting event during the past week - baseball, NFL, college football, etc - you've seen the absurdly creepy Burger King commercial with the Paul Bunyon-esque lumberjack who, while chopping down a tree, stumbles upon the creepy Burger King spokesman "The King". The King smiles eerily and then flashes to new
Meatnormous Omelet Sandwich
as the lumberjack looks on in awe. After The King describes the Meatnormous Omelet Sandwich - he and lumberjack share a laugh and then go log spinning in the river. Good times are had by all.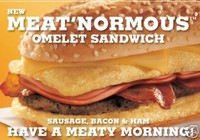 Now if you've read my guide to
The Enormous Omelet Sandwich
,
you are aware that I am all for 1,000 calorie and 100+ grams of fat sandwiches - but that Burger King really struck out with that sandwich. Well somehow Burger King has outdone themselves with the new
Meatnormous Omelet Sandwich
- which is essentially the Enormous Omelete Sandwich but with more meat - or as they call it: "
Meat upon Meat. Upon Meat.
"
There are so many things wrong with this - first, even I got heart-burn during the commercial. Second, lots of meat is great - but does a pound of ham, bacon and sausage even taste good together? Third, Burger King has added 20" of egg and lots of cheese simply to mellow out the conflicting tastes of each of the three essential - but never-to-be-mixed breakfast meats.
"Wake up to a mouthful of breakfast with the Meatnormous Omelete Sandwich. Two slices of melted American Cheese, two fluffy eggs, three crispy strips of bacon, two sizzling sausage patties and two slices of ham, piled high on a toasted bun. The Meatnormous Omelete Sandwich from Burger King. So big, breakfast will never be the same."
Burger Kings tag line started as:
Eggnormous.
Meatnormous.
Cheesenormous.

Sure its funny - the eggnormous had the potential to be good until they turned it into a breakfast submarine. With the newly introduced Meatnormous sandwich, they have taken that submarine and somehow added even more heft and weight in the form of sausage patties, bacon strips and ham slices. I can't wait to see the Cheesenormous sandwhich - I fully expect it to a brick of gouda cheese surrounded by slices of American and provolone - topped on a toasted bun. So big and cheesey - breakfast will never be the same.
Of the new absurdly enormous sandwiches, I still believe that Hardee's & Carl's Jr. has the best available. Not only do the Burger King Omelet Sandwiches trail in calories and fat (
just 750 & 50!

) - but they trail in taste. Now the Hardees Monster Thickburger - tell me thats not absolutely MEATNORMOUS... or in better words - divine!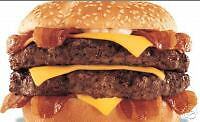 I am an eBay employee and this guide reflects my personal views and is not written on behalf of the eBay company