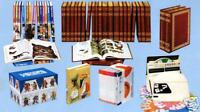 The World Book-Childcraft Reading Readiness Program was sold in the early 80's as part of the home sets of The World Book Encyclopedia set which included the encyclopedias, the Childcraft How and Why Library, The World Book Dictionary, The Childcraft Dictionary, The Cyclo-Teacher Learning Aid, and, of course, the Letter People World Book Reading Development Program. As far as I know it wasn't sold seperately so I don't know original cost.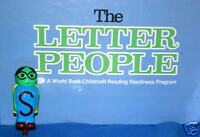 The contents from the 1982 version included:
1 Super Sonic Tutor
- a plastic figurine shaped like Mr. S whose eyes lit up when held over the correct answers in the skill books. A must have for a complete set.
2 "AAA" Batteries
(needed for the Super Sonic Tutor)
13 Songs of the Letter People
, records (double sided to include all Letter songs, turntable required)
1 All About the Letter People
, record (an audio guide for parents)
1 Fun in Letter People Land
, poster (a 33" high by 17" wide scene of Letter People Land with blank spaces to affix stickers of each Letter Person as the children learned them)
1 Sheet of Letter People Stickers
(for the above poster)
1 Parent's Reference Guide
(64 page book about the program, song lyrics, and activity suggestions)
1 Coloring Book
(32 page book)
1 Activity Book
(80 page book with review and reinforcement activities)
26 Skills Assessment Books
(4 page paper worksheets)
26 Letter People Skill Books
(spiral bound books that made use of the 'magically' activated Super Sonic Tutor)
1 Letter People Alphabet Review Book
(same as the Skill Books only it covered all the letters)
1 Program Storage Box
(It was a heavy duty cardboard thing so you can occasionally find them in good condition with only slight shelf wear)
1 Customer Guide
(little one page folded over booklet that included super sonic tutor directions and the 90 day warranty information)