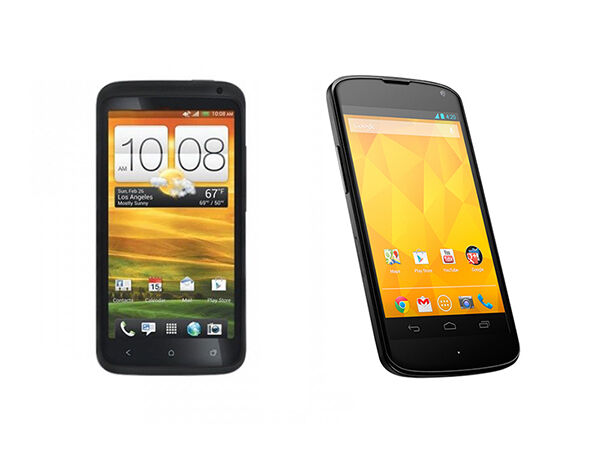 Android phones are seemingly everywhere. For those who enjoy the versatility of an Android phone and its available apps, it may be hard to find the right phone. This may be especially difficult when one is trying to find an upgrade for an older phone. Two of the most popular upgrades are the HTC One X and the Nexus 4. Carefully examining the differences between the phones is worthwhile regardless of whether a customer chooses to buy the phone from a brick and mortar store, or online via websites like eBay. There are a number of factors to take into consideration, including the internal hardware, the software, the battery longevity of each phone, and what kind of software works best. It is also important to examine the physical specifications for each phone.

The HTC One X+
Consumers deciding between the two phones should be aware that there is an upgraded version of the HTC One X known as the HTC One X+. For those interested in the HTC One X+, the changes include a slightly better processor, twice as much storage, a slightly better camera, and a better battery. When comparing options, shoppers should carefully research to make sure they are considering the version of the HTC One that they interested in purchasing.

External Features
There are some significant differences between the HTC One X and the Nexus 4. The HTC One X has a durable plastic case that is only available in white and gray. The Nexus, on the other hand, has a glossy black case known for being more visually appealing. This glossy case is a problem, however, when it comes to scratches. Even minor scratches are easily visible and may be there permanently.
While the case of the HTC One X is more durable and scratch resistant, the white color also means that it is prone to getting smudged and dirty. The gray case does not pose as much of a problem. The black case of the Nexus 4 is harder to get dirty, but the fact that it is glossy means that fingerprints may be more visible.

Internal Hardware
Before choosing between two different phones, it is important to understand what kind of equipment is associated with each one. This includes an understanding of the processor inside of each phone, as well as what kind of graphics processor and memory storage capabilities are available.
Processor
The Nexus 4 makes use of the Qualcomm Snapdragon S4 Pro APQ8064. Meanwhile, the HTC One X uses the Nvidia Tegra 3 T30. Both processors are quad core processors and offer 1500 MHz of processing power. However, the Nexus 4 has 2 GB of RAM, while the HTC has only 1 GB. Some reviewers claim that the HTC One is able to load apps faster, so this may be a factor to consider.
Graphics
In terms of graphics, the Nexus has an Adreno 320 and the HTC has a ULP GeForce. For the most part, these graphics processors are roughly equivalent. This means that they are both equally capable of displaying high quality video and apps.
Memory Storage
Memory storage is very important when it comes to smartphones, since it is essential to be able to store photos and videos taken with the camera. Memory storage also makes it possible to store other files and programs. It is important to note that neither the Nexus 4 or the HTC One X have any form of removable storage. Instead, each phone has built-in storage, with the Nexus offering 8 GB and the HTC offering 32 GB.

Camera
While both cameras are ostensibly similar and offer high resolution photography, there are some significant differences. One of them is the "Ultrapixel" feature found on the HTC One X. This feature allows for larger pixels that capture light better than regular pixels. These larger pixels mean that the HTC phone has a lower number of megapixels than the Nexus phone. However, in terms of photo quality, more megapixels is not necessarily better in every case. The larger pixels on the HTC camera are also better at capturing quality photos in low light conditions.
The Nexus 4 does have one feature that the HTC One X does not. This addition is known as the "Photosphere," which makes it possible to easily capture a 360-degree panorama.
Video Recording
Both phones are capable of capturing video. As is the case with still photos, the larger pixels available on the HTC phone mean that the quality is slightly better and that it is better at capturing video in low light conditions. Both cameras are capable of capturing HD video at 1080p resolution. However, the Nexus offers 30 frames per second, while the HTC offers 23 frames per second.
Layout
Most camera phones capture photos and videos with a 4:3 aspect ratio. This is the case with the Nexus 4. The HTC One X, on the other hand, has a wider 16:9 aspect ratio. This means that those who use this camera may take photos in widescreen format, which is more compatible with widescreen televisions.

Battery Life
Battery life is one of the most important factors to consider when many people buy a cell phone. It is important to know how long consumers can use a phone before it must be plugged in. It is also important to know how long a phone may maintain battery life when it is put to use for high energy applications, like watching videos and using apps. As it turns out, both phones are capable of high energy consumption for roughly 14 hours before they need to be charged.

Multimedia
Many phones are ideal for enjoying media such as apps and videos. While both phones are capable of performing in this area, the HTC phone has more options, especially when it comes to file format for music files.

| Phone | Nexus 4 | HTC One X |
| --- | --- | --- |
| Music Format Supported | MP3 | MP3, AAC, WMA, WAV, M4A, AMR, and OGG |
| Video Format Supported | MPEG4, H.263, H.264 | MPEG4, H.263, H.264, WMV, 3GP, 3G2 |

There are fewer differences when it comes to video formats, but it is clear that the HTC One X is far more versatile. The HTC One X also allows the user to listen to the radio on any FM frequency. Both phones also allow the user to browse the Internet and watch videos via websites like YouTube.

How to Buy an HTC One X or a Nexus 4 on eBay
Anyone who is interested in obtaining a new smartphone, either as an upgrade or in order to start a new plan, may find phones on eBay. It is possible to buy both the HTC One X and the Nexus 4 on eBay. In some cases, they are brand new, while in other cases, they are used or refurbished. It is also possible to buy each phone in a version that does not contain a sim card. It is important to determine if a phone is already set for use with a certain company before making a purchase.
Finding Phones
The best way to find a specific phone on eBay is to use the search bar that can be found on every eBay page. A general search for "smartphones" produces a large list of phones available for purchase. Those looking for a specific phone may use a more specific search term, containing a manufacturer name and model number in order to make the search even easier. The options for purchase on eBay change frequently, so it is possible to return after a few days or a few weeks and find new phone options for purchase.

Conclusion
Both the HTC One X and the Nexus 4 are good options for anyone looking to upgrade their existing phone or who wants to buy a new phone. Those who cannot decide which phone to choose may look at a number of different factors, such as the case that a phone is made with and what kind of internal hardware it has.
In many cases, the deciding factor is price. Generally, the Nexus 4 has a lower price than the HTC phone. However, prices change often and when making purchases on eBay, it is possible to find a more expensive phone for a lower price. Regardless of which phone a customer winds up with, knowing everything possible about the various features can lead to a stress-free purchase.