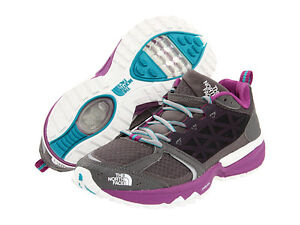 Exercise enthusiasts know the first step to getting in shape is buying the right gear. However, beginners can be a little confused as to which pair of sneakers best fits their needs. Walking and running may seem similar, but the two activities require completely different shoes. Runners need much more support and flexibility. A runner's foot impacts the ground much differently than a walker's and running requires a greater use of power. Therefore, running shoes offer appropriate features to accommodate a runner's needs. Walking shoes are designed to optimize a walker's efforts.
To ease the strain on muscle and joints, walkers and runners should purchase shoes appropriate to the shoe's usage and foot type. Trail walking requires different footwear than hiking. High arched people might need differently designed shoes than flat-footed individuals. Runners, walkers, and hikers can find footwear at a shoe store, sporting goods shop, consignment shop, or department store. Shop around for the best fitting and most comfortable pair. Online shoppers should turn to Internet retailers or an online auction site like eBay.

Differences between Walking and Running
The joint and muscle usage differs greatly between walking and running. A person's weight shifts differently while running versus walking. A runner's knees are more bent than a walker's, affecting the force with which the feet hit the ground. Runners hit the ground at three times their body weight, but walkers only impact at half that amount. Running also increases the force generated by the quadriceps muscles, also known as knee extensors. Walkers' feet spend more time on the ground while runners' feet spend minimal time on the ground. Additionally, runners tend to exert more power.

Differences between Walking and Running Shoe Construction
In most cases, walkers can use running shoes but runners cannot use walking shoes. Walkers don't have to worry as much about shock absorption and tread grip. Since walkers and runners hit the ground differently, their shoes must accommodate for this difference.
Cushion
Since runners impact the ground with more weight, they need extra cushioning in their shoes. Running shoes come with additional cushioning in the heel and forefoot. For this reason, running shoes tend to be heavier than walking shoes. The padding lessens the trauma to an individual's muscles and joints. Some "air cushioning" shoes use pressurized air captured inside a tough urethane bag for lightweight cushioning. Nike is famous for air-cushioned running shoes.
Walkers still need a good amount of cushioning. Those planning on walking long distances, power walking, or walking on uneven or gravel paths should consider using a well-padded walking shoe or running shoe. Look for a lighter shoe that won't weigh down strides. However, if a shoe is too light or too flat, it might not provide enough padding, causing strain and muscle fatigue.
Soles
A walker's stride happens with a heel-ball-toe strike while runners tend to land on their midsole or forefoot. For this reason, walking shoes are appropriately beveled to ease the impact of body weight. Walking shoes generally contain a more flexible sole, allowing them to achieve a natural stride or gait. Running shoes typically use a stiffer sole because of their thick heels and wedges. They tend to flex at the arch or midfoot. Runners who strike with their midfoot or ball should buy shoes that flex at the forefoot. However, both running and walking shoes need to be somewhat flexible.
When shopping for shoes, grip the toe and the heel. A walking shoe will bend more easily and will flex at the forefoot. Walkers usually push off with their toes. Some walkers enjoy a stiffer sole but others find it causing shin splints or general muscle fatigue in their legs and feet. Never buy a shoe that doesn't flex at all.
Motion Control
Runners and walkers who need motion control have to sacrifice some flexibility in their shoes. While running, people tend to rotate the foot inward and rotate the foot outward in an exaggerated fashion. Try to find a running shoe that offers motion control in order to keep the foot in a more neutral position. Motion control shoes may be less flexible so they are not suited for everyone. Walking shoes do not provide the same level of motion control, though some provide some degree of stability.
Heel Height
Running shoes are designed to provide stability for runners with a built-up heel. Runners tend to land on their forefoot or midfoot; a taller heel helps with balance. However, runners who tend to strike with their heel should look for shorter heel heights. Walkers typically hit the ground on their heel, so a lower or flat heel height might be more appropriate. Walking shoes do not have much difference in height from the heel through the toe; they are flatter to accommodate a heel-ball-toe strike. Sometimes, the height of the sole and heel can be difficult to determine, so trying on shoes beforehand really helps.
Heel Flare
Extra flare in a heel means additional stability for runners. Trail running shoes often include this feature to handle the bumps and obstacles of a dirt or gravel path. A flare heel also helps runners who strike the ground at their midfoot or forefoot. However, a walker might be hindered by a flared heel because it might impede rolling forward through the step. Fitness walkers should look for a walking shoe with an undercut heel.

Types of Running Shoes
Everyone's body is different. People's feet are designed to uniquely suit their body's needs. Consumers need a running shoe that will fit their particular foot shape in order to maximize efficiency and reduce strain. Learn about different types of running shoes here:

| Shoe Type | Arch Type | Advantage | Disadvantage |
| --- | --- | --- | --- |
| Motion Control | Low arches or flat feet | Rigid and prevents excess rotation | Bulky |
| | Normal or medium arches | Good balance between cushion and motion control | Can be stiff |
| | High arches | Easier on the knees and shins | Not good for flat feet |
Trail runners might want to try stability footwear to help them navigate treacherous paths. The best running shoe is well balanced and provides lots of support. Try on several different pairs before deciding on the right one. Consumers can ask a salesperson how pronounced their arches are to provide a better idea of what kind of running shoe is appropriate.

Types of Walking Shoes
Walkers also should purchase a walking shoe appropriate to their foot type. Many walking shoe types resemble running sneakers but are made with the correct adjustments to suit a walker's needs. Consumers can choose their shoe based on whether they have high, low, or normal sized arches. Review different types of walking shoes here:

| Shoe Type | Arch Type | Advantage | Disadvantage |
| --- | --- | --- | --- |
| | Low arches or flat feet | Keeps the foot rigid | Not good for high arches |
| | Normal to high arches | Increased comfort | Not good for flat feet |
| | Normal or medium arches | Grips; guards feet and ankles from elements | Not designed for everyday walking |
| | Normal to high arches | Designed to bear loads | Aren't suitable for everyday walking |

Before buying a pair of walking shoes, buyers should consider how the shoes will be used. Power walkers have different needs than hikers. Buyers should purchase footwear appropriate to their needs. Walkers and runners may need to purchase more than one pair of shoes to accommodate all their various activities.

How to Buy Walking and Running Shoes on eBay
Many shoppers enjoy the ease of purchasing footwear from the comfort of their living room. eBay allows bargain-hunting buyers to purchase great deals on walking and running shoes from home. To begin, simply Register for a free eBay account, start searching, and you will be on your way to owning a new pair of fantastic sneakers.
Searching for Shoes
To find shoes on eBay, try typing in "walking shoes" or "running shoes" into the search bar. You can type in specific brands, sizes, features, and designs if you wish. Alternatively, consumers can use a category search by visiting the Fashion portal. In the Clothing, Shoes & Accessories category, try looking through the Men's Shoes or Women ' s Shoes category.
Review the Listing
When browsing through listings, review each one carefully. Search through the photographs, review the purchase price, and take note of shipping costs. Luckily, many sellers offer free shipping. When buying shoes, be certain you are buying the correct size, style, and brand. All listings indicate whether the item is used or new. Once you've found the perfect running or walking shoes, purchase them, pay with PayPal, and leave appropriate feedback.

Conclusion
Getting regular exercise often requires purchasing the appropriate gear. Runners and walkers can benefit from a good, solid pair of suitable shoes. However, walkers and runners should not use the same footwear. Walking shoes are never appropriate for running because they lack the adequate support. Running shoes are built with extra cushion, limited flexibility, higher heel heights, and a larger heel flair. Also, some runners and walkers might opt for motion control. Running requires a greater impact on the ground, a different stride, and more power. It tends to strain certain muscles and joints more than running. While walkers move along in a heel-toe-ball stride, runners generally hit the ground on their midfoot or forefoot.
Consumers should look for shoes that fit their needs and arch type. Buyers can examine whether they have a flat foot, normal arch, or high arch and buy the corresponding walking or running shoe. Trail runners and walkers, as well as hikers might require special footwear. To find great deals on name-brand shoes, search on eBay.