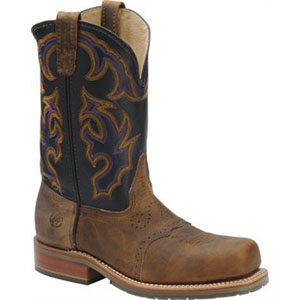 Cowboy boots are more than the most practical gear for cowboys out on the range. Cowboy boots today come in different shapes and designs to take men from the range to the executive suite. There are boots decorated with college insignias and boots colored to match every shirt a man has ever owned. More to the point, there are boots to match every pickup and horse trailer so the whole crew can look like it belongs together at the rodeo.
Below, we will review the range of ways men use cowboy boots and the different kinds of boots appropriate to each. We will consider issues in choosing the right pair of boots for a particular purpose. Finally, we will discuss how to purchase the cowboy boots that best meet the current needs of the buyer.
Pick the Price Range
The first decision to make is deciding what the budget for cowboy boots will be. Whether the price range is set at "affordable" or "astronomical," there will be plenty of choices. Cowboy boots are available in a wide variety of styles and designs and the price ranges reflect this.
Second Hand Boots Can Be a Great Choice
Buying quality used cowboy boots can be an excellent way to accommodate a desire for excellent boots in a budget. Cowboy boots are designed to last, so a well made boot that has been preworn is likely to show little wear except on the sole. A good repair shop can take care of this quickly. The pull strap may break but this, too, is easy to repair. So for those whose tastes exceed their budgets, quality used boots can be a great solution.
Decide How the Boot Will Be Used
Decide whether the boots will be worn for rugged work, in rodeo competition, casually, or with a suit. While there is certainly some overlap, there are also differences among these four main types of cowboy boots.
| Boot Type | Description |
| --- | --- |
| Work Boots | Work boots are often made of waterproofed leather and may have a wicking lining. Rounded or square toe boots may have steel insert. Soles are typically made of rubber, urethane, or other material that is slip-resistant and chemical-impervious. They have a low "walking" heel. Some work boots, known as Packer Boots, lace up. This design derives from boots worn by cowboys who worked with pack horses on the trail. |
| Rodeo Boots | Rodeo boots are designed with a lip above the heel to hold the spur and typically a rawhide heel counter, also to help hold the spur. The boot's heel is relatively high and typically overshot. Rodeo boots are highly decorated. They come in Western and Buckaroo styles, with Western boots being 12 inches high and Buckaroo boots being 15 to 20 inches high with a pull hole instead of a strap. |
| Casual Boots, Also Known as Roper Boots | Casual boots are designed for ordinary wear and low maintenance. They may have decorative stitching or other decoration, but will typically require only oiling for care. Depending on the level of decoration, casual boots may also be worn with suits. |
| Dress Boots | Dress boots may be worn with suits and are made from a wide range of materials, including such exotic skins as lizard, rattlesnake, python, ostrich, crocodile, or eel. Ornamentation includes stitching, tooling, cutouts, overlays, and recently even printed designs. They are typically made in Western style. |
Manufacturers make a point of offering the same design in more than one color and leather combination, which gives the buyer the best chance of finding exactly what he wants.
Find the Cowboy Boot that Fits
Cowboy boots don't feel the same on the foot as other kinds of shoes. They support the arch and fit the instep snugly. At the same time, when you walk in cowboy boots that fit properly, your feet slide a bit.
Although leathers do stretch slightly, it is preferable to end up with boots that are slightly large than with boots that are too small. Adding an insole to boots that are too large can reduce their effective size by as much as a full size and make them even more comfortable to walk in.
Boot Shape Affects Fit
Boots come in a number of shapes and it is important to select for comfort first, appearance second. Boot toes come in three basic styles, each of which has a number of variations:
| Toe Shape | Description |
| --- | --- |
| Square Toes | These boots are squared off at the toe. Some are narrowed before being squared into a half-box or quarter-box shape. |
| Round Toes | The round toe shape is the most similar to conventional shoes or work boots. |
| Pointed Toes | Known colloquially as "cockroach killers," pointed toe boots are the most popular globally and along with narrow box toes have returned to popularity in the U.S. in the last 20 years. |
The boots that will feel most like other shoes have a rounded toe and a "walking" heel (0.75 inch). If this is your purchase of cowboy boots, this style will be a good selection.
When selecting boots with other toe shapes, keep in mind that when wearing boots with square or pointed toes, the wearer's toes are not intended to be enclosed within the box or point. The wearer's toes should be behind the toe area and should not touch the front of the boot in either case.
Boot Manufacturer Affects Fit
The last, or form, used to make different cowboy boots differs in shape in other features besides whether the toe is pointed or boxed. A person with a high instep, for example, will find one pair of boots more comfortable than another simply because its instep is designed higher than another pair. Each manufacturer has its own lasts, which are considered trade secrets, so once a particular manufacturer's boots are known to fit comfortably, a person may choose to continue purchasing boots from that manufacturer for a certain good fit.
The Sole and Heel
Contemporary cowboy boots typically have heels from 0.75 to 1.75 inches high. Vintage boots are often higher. The heel height is a matter of personal preference and comfort. Heels may be cut in one of two ways: straight or undershot.
| Heel | Description |
| --- | --- |
| Straight Cut Heels | Drop straight all around. They look as if they could have been stamped from the heel material using a large industrial cutter. Typical of walking height heels. |
| Undershot Heels | Undershot heels angle forward from the back of the boot to where they meet the ground. The surface that hits the ground is smaller than, and forward from, the surface that is connected to the boot. Typical of higher heels on rodeo and dress boots. |
Soles of traditional cowboy boots are made of smooth leather, which is pegged into place. Cowboy style work boots often have soles of a synthetic material designed to stand up to chemicals and remain comfortable on concrete work floors. These soles should be stitched into place.
Protect and Maintain the Boot
A cowboy boot is designed to last for a long time. The owner can help them last by keeping the boot on a cedar or maple boot tree (like a shoe tree) to hold the boot's shape when it's not being worn. Cedar is currently popular because it helps to deodorize the boot. A metal or plastic boot jockey is used with boots taller than 15 inches to maintain the shape of the shaft.
Because boots are made of so many different materials, the specifics of care for the material must be followed according to the manufacturer's directions. It will be noted, however, that waterproof boots will need periodic re-waterproofing, and that this, too, should be done according to the manufacturer's instructions in order to maintain both the waterproofing and breathability of the boot.
Buying Boots with Some History to Them
Boot making has changed a bit over the years, so if the boots being purchased are supposed to be antique, here are a few traits they should have.
| Trait | Description |
| --- | --- |
| "Left" and "right" boot look the same | "Straights," where both boots were the same, were the norm until 1819 and remained common until the turn of the 20th century due to the lack of manufacturing equipment for mirror-image lasts. |
| Boot tops cut flat across | These stovepipe boots, with their tops cut straight across instead of in the scallop now associated with cowboy boots, were worn until the turn of the 20th century. It is believed that they represented the cowboys' association with military boots of the time. |
| High heel boots | Between 1880 and 1960, most cowboy boots had heels higher than the 1.75 inches that is today's highest norm. |
All of these types are also often replicated, so the careful buyer seeking antique goods will seek further evidence of authenticity.
How to Buy Cowboy Boots
If this is not your first purchase of cowboy boots, you have undoubtedly already identified at least one manufacturer whose lasts fit your feet well. Sticking with what works can be an excellent strategy. Each manufacturer's lasts are different and boots, far more than shoes, have unique fits.
If this is your first purchase, then you will want to consider how ready you are to try wearing higher heels. A well decorated pair of casual boots may be a good choice for your first pair. You may spend a while working with a salesperson to find that first pair that fits just as you want.
Cowboy boots may be purchased at stores that specialize in Western wear; large shoe stores; some department stores, especially those located in the Southwest and Midwest; and their online equivalents; as well as in online marketplaces such as eBay.
Buying Cowboy Boots on eBay
The diversity of available designs, colors, and materials makes choosing cowboy boots on eBay an exciting challenge. The options are so broad that starting by setting a price range can be very helpful in simply narrowing the range to a number that can reasonably be considered. You may also want to limit the search to a few sizes, since a boot with a pointed toe will fit differently than one with a round toe. After you browse for a bit, you may decide to limit the results by color or you may identify several manufacturers whose boots you prefer. Sorting search results by price will let you see whether different sellers are offering different prices on similar merchandise.
Get to Know the Seller
Before you make your purchase, you will want to do what you can to get to know the seller to ensure you are obtaining quality goods at a fair price. If you are shopping in local stores, you may already have opinions about who carries merchandise of reliable quality. When shopping in online malls, various review sites often provide customer reviews that allow you to draw on the experience of prior customers before deciding whether a given mall or vendor is reliable.
On eBay, you can check the reliability of a vendor by seeing whether most prior customers have left positive feedback about a seller. When buying cowboy boots, where fit is critical, it is also valuable to confirm that the vendor will take returns if the boots do not fit. You can also check whether a vendor is considered a top - rated seller. These top-rated sellers have demonstrated over a large number of transactions that they offer the highest level of reliability and customer service.
Conclusion
Cowboy boots come today in many shapes and designs. Those who pay attention to such things describe certain shapes as characteristic of certain periods of time: "a Seventies-style boot" or "a Fifties-style boot." Most men just know what they like.
Boots come in blacks and browns and reds, and with decorations in blue, green, orange, turquoise, and white. Manufacturers make a point of offering the same design in more than one color and leather combination, which gives the buyer the best chance of finding exactly what he wants.
Except for when they are actually riding, most men haven't stuffed their jeans inside their boots for decades. So most of the decoration on boots today is only seen by chance or in the most relaxed settings. Pick boots first on how they fit and then on the style and decoration options, if any.