You want to buy a box of '07 baseball cards. Problem is: the $3 cheap-o packs don't hold any good autographs or game-used memoribilia, and you can't justify spending your whole paycheck on 6 card "box" of the luxury brand. No problem, since I have already blown tons of money finding out which sets have the best bang for your buck, the best inserts, the most autographs (for your $$), and the down-right prettiest cards out there. Don't waste anymore time buying the cheap packs unless you want a closet full of ten cent cards ten years from now. You want cards to cherish, look at everyday (see pics of some of my pulls throughout this Review), and who knows, someday sell it here and pay off your college loans. If you like to go the expensive route, I will shed light on the better buys out there. My goal here is to direct you towards collecting the most quality, best designed, and best player autos out there in the growing (yes I said growing) card collecting industry. FYI, I'm not hear to talk about base sets (i.e. Upper Deck Series One or even Topps Update) and I don't buy Donruss, I think they're the Toyota Scions of baseball cards and most people, MOST PEOPLE, will agree...
***don't forget to vote at the bottom!!!
Topps Co-Signers [7/10]: The title sounds enticing, you're thinking oh boy lots of autos! You're right, and there are some big hitters in this set like triple signed cards with the likes of ARod and Ryan Howard. Sadly you will collect tons of nameless (and worthless) rookies while trying to find these elusive cards (and have doubledoubledoubles of all the base set, which is ~ 100-120 cards). The price is great however and you'll most likely pick up some cool autos like Alex Gordon or Tulowitzki in the process. Or you could get really-really lucky and get the Arod/Howard/D.Wright triple auto. My advice, if you do buy them, go for the boxes, they're cheap on eBay (~$70) and come 3 autos per box, which is only behind the rates of Bowmans Best and Bowman Sterling for getting the most (# and quality) autographs for you dollar.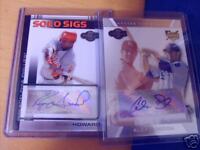 Bowman Chrome/Bowman Draft Picks [10/10, 7.5/10]: Here is your best set of the year in my humble, and now broke opinion. Buy quick because the price of these cards is on the rise! First off they are relatively inexpensive at ~$100/box on eBay (probably less - make sure not to buy the $45 box, they have autos, but in my experience they're not as good). Second there are all different types of refractor cards of all different types to collect (the cards that reflect the prism sorry vets) - the autos come in refractors too, and they're worth a BUNDLE (see the picture of my gold REF Kevin Mulvey Auto). Chances are you'll pull a refractor auto even after a couple of boxes. This set contains probably 2 of the hottest cards of 2007: the Joba Chamberlain and Tim Lincecum autographs. Imagine if you pulled a red refractor auto, that's out of 5 total cards in the known universe! Not likely but amazing cards are still out there. Quickly for Draft Picks: same rules apply except you will get more non-chrome cards. This set is all potential future Jeters and Markakis' and there are plenty of good autos to find in here, as well as game used bases, inside thick refractor cards. If you were to buy one box for the rest of your life, I'd buy a box of these, because for the price you won't get any better.
Upper Deck Spectrum [7.5/10]: another good deal for the money, plenty of the things collectors like - game used and autos galore. Like Co-Signers you will filter through a lot of rookie autos and jerseys of players that aren't that interesting, however Spectrum has loads of cool autos (some from actors in Hollywood) and low serial numbered relics. A good buy, and a pretty cheap box to get on eBay (~$70). Again, you'll probably have the complete base set in spades after a few boxes, but the inserts make this a pretty good box.
**Don't forget to vote at the bottom of the page!!
SP Legendary Cuts (9.5/10): any set that has a chance to pull dimaggios and gehrigs is my kind of set - granted the base cards are crap and the inserts are much better. However, if you put a little time into these you will pull a Cut Signature and maybe you'll get lucky like me and pull a Film Reel card (see pic below: reel of film of Gehrig hitting a homerun - pretty darn sweet). The benefits outweigh the risk of losing all your hard-earned dough with this set. Also the game used possibilities are ENDLESS - there are tons of Kirby Pucketts, Ripkens, Boggs, Bench, Yastremskis, etc in jerseys and bat barrels - no other brand does it like this and that's why LCuts is ranked so high....Go gobble 'em up!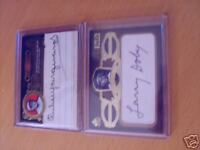 Artifacts (5/10): 4 cards per pack, lackluster designs on the relic cards - Antiquity, Divisional Apparel, etc. - they suck. And the autos don't get any better - sure there's a Ripken in there somewhere but you're sure as hell not going to get it. Save your money.
Allen and Ginter (7/10), Turkey Red (5/10), Topps Chrome (5/10), Masterpieces (6/10): I grouped these together because these 4 brands are pretty cheap (except Masterpieces which is a worthless card design with drawings which I cannot stand, they inherently DEVALUE the card when a picture is not present). Topps Chrome is a nice card set for the cash but not enough valuable autos to make it worth it to put a lot of time into buying packs & boxes (Tulo, A. Gordon - that's it really). A & G has some nice autographed cards but again your chances of getting one are so small you might as well bank on meeting Jessica Alba and making her your soul mate before pulling an A & G auto (they are nice though, a mini card with a mini auto encased in a larger card with a plastic covering - tempting I know...). Forget Turkey Red, another picture card, and while Beckett will tell you some of the cards in the base set are worth $12-15 just try selling them here - uh uh, doesn't work that way. Card buyers, unless you happen to find one with an unhealthy obsession for a specific player's base cards, DO NOT want to spend money on a depiction of the players - they want a crystal clear HD WIFI Samsung NASA technology picture! We have the means! It's 2008 for crying out loud..
Bowmans Best (9/10): Great set in my opinion and even though a 3 minibox, box (75 cards per large box) the reward is great: Lincecum, Joba, Arod, Howard, Wright, Maybin, Upton, Pence, Martinez (yeah EVERYBODY that matters!), the list of amazing autos goes on and on. You get 9 autos per large box out of 75 total cards - no other brand gives you the autos per $$ you're going to put in - BUY Bowmans Best. Plus all the cards refract, which is nice. One last thing which is cool - instead of refractors (since they all do) - you will probably pull a blue or gold tinted auto (I pulled a blue H. Pence the other week) which are also nice to look at. Only bad thing I didn't like is the lack of relic cards, I'm not sure BBest has any!! Boo!
Bowman Sterling (8.5/10): I won't write much about these (ok maybe I will) - BSterlings are just like BBest in a way. You shell out $200 or so for a box, you get something like 12 autos per box (2-3 per mini box) which include all the hot 2007 prospects (ie Dominguez, D. Price, Matt La Porta - ones I pulled from 1.5 boxes) and other hot players like Joba of course, Phil Hughes, Braun - you get the picture. The benefits outweigh any complaining you may have about the cost - every box will reward you (unlike Topps Sterling - seriously). The cards are worth a lot (like BBest), they come in refractors which are very pretty (even a black REF which I would like to get my hands on), and they have awesome relics like jersey autos of prospects like Jay Bruce, refracting jersey patches and bat barrels (which you rarely see but brands should do more of), as well as kick-A dual autos like the Joba/Phil Hughes dual sig. There are more autos to get vs. BBest, decreasing your chance slightly to pull hot auto cards - that's why I gave it 0.5 pts less. Either way - go buy as many as your wife will allow (or Mom if you're a younger dude) before we all switch over to 2008.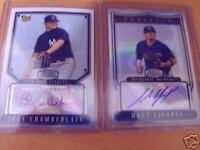 **Don't forget to vote for my review at the bottom!
Topps Sterling (5/10): Just like giving money to the desposed King of Nigeria who keeps emailing you - buying Topps Sterling is FOOLISH and WORTHLESS...each box has a bonus card which usually isn't that much of a bonus, and the rest of the cards are all of one player. Sure, you could obviously get lucky and pull a Dice-K Auto Relic Thingy or a Maris Auto or another legendary player (hint: just stick with Legendary Cuts for the vintage stuff)...Oh yeah and it costs ~ $300. Don't waste your friggin' time!
Moments and Milestones (5.5/10): If you like the same card over and over than buy M+M. There are like 20 some players which have their achievements honored with the same graphics spread mercilessly over a ~150 card set: BORING. The only upside is that the autos (2 per box) are pretty and you could pull a printing plate auto like a Reyes or Howard as some of my buddies have. So in the end, it's your call (obviously) maybe buy a few packs or a box, see if you like them, but my thoughts are that you, like me, will get bored easily and have to move on.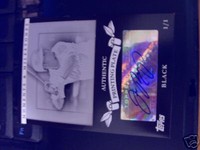 Ultimate Collection (~ 6/10): Not much experience with these (I blew all my $$ on BBest and Sterlings) but it seems like a decent investment to pick up valuable and attractive auto/relic combo cards which will more likely than not have resale value on eBay.
Sweet Spot (4/10): CRAP - pure and simple, like crap is. If you like mini helmets posing for authentic game used equipment, ugly baseball leather autos (sig on leather cut off baseball - good idea it just looks terrible and nobody's buying them), and wretched looking jersey relic cards, than Sweet Spot is the brand for you. Otherwise, steer clear of these cards.
Triple Threads (7/10), Upper Deck Black (7/10): Triple threads and UD Black are hard brands to endorse since they cost so much, and you get so few cards in return (TT - 15 I think, UDB - 2!!). If you have the cash however, I would reccomend throwing some money at these brands for a couple of reasons. The insert cards are GORGEOUS - the TTs have 3 or more patches and/or an Auto with tons of refracting chrome surfaces (and the patches are the numbers and letters of the jersey, not that crap you get in other sets where the jersey patch might as well have been the inside of Manny Ramirez's Joe Boxers). UD Black is even better - patches, flags (Pride of a Nation - AWESOME cards with players country of origin/national flags), AND every card is an AUTO!! (that is cool enough as it is!!). The UD Blacks have up to 4 Sigs on their cards and every one is beautifully done. And unlike the picture cards (Masterpieces, Turkey Reds, A&Gs) they are pretty enough to sell a half-ass player's card for close to book value (people like shiny things, sh*t I do..). Also the UD Black has more inserts than I can count, all with variations of relics and autos from the game's premier players/prospects. My vote: buy some if you can, you will probably get lucky (and if you don't you can probably get most of your $$ back selling them on eBay).
UDBl
TT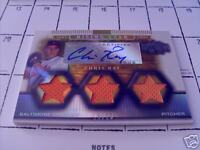 I hope you've enjoyed my Review of 2007 Topps and Upper Deck brand baseball cards!! I did this because when I started collecting this year I took a lot of bumps & bruises figuring out which cards stunk and which ones would reward my efforts (spending 5-6 thousand over the past 3-4 months). The good news is that through the introduction of the autograph and new flashy card design like the refractor and chrome cards, the industry is growing through mom and pop card stores and more importantly, eBay! Sure the cost had risen, but in many ways it has lead to a better quality card (who could imagine going back to the crap Topps and Upper Deck put out in the 1990s!). There is now hope that our children will swoon in the presence of a Justin Upton Orange Refractor Auto, as we did over a Ripken or Mantle (depending on your age). Well...I hope this helped - if you have any other questions as a novice or "born-again" collector, you can msg me here on e-Bay or find me on the Beckett.com Message Boards (another good place to go with questions). GO OUT AND BUY SOME CARDS!...preferrably mine :) ......
THANKS FOR VOTING I WILL WRITE AGAIN SOON!
Dave