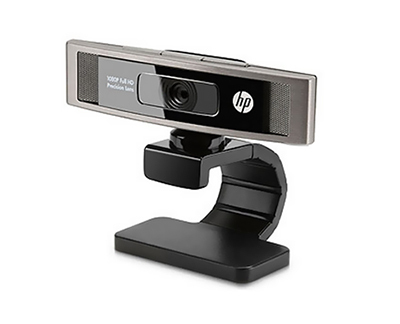 Going away to college is a big deal for many students fresh out of high school. This means living away from their families and friends for the first time. Additionally, many college students move away from their girlfriend or boyfriend. This prompts a complicated long-distance relationship. Combat some of the difficulty with a webcam. Students use their webcams to be able to see and hear their loved ones while being hours away. Different types of webcams offer a diverse set of features that students must consider. Students should think about their budget, intended use of the webcam, and its features before choosing one.
HP HD 5210
The HP HD 5210 offers excellent high-definition video during both chats and video recording. To use this webcam, students must have a computer with Windows XP or above with at least 230MB of hard drive space. The camera connects to the computer via a USB cable, and it requires a CD drive in order to install the software drivers. For video recording, the computer should have at least 2GB of RAM and an i5 Intel processor. The webcam itself includes two stereo mics for clear sound. Also included is an auto-focus sensor in the camera, ensuring a good picture when shooting video.
Logitech HD C270
The Logitech HD C270 webcam records video in 720p definition and supports video calling and recording. Video chat works with programs such as Skype, Windows Live, and other messenger services. This camera takes 3 MP photos that are clear and crisp. Other features of this budget Logitech model include a noise-cancelling mic, Windows compatibility, and automatic light correction. The webcam mounts to the top of a monitor or to the hutch on a desk.
Logitech HD Pro
The Logitech HD Pro is a high-quality webcam that offers 1080p recording and 720p definition when using video chat. Instantly share recorded videos to YouTube and Facebook with 1-click technology. The camera includes a 5 MP HD sensor and takes 10 MP still photos. Additional features include automatic light correction, dual noise-cancelling mics, and compatibility with most messenger programs. Like most Logitech webcams, this one easily mounts to the top of a monitor or a desk.
D-Link DCS-930L
This D-Link webcam is white and looks quite different from most webcams. This webcam comes with both night vision and day recording capabilities. Students who wish to purchase a D-Link camera would use it for security, rather than chatting. This wireless webcam connects into the WiFi network in the dorm room. This security webcam sets up in just a few minutes and has the ability to mount almost anywhere in the dorm.
Microsoft LifeCam Studio
The Microsoft LifeCam Studio webcam offers a professional design and excellent quality video. Its included HD sensor records in 1080p definition and widescreen. Both video and image quality are superior to other similarly priced models. The video is bright and colorful when shooting in bright rooms, but dark room video comes out clear too. The included microphone is high fidelity, which gives videos natural, but detailed sound. Microsoft designed this webcam to seamlessly integrate into other Microsoft applications, such as Link. It is also certified for Skype, which means that Skype video chats are clear and in 720p resolution.
Logitech HD C310
The Logitech HD C310 webcam has a small footprint, yet provides high-quality video and still pictures. Videos record in 720p resolution and video chat offers the same resolution. Students can enjoy video calling in 16:9 widescreen. Similar to other Logitech webcams, students can upload videos to both Facebook and YouTube with just one click. Students can take high-quality 5 MP still photos. This webcam offers automatic light correction for poorly-lit rooms. It also offers a noise-cancelling mic for clear and concise sound. Video calls work with Skype, Yahoo Messenger, and many other messenger services. Recorded videos are compatible with most online video services.
How to Buy the Best Webcams for College Students on eBay
Students can find the perfect webcam for chatting with friends and family on eBay. They can complete a simple search for a webcam by locating the search bar at the top of most eBay pages. Typing a search term such as "HP webcam" into the search bar and hitting enter yields a list of search results. From the results, students can choose a webcam that meets their needs.
The best webcam for college students depends on what their needs are. Each brand of webcam offers different models that have tiers of features. The base models have the lowest set of features, with model numbers and letters going up that offer better features. Students should choose their webcam based on the bare minimum features they require.