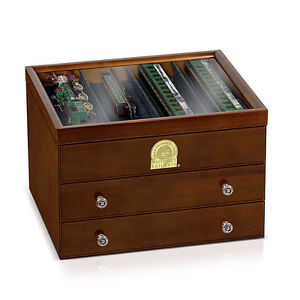 For nearly as long as there have been things to collect, there have been people who made it their mission to collect them. Whether it is photo albums full of stamps, filing cabinets full of comic books, or shelves full of antique pottery, there is a virtually endless number of things to collect. One particularly popular collectible is the ceramic figurine. These types of figurines can come in many different shapes and sizes, from small figurines of partially-clothed angels to tall statues of willowy women; they are truly a versatile collectible.
Of course, one of the main draws of maintaining any type of collection is the ability to display it to visitors and friends. In the case of ceramic figurines, this means having them on visible display in one's home. Luckily, there are many different options for attractively displaying ceramic figurines. Whether one chooses to use a display cabinet or a mantelpiece, it is sure to be available at a specialty collectible store, or online from eBay.
Display Cases
One of the most popular ways to display smaller ceramic figurines is to keep them in a case that allows visitors to clearly see the entire collection. There are a few different types of display cases that are most appropriate for these smaller ceramic figurines.
Display Boxes
A display box is a box that is constructed with either a clear front or clear all around for the display of figurines. A display box is not an item of furniture unto itself, as a curio cabinet may be, and usually need to be placed on some type of secure surface, such as a table or bookshelf, or affixed securely to the wall. Display boxes come in many different styles and sizes, so it is important to choose one that is suitable for whatever figurines are placed inside. Some display boxes have individual cubbies for each figurine while others feature multi-level platforms that allow for the display of figurines at different elevations. A display box may be made from wood, metal, glass, or a clear plastic like polystyrene. It is up to the preference and decor of the collector to choose the best material.
Curio Cabinets
For bigger displays, it may be better to choose a curio cabinet, which is generally larger and may even be its own piece of furniture. A curio cabinet looks much like an armoire, only it features clear doors, usually made of glass, on the front to allow for the display of figurines or other items. The rest of the cabinet may be made of metal or wood.
Curio Cabinet Features
Certain curio cabinets come with features that make the display of any ceramic figurines that much more special. For instance, some feature a mirrored back that reflects light onto the collection and highlights it in the room. Other curio cabinets may include different pedestals to keep figurines on different levels and fit a greater number into the cabinet. Cabinets may also come with adjustable or removable shelves so that they can be customized for figurines of different heights.
Decorative Tables
In a house where it may not be as necessary to keep figurines kept out of reach in a box or cabinet, displaying them on a table can be a good choice. Choosing a decorative end table or entryway table on which to display a larger figurine or a themed collection of figurines allow them to contribute to the overall decor of a home. When placing figurines on a table, it is important to keep regular cleaning in mind since they are not protected from dust and dirt, as they would be inside a cabinet or box.
Centerpieces
Because ceramic figurines can vary so much in size, there may be larger pieces that are simply not able to fit inside of a curio cabinet or on an end table. In these cases, putting a figurine on display as a centerpiece can be a good choice. Whether the figurine is added to a dining table as a centerpiece for a special occasion or whether it remains there as a permanent piece of decor depends on a personal preference. Either way, using a figurine as a centerpiece is a sure way to get it noticed by any guest.
Secure Shelves
For those who would like to have their figurines on display but do not want to keep them closed up in a box or cabinet, using secure shelves is another option. Any style of shelf that can hold the weight of the figurine collection makes a suitable display. Shelves should be placed high enough that they are out of reach of any children or pets but low enough that they are easily visible and can be cleaned regularly.
Built-In Shelves
For people who own their own homes and have the luxury of making structural changes, built-in shelving can also be a good choice. When a shelf is built directly into the wall, it is less likely to be jarred and jostled by activity in the room. Some homes, especially those that were built a few decades ago, may even already have these types of shelves available, particularly in the dining room or entryway.
Mantelpieces
There is one shelf in many homes that acts as a prominent, built-in display for collections, photographs, or other memorabilia, and that is the fireplace mantel. The mantel is a perfect place to display ceramic figurines because it is highly visible. The mantel also allows for complementary items, such as plant life or other decorative pieces, to be placed alongside the figurines for maximum effect.
Bookcase Accents
There is not always a need to purchase a new item in order to best display ceramic figurines. Rather, it may be possible to find places for those figurines on shelves that already exist, such as a bookcase. Ceramic figurines can be placed alongside books as accent pieces to add interest to the bookcase as well as the rest of the room. Of course, depending on the size of the figurine collection, it may be able to take up an entire bookcase by itself.
Window Display
For those figurines that are not prone to fading, putting them on display in a sunny window can make a nice accent for any room. Whether they are put on the windowsill itself or on individual shelves inside a bay window, they surely attract attention. Keep in mind, however, that many ceramic figurines should not be subjected to direct sunlight for long periods, so be sure to check the indications on any figurine before displaying it in a window.
Lighting
No matter where a collection of ceramic figurines is ultimately put on display, it is a good idea to consider the lighting of that particular display. After all, there is no sense in putting so much work into a collection if no one can see it after sundown. Some curio cabinets and display cases come with built-in lights. In this case, check if they are battery-operated or if they need to be near a power outlet. Other cases may require separate lighting, such as an exterior spotlight or a wall light that is intended for lighting art. This way, the collection can be highlighted and appreciated at any time of day or night.
How to Buy Ceramic Figurines on eBay
Before putting a collection of ceramic figurines on display, you need to have a collection of ceramic figurines. Luckily, there are many different types of figurines for sale every day on eBay. If you know the type of figurine that you are looking for, you can simply enter some descriptive words into the search box on any page of the site. For example, you may want to search for a "Lladro nativity" or a "Precious Moments doll." If you prefer to browse, you can search for something as general as "ceramic figures" and then use the eBay filtering tools to narrow down your results by price, color, and other descriptors.
Consider Shipping Insurance
As you might expect, ceramic figurines can be quite fragile and prone to breakage during shipping. When buying on eBay, this is a risk that is easily mitigated by purchasing shipping insurance. For an additional charge, added to the shipping fee, you can insure your purchase. This means you are able to buy ceramic figurines from any place in the world and feel secure in the fact that it will arrive.
Conclusion
While a collector cannot necessarily put into words what drives him or her to collect things, more often than not it is a simple fondness for a certain item. Either how something looks or the history of it attracts the collector and does not let the person stop until every piece has been collected. However, such dedication should not be hidden away in a shoebox or stored in a hall closet. Rather, collectors should be able to take pride in their dedication and passion and put these collections on display.
This holds true for any collection, including ceramic figurines. There are many different ways to safely and beautifully put ceramic figurines on display. The right choice for any collector depends on the size of the figurines as well as the size of the collection. While a burgeoning collection may need only a small display case, a larger one may take over more than one curio cabinet. No matter what the display method, any collector should take the time to enjoy and appreciate the collection that he or she has worked so diligently to acquire.