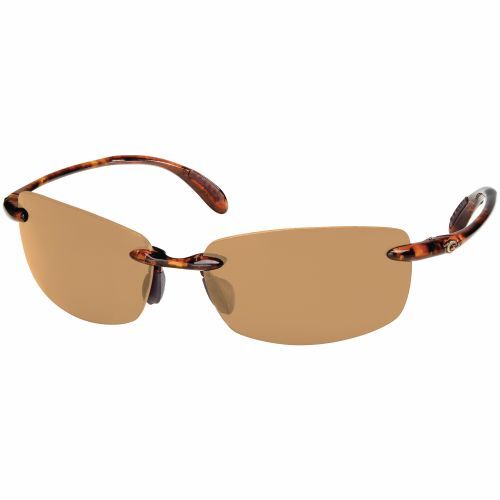 For many men, a pair of sunglasses is considered to be an important fashion accessory as well as being a practical way to protect the eyes from sun damage and glare. Choosing a new pair of sunglasses can seem a little overwhelming because of the vast range of options available. However, with a little knowledge, any buyer can easily find sunglasses that suit the shape of his face.
Sunglasses are sold in many department stores, fashion stores, and optical stores. For a wide selection of sunglasses, buyers can go to specialty sunglasses stores. Online retailers such as eBay also have an extensive selection of sunglasses available at very competitive prices.
This guide offers practical information about the ideal sunglasses for the different face shapes, including how particular sunglasses can balance out an oval shaped face. The guide also provides useful information on some of the popular brands of sunglasses, in addition to offering tips for purchasing sunglasses on eBay.
Understand the Different Face Shapes
It comes as no surprise that one pair of sunglasses may suit one man, while the same pair looks unattractive on another man. The reason for this is because the shape of the face differs from person to person. When one combines this with different skin tone, hair colour and length, and a number of other factors, it becomes apparent that there is more to choosing sunglasses than basing the decision solely on personal taste and style.
In order for a buyer to find the best sunglasses for his face, he must first be aware of the various face shapes and identify the shape of his own face. The following table lists the various face shapes and offers a short description of each.
| Face Shape | Face Description |
| --- | --- |
| Oval Face | A very balanced face, with forehead slightly narrower than the chin. Cheekbones are set high. Suits most sunglass styles. Sharp angled sunglasses can add dimension to the soft curves of an oval face |
| Heart Face | With broad forehead, wide cheekbones, and narrow chin. Suits frames that draw attention to the lower half of the face, such as narrow round frames or bottom-heavy frames |
| Square Face | Broad forehead, angled jaw, and square chin. Face is proportional in width and length. Suits oval and round frames. |
| Round Face | Round, full cheeks and chin, wide forehead. Face is proportional in width and height. Choose sharp angular frames, with rectangular and horizontal sunglass styles. |
| Oblong Face | Long narrow face with tall forehead and high cheekbones. Choose wide framed sunglasses over narrow small frames. |
| Diamond Face | Wide high cheekbones, narrow eye line and forehead, narrow jaw and small chin. Upswept or oval frames are suitable, as well as rimless frames. |
| Triangle Face | Narrow forehead and eye line, wide cheekbones and chin, with strong jaw. Suits sunglasses with top-heavy frames or frames that angle inwards at the bottom |
Identifying what type of face shape one has can help narrow down the range of styles available that may best suit a particular buyer. Sunglasses can be expensive to buy, so a buyer needs to ensure that he is making a wise purchase decision by getting the best pair of sunglasses to suit his face.
How Sunglasses can Balance an Oval Face
For those with an oval face, the good news is that there are quite a few sunglass styles that complement this face shape. An oval face is considered to be one of the easiest shapes to find sunglasses for. The most important rule to remember when buying the best sunglasses for oval faces is to ensure the frames are not excessively large. They need to be in proportion to the size of the wearer's facial features. Frames that are overly large can look unflattering on a guy with an oval face, as they may look too big and distract from his facial features.
Instead, guys can try experimenting with the latest styles. A medium to large framed pair of wayfarers may be an ideal choice. Try frames that feature detailed or patterned arms for a striking visual effect, or metal framed wayfarers for a sleek silhouette that soften any angular features.
Geometric shaped sunglasses such as square sunglasses or rectangular sunglasses are a popular option. They add angles and contrast to the smooth oval face. Dark lens sunglasses can add an upscale look and work in well with larger frames.
Some of the Best Sunglass Brands for Oval Faces
As mentioned, an individual with an oval face has a wide range of styles and shapes of sunglasses to choose from. Many brands of sunglasses offer good quality products that are suitable for men with oval faces. Each brand varies in style, quality, and price.
Ray-Ban
Ray-Ban sunglasses are a highly respected brand of sunglasses. They provide a wide range of styles, from top quality sports sunglasses to stylish sunglasses for the fashion-forward guy. Ray-Ban 3016 Clubmaster sunglasses come in a range of frames, including black and tortoise shell.
Persol
The Persol brand is known for its top quality range of sports sunglasses. The company, established in 1917, first began making sunglasses designed specifically for pilots and racing car drivers. The range of Persol aviator sunglasses is very popular, not only for their stylish looks, but also for the vision quality they offer wearers. Any guy with an oval face can look great in a pair of Persol aviators.
Oakley
For a guy with an oval face looking for a practical pair of sunglasses, Oakley's Radar sunglasses offers a great option. These wraparound sunglasses provide maximum eye protection and offer lightweight, durable frames. They are ideal for active outdoor pursuits, driving, and for general wear throughout the day.
What to Consider When Trying on Sunglasses
When trying on any pair of sunglasses, there are a few things that buyers should consider before making the final purchase decision. Buyers need to ensure that the sunglasses offer them the vision quality they require, are comfortable to wear, and offer the practicality they need.
Quality
A good quality pair of sunglasses can be more expensive. For the extra cost, buyers can ensure they are getting a pair of sunglasses that are lightweight, comfortable, and durable. Good quality sunglasses feature lenses with 100 percent UV protection, and they often feature scratch-resistant lenses and frames that are made from durable material such as polycarbonate or titanium. Men's sunglasses need to withstand being tossed into the glove box of the car, stored in the gym bag, or left on the kitchen bench. They are taken on and off multiple times each day, and their quality and durability is important if buyers want their sunglasses to last more than a year or two.
Comfort
Sunglasses need to be comfortable, even when worn for extended periods of time. Lightweight frames such as titanium frames are very comfortable. They are also durable. A good pair of sunglasses typically feature comfortable padded nose grips and have flexible arms that sit comfortably over the temples without causing pressure. The colour of the lenses may also affect how comfortable one considers the sunglasses to be. Some men like dark lenses, while others like mirrored lenses. Coloured lenses are also available and are designed to provide different types of visual quality and contrast. Choosing the type of lens comes down to personal preference.
Practicality
A man needs his sunglasses to be practical. A guy wanting a pair of sunglasses that can keep up with his sporty lifestyle outdoors would benefit from a pair of sports sunglasses. These are designed to provide maximum eye protection from UV light and glare. They are also designed to stay securely in place on the wearer's head, whether he is playing a round of golf, out on the water, or mountain biking.
Find the Best Sunglasses for Oval Faces on eBay
Many buyers enjoy the benefits that an online retailer such as eBay has to offer. With a wide selection of sunglasses for sale, secure payment options, top-rated sellers, and useful applications for mobile devices, eBay is a great way to find the best sunglasses at competitive prices.
Use eBay's Simple Search Methods
eBay provides simple search methods for any buyer looking to purchase sunglasses online at this auction website. Buyers simply need to type in their desired sunglasses into the search bar on eBay's home page. For example, those looking for men's silver framed aviator sunglasses or men's polarised sunglasses can type these terms into the search bar. Those buyers who want to see all the listings available on eBay can type "men's sunglasses" into the search bar. From here, buyers can further refine their search by using the optional search categories. These include searching by style, brand, condition, price, frame colour or material, and lens colour.
Conclusion
Some men look good in a pair of wayfarers, while others look great in aviators. Some like the rimless look, while others only ever want to be seen wearing a pair of wraparound sports sunglasses. When choosing a pair of sunglasses, a buyer needs to not only ensure that they are comfortable, practical, and offer good quality of vision, but also that they also complement one's face. For the man with an oval shaped face, there are a few good options when it comes to sunglass style and shape, and understanding what complements an oval shaped face is the key to buying the ideal sunglasses. Some of the best brands of sunglasses for oval faces include Ray Ban, Persol, and Oakley. Once a buyer knows what type of sunglasses he is looking for, he may choose to head online to eBay, where he can find a wide range of sunglass shapes, styles, brands, and colours from sellers all over the world.