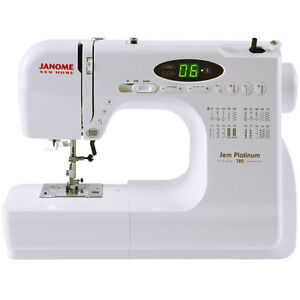 Although hand-stitching still has its uses, most people who sew rely on the assistance of a sewing machine to complete their projects. Quilting, in particular, benefits from the speed and precision of a sewing machine, which enables quilters to place tight stitches and work with large quantities of material at a time. Not every sewing machine will be ideal for quilting, however, and taking the time to research an appropriate model will help a quilter obtain the best machine for the job.
Anatomy of a Sewing Machine
Regardless of type, every sewing machine shares certain elements:
| | |
| --- | --- |
| Hand wheel | Users turn this to adjust the needle height. |
| Spool pin and cap | This pin holds the spool in place while the thread is fed through the machine. Some machines will have both a horizontal and vertical pin. The cap sits on the end of the pin to hold the spool in place. |
| Bobbin winder | These hold the bobbin while the thread is wound. They also maintain thread tension and may include thread cutters. The winder is usually located on the machine's top, front, or side. |
| Thread guide | Often shaped as discs or hoops, this is a metal component that guides the thread through the machine so that it won't tangle or bunch up. |
| Take-up lever | This pulls thread from the spool and feeds it into the machine with an up-and-down motion. |
| Tension regulator | Metal discs pinch the thread as it moves through the machine, and the tension regulator determines how much pressure these discs exert on the thread. |
| Needle position | The needle on most sewing machines can be moved left or right of center to allow for multiple lines of stitching. |
| Stitch width and length adjustment | These allow the user to alternate the size and shape of stitches. |
| Reverse | Older machines may have a lever to reverse the feed dog, but new machines will usually go into reverse with the press of a button. |
| Stitch selector | The user can select from one of several pre-set stitch types including zigzag, straight, or buttonhole stitches. In modern machines, this may be computerized. |
| Presser foot | Coupled with the feed dog, the presser foot helps regulate the speed and tension of fabric as it passes through the machine. The presser foot will have its own pressure control and a lifter that will remove all tension from the foot. |
| Needle | The needle carries the thread through the fabric. Depending on the job required, different needles can be used. |
| Stitch plate | This is a flat, metal plate beneath the presser foot that allows the needle to pass through the fabric as it's fed over the plate. Different stitches may require different stitch plates. |
| Feed dog | This sits below the stitch plate and pushes the fabric through the machine. The speed by which fabric is moved by the feed dog determines the length of stitches. |
| Throat | This refers to the space between the machine's housing and its needle. |
| Bobbin cover | This covers and protects the bobbin assembly. |
| Foot control | Not to be confused with the presser foot, a sewing machine's foot control determines the machine's speed. |
Other features are optional and help delineate between different types of machines, such as those used for quilting or embroidery. Some sewing machines are multi-taskers that can be used for many types of sewing jobs.
About Sewing Machines for Quilters
When considering a sewing machine for quilting purposes, certain qualities are essential. Many sewing machines are advertised as being ideal for quilters due to the addition of various special features, such as stitch regulators, that basic models do not have. While these features can be extremely helpful, they are also more costly than standard models and may not be necessary for all quilters.
Before purchasing a machine, it's wise to consider which features are necessary for quilters and which are luxuries. This can help narrow down a decision that will balance price with functionality.
Standard Sewing Machine Features Needed by Quilters
In addition to the standard features listed above that are common to all sewing machines, quilters will need to pay attention to a few other basic features. One feature that's especially important is the ability to switch out the machine's foot with several types of specialized feet for different quilting jobs:
| | |
| --- | --- |
| Walking foot | This performs straight line work and ditch quilting, and is sometimes called an even feed foot. |
| Darning foot | Also called a free motion foot, this is used for free motion quilting. |
| Edge stitching foot | Sometimes called a patchwork foot, this is used for piecing. The foot has a guide to create an accurate seam allowance. |
| Open toe appliqué foot | This provides an unobstructed view of the needle's path through the fabric to make appliqué and decorative stitching easier. |
Without the ability to change out different feet on the machine, a quilter may not be able to complete every quilting job. In most cases, feet made specifically for the sewing machine's model are superior to those designed generically to fit all sewing machines, so choosing a model with several feet options is a good idea.
Special Features of Interest to Quilters
Foot choice isn't the only thing that should guide a quilter's sewing machine decision. There are several other features that make certain sewing machines attractive to quilters:
| | |
| --- | --- |
| Needle position control | Quilters can choose whether to stop the needle in an "up" or "down" position. A down position can help hold fabric in place during appliqué, quilting, and piecing. |
| Variable speed motor | This feature allows quilters to set the maximum speed a machine will go when the foot pedal is completely pressed. This helps the quilter maintain control during free motion quilting. |
| Large throat space | Quilting models generally have a larger throat space than other sewing machines. This provides more room for large quantities of bulky materials. |
| Stitch regulator | This feature allows quilters to make reliably straight stitches with the feed dogs down during free motion quilting. The feature is pricey, but many believe it's well worth the cost. |
| Decorative stitches | Most sewing machines come with a handful of standard stitches such as zigzags and hems. Machines made specifically for quilting and appliqué will have numerous other decorative stitch options that may be attractive to some buyers. |
Choosing the Best Quilting Machine
It's often a good idea to try a sewing machine before purchasing it to ensure that it's the best model to suit the quilter's needs. A potential buyer may wish to run several different types of fabric through the machine to check the quality of its stitching. Checking the way a machine feels and the ease of changing the needle tension is also a good idea.
Just because a buyer tests a machine in person does not mean that he or she needs to buy that specific machine. In many cases, it may be possible to obtain that exact model for a lower price by shopping online. By choosing the appropriate model in advance, a savvy buyer can search for the best deal on the Internet while knowing that the end product will be desirable.
Buying a Sewing Machine on eBay
eBay is an excellent resource for people looking to buy sewing machines due to the large quantity of new and used machines available. Some quilters prefer used machines due to their durability while others like the computerized features in new models. Either way, locating a quilting machine on eBay is a fairly simple process.
First, click on Crafts under the Home, Outdoors and Decor tab. From there, navigate to Sewing and Fabric, then choose Sewing. Beneath that link, sewing machines will be listed. Alternatively, a buyer can search for a specific model in the search bar at the top of the main eBay page.
Conclusion
Sewing machines come with a wide variety of features and options, and the best sewing machine for one quilter may not necessarily be the best choice for everyone. Taking the time to review what features are needed for a person's projects is the best way to ensure that the appropriate machine is purchased. Once the best model is chosen, shopping online will help the buyer obtain the best value.