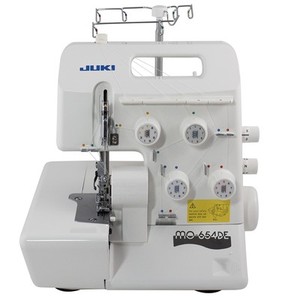 There are many different models of sewing machines that work well for heavy fabrics. However, it is better to base a decision on features rather than look for a specific model. Reviews may be reliable to some extent, but there is no mistaking quality features in a sturdy sewing machine.
Important Features for Heavy Fabric Sewing Machines
While some companies may have long-standing reputations for creating quality machines, this should not rule out all options from companies that are less popular. In some cases, it is possible to find a quality machine for a low price. The majority of machines made specifically for handling thick or heavy fabrics are labeled as heavy duty. Whether a buyer chooses a new or used sewing machine, it is important to verify several features before making a purchase.
Sewing Machine Weight
When the needle of a sewing machine is in action, the mechanical components of the unit create force as they move. For a lightweight machine sewing a thin material, this may not be an issue. However, machines must use more force for heavier materials, so they should have enough weight that they do not move. If a sewing machine weighs less than five pounds, it is likely that it will move easily when heavy fabric is used. A sturdy machine that will stand still should weigh about 10 pounds. Also, metal machines tend to be more durable than the majority of plastic units.
Sewing Machine Presser Foot Options
In order for a sewing machine to take thicker fabric well, it is important to have an adjustable presser foot. It is even better to have a machine that comes with interchangeable presser foot pieces. Different presser foot pieces work well for varying types of projects and fabric thicknesses. If a presser foot is not adjustable, it will be difficult to feed the material through. This may cause a jam, uneven stitches, or other problems. Most sewing machine sellers specify if a presser foot is adjustable. However, it is important to ask the seller about this piece if there are no specifications listed for it.
Sewing Machine Needle Bar Thickness
While it is important to use the right size of needle for heavy fabrics, it is also important to make sure the component that holds the needle steady is sturdy. With some types of sewing machines, this component may be smaller or thinner. When buying a sewing machine online, look carefully at the pictures of the needle bar, which is just above the needle itself. If the photos do not provide a clear view, ask the seller to send an additional photo of this component. Thicker needle bars are sturdier. However, if the sewing machine's manufacturer advertises the machine as optimal for heavy fabric, the needle bar is likely to be sturdy enough to keep the needle steady.
Sewing Machine Stitch Length Adjustments
Heavier fabrics require longer stitches. If a sewing machine only has about two or three stitch length options, it is best to keep looking. Machines that only have a few lengths are usually designed to handle lightweight fabrics. Look for a machine that offers more than three options. Another important issue to consider along with stitch length is speed. With some types of thicker fabrics, sewing machines may have thread jams if the user does not feed the fabric through quickly enough. For those who are not comfortable and confident sewing at a fast pace with a heavy fabric, it is helpful to look for a machine with multiple speeds.
Sewing Machine Category Considerations
When it comes to choosing a sewing machine, buyers must pick from mechanical, electric, or computerized machines. Some very old antique mechanical machines may have a hand crank instead of using an electric foot pedal. However, the majority of models made in the past century use electricity. The difference between mechanical and mid-range electric machines is that mechanical electric units do not have as many features. Use the following chart to better understand each category of machine.
| | |
| --- | --- |
| Mechanical Electric | These machines are optimal for people who want to learn the basics of sewing. Most mechanical electric machines are very simple and only have a few stitch settings. As their name implies, they require users to manually adjust knobs and buttons during the sewing process. Some antique mechanical machines may be able to handle heavier materials. However, it is important that these machines are capable of sewing thick materials before using them for heavy-duty projects |
| Mid-Range Electric | These machines have many more options than mechanical electric machines. For example, a mid-range electric machine may have several numbered tension settings, but a mechanical electric machine may have an unnumbered knob. Mid-range electric machines have more controlled feed pressure. They also offer more stitch settings, which makes it easier for users to find an appropriate setting for thicker fabrics. |
| Computerized | For users who want the best features possible, a computerized machine may be the right answer. Many of these sewing machines have as many or more features as mid-range electric units. They also have touch-screen settings, which make them easier to work with during the sewing process. In addition to this, the majority of computerized machines have very powerful feed mechanisms. These are helpful for working with tough or thick fabrics. |
New vs. Used Sewing Machines and Heavy Fabrics
As stated in the previous chart, not all mechanical sewing machines are optimal for heavy fabrics. Although some antique sewing machines may not have as many features as mid-range electric units, they may work just as well for sewing heavy fabrics. Since this is not true of all antiques, it is important to know what to look for that distinguishes the ones that are capable of such a challenge. The main thing to look for is whether the machine uses a motor or is belt fed. If it is a belt-fed machine, do not count on it standing up well to thicker fabrics. However, some of the most reliable old sewing machines were made with motors. Many of them can sew through thick materials without any issues. The only thing users should keep in mind when using such an antique is to avoid overworking the motor. Since older machines were not designed to run constantly, it is helpful to take breaks to allow the motor several resting periods. Unless they are designed for industrial use, this is also a good step to take with modern electric machines.
Sewing Machine Fold-Out Arm
Some sewing machines come with an extra arm or flat piece that folds out on the left side. When working with heavier fabrics, this is useful to have. Heavy fabrics tend to pull away from the machine if they are not held straight out. However, trying to hold them straight out can be tiring on the left arm over time. Since it is a hassle to place books or other flat items next to the sewing machine to create a platform for the material, it is better to find a machine that has this feature. This is especially true if it is necessary to have straight stitches. People who plan to sell the items they make from their heavy fabrics should be especially vigilant about making uniform straight stitches.
Sewing Machine Tension Settings
Most sewing machines come with a knob for adjusting tension. With mechanical machines, the tension knob is often unlabeled, so users must turn the feature until they find a location that works. With thicker fabrics, this can be difficult to accomplish for beginners. They must also think about how tension is tied to needle penetration and many other sewing machine specifications. People who are new to sewing should look for machines that have numbered tension settings. When using patterns and instructions for heavy-duty projects, this makes it easier to select the correct tension for that type of fabric.
Finding Sewing Machines for Heavy Fabric on eBay
Start on eBay's Crafts category page. On the menu located on the left side of the page, select the subcategory titled Sewing & Fabric. Next, select the link titled Sewing. Click on the link for Sewing Machines & Sergers. This will show all of the sewing machines and sergers for embroidery, quilting, and many other purposes. To narrow the results down to show only sewing machines, select the Sewing filter on the left side of the page.
Conclusion
By investing the necessary amount of time and research in finding a good sewing machine for heavier fabrics, it is easy to avoid the frustration of trying to complete a project on an inadequate unit. A good heavy-duty sewing machine can last for many years if it is maintained and cleaned, and some machines may be used for lighter projects as well.