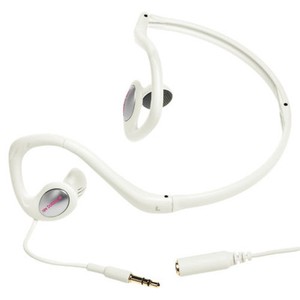 For most people, it is essential to have music with them when running. The tunes keep them entertained and provide a distraction when they are tired or worn out. iPods and MP3 players give runners the ability to bring their music with them; however, without a set of earphones, the device is useless. Many MP3 players come with a low cost pair of earbuds, but usually these are constructed with hard plastic and are a round, flat shape that doesn't fit the shape of the inner ear. They don't stay in the ears when running, and they can cause pain or headaches after wearing them for a period of time. Because of this, runners often seek to invest in a high-quality pair of earbuds that stay attached when jogging, are comfortable, and deliver high-quality sound.
There are a lot of features to choose from when shopping for earbuds that are suited for runners. Picking the right pair is important because they can make the difference between an enjoyable run and a frustrating one. This guide will assist runners in the shopping process by discussing the various different types of earbuds, their optional features, how to find comfortable ones, and where to shop for them.

Types of Earbuds
Earbuds, also called in - ear headphones, are convenient because they are small and easily carried. Since they are placed inside the ears, they deliver the sounds straight into the ear canal which allows the listener to hear the music more clearly as well as block out ambient noises. There are three main kinds of earbuds to select from and each one will work for runners. The chart below lists the three types in order of cost.

| Type of Earbud | Description |
| --- | --- |
| | Basic earbuds are the most commonly seen. They sit just inside the ear but do not go into the ear canal. They are the most affordable to buy, but cheaper versions will be less comfortable, less durable, and have lower sound quality. |
| | Dynamic diver earbuds are very small and placed inside the ear canal. The speakers in these are similar to the ones in basic earbuds but are capable of producing better sounds in the higher-priced models. Their placement in the canal blocks out more ambient sounds and makes the music more noticeable. Runners who enjoy bass will prefer these over the basic earbuds. |
| | Balanced armature drivers are much smaller than the others. The buds fit into the ear canal and the speakers are as tiny as the metal tip on a pen. These can produce the highest sound quality. Because the speakers are so small, manufactures can fit more than one into the earbuds. However, these can be extremely expensive. They are suited to music connoisseurs and are best used with a high-quality MP3 player. These, unfortunately, do not produce a lot of bass. |

All three types of earbuds can be good for runners. They vary only in placement, sound quality, and price. So joggers should invest in the type of earbuds that fit their lifestyle.

Features of Earbuds to Look For
Runners can choose from a variety of features that are available with the earbuds. Even though they are most commonly seen, earbuds do not have to consist of just a wire and small speakers. There are other ways to make the headphones more enjoyable and useful. These are some features that should be considered before purchasing earbuds.

| Feature | Description |
| --- | --- |
| Bass | For those who like to run to a beat, the range of bass that the earbuds can produce will be important. The lowest end is below 32 hertz. The very high-quality devices will have a frequency range of 20 to 20,000 hertz. However, to get good sound, only 32 to 15,000 hertz is really necessary. |
| | Bluetooth earbuds do not have any wires and connect electronically to the MP3 player. These are great for runners because the annoyance of wires is eliminated. Their only downfall is that they lose signal if there is too great of a distance between the MP3 player and the headphones. This is only a concern for those who are running on a treadmill and have their MP3 player across the room. Be sure that these earbuds are compatible with the MP3 player before purchasing. |
| | Ear hooks are popular among runners because they hold the buds in place during the impacts of running. They feature a plastic, molded wire that wraps around the outside of the ear to hold the earbuds securely inside. |
| | Kleer earbuds are similar to Bluetooth ones. They are wireless so they are also convenient for runners. This feature is designed to have a higher sound quality and to be able to span longer distances before losing signal. Since this is a less-common setup, not many MP3 players are compatible. It is also higher priced than Bluetooth. |
| | If runners are using their phone as their MP3 player, phone compatible headphones may be worthwhile. These have a speaker attached to them so that if a phone call comes through, the runner can answer it and talk on the phone without removing the headset to try to answer the call. |
| Sound Quality | The drivers and the placement of the earbuds in the ears will make a huge difference in the sound quality. Choose a set that has a wide frequency range and don't select ones that are noise cancelling. When running, it's important to be able to hear what is going on in the area for safety reasons. |
| | A strap is another way to keep the earbuds from falling out when running. These headphones feature a molded, plastic strap that wraps around behind the head to hold the buds in place. |
| Toggle | A toggle switch allows runners to be able to navigate through the songs by using a switch that is located on the wire of the headphones. This feature is not compatible with all MP3 players so be sure to read the description before purchasing. |

None of these features are necessary, but they can make running more enjoyable and convenient with fewer hassles.

Comfortable Earbuds
Not everyone likes wearing earbuds because having them inside the ears can be uncomfortable. However, a good set can be nearly unnoticeable. One thing to look for is a flexible mold. Hard, plastic buds will not contour to the shape of the ear and can cause pain. Soft ones adhere to the ear without putting pressure in any places. Since everyone has different ear sizes, it is also a good idea to look for headphones that come with several different sizes of buds. This allows people to get a size that fits their ears without them falling out or not fitting inside.

Shopping for Earbuds
Like any form of electronics, earbuds come in so many different varieties that it is impossible for local stores to stock all of them. It can be difficult finding the sound quality, colors, and features that runners are looking for without having to travel from store to store looking for them. It is also necessary to do some research on the different models to make sure that they are getting good reviews. This cannot be done in the store and the employees may not know much about the products. For this reason, it is often much easier, less expensive, and time saving to just shop on sites like eBay.

Purchasing Earbuds for Runners on eBay
eBay allows people to browse through all of the available earbud models and then bargain shop between them. Once runners decide which ones they are interested in, they simply have to read the product reviews to make the final decision.
To start shopping, go to the eBay homepage and click on the All Categories tab. Now select Consumer Electronics, and then Headphones. This page lists every type of headset available, so narrow down these listings by clicking on Earbud / In - Ear in the Headphones section. Now you can choose between the design of the headphones by selecting In - Ear Only, Ear - Hook, Headband, or Neckband. You can also enter in more personal preferences such as the brand, condition, price range, connectivity, and features. If purchasing more expensive earbuds, consider shopping only from the eBay top rated sellers. These sellers have proven that they are reliable and they take care of their customers.

Conclusion
Having music on hand is necessary for many runners, and without quality headphones, they cannot enjoy their music or the run. Runners need to take their environment into consideration when choosing which earbuds to buy. Since they are outdoors, they need to be able to hear their surroundings, but still be able to listen to and enjoy the music. The earbuds also need to stay securely in place. The bouncing motions and impacts of running can easily loosen up the headphones and make them fall off. With the information that in this guide, runners will now be able to select the type of earbuds they want, the features that best suit them, and comfortable earpieces. Runners also now have the ability to shop for, and purchase, satisfactory earbuds in less time than when shopping at brick and mortar stores.