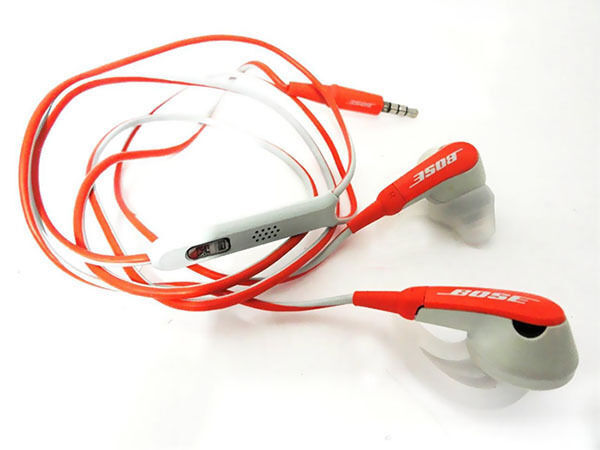 Despite their similar appearances, all earbuds are not created equal. Some have multiple covers to conform to the shape and size of individual ears, while others offer features like noise-isolation or an inline microphone. Bose, Sony, and Klipsch are popular earbud manufacturers; however, there are a number of companies, like Shure and Bowers and Wilkins, that offer comparable or greater quality earbuds for a college student's listening needs. Different colors and patterns are available to match outfits, audio devices, or simply personal preferences. Informed shoppers are able to quickly compare different brands and models to decide on the best set of earbuds to fit their needs.
Bose SEI2i
For those with an active lifestyle, the Bose SEI2i has StayHear to tips provide maximum comfort, while staying in place during all types of workouts. Built with outdoor use in mind, the earbuds feature a sweat and moisture resistant design. To allow for situational awareness, the Bose SEI2i earbuds do not have noise canceling technology so that ambient sounds and voices are easier to hear. The iPod and iPhone versions have an inline microphone to allow for phone calls and easy volume adjustments on the go. The bundled armband keeps portable devices securely in place, while providing easy access through the touch-sensitive window.
Sony XBA-4
Designed for those with the highest sound quality in mind, the Sony XBA-4 earbuds use four separate sets of audio drivers. Tweeter, woofer, super woofer, and full-range drivers give a complete range of sound from deep base to the highest of notes. Noise blocking occurs through the form-fitting ear cushions, which block outside noise and conform to the shape of individual ears. Available in four sizes, the silicon hybrid cushions comfortably stay in place without causing discomfort after extended use. The included four-foot cord allows for use with a variety of audio devices without the worry of tangles or having it drag the ground.
Bowers and Wilkins C5
Established in 1966, Bowers and Wilkins has a rich history of innovation in the sound and recording industry. The Bowers and Wilkins C5 in-ear headphones have a loop that holds them securely inside the ears and provides support for extended use. Weighing less than an ounce, these earbuds provide deep, rich sound in a tiny package. Microscopic steel balls act as a sonic diffuser to block outside noise, while still enhancing sound output inside. Designed to support most Apple products like the iPod Touch, iPhone, iPod Nano, and iPad, the earbuds include a remote control and microphone to maximize functionality.
Shure SE535-V
With their unique detachable wires, the Shure SE535-V earbuds use formable, Kevlar wires to securely keep them in place. Designed for use in noisy environments, they are capable of blocking up to 37 decibels of noise for interruption-free listening. Dual sub woofers and a tweeter in each ear provide deep bass output and rich sounds. Adapters for 1/4-inch stereo connectors and for airline use give it additional versatility while on the go or in the studio. The volume is easy to adjust from the inline controller. The Shure SE535-V sound-isolating earphones comes in both metallic bronze and clear colors.
Klipsch IMAGE S4i
Designed to work with a wide range of MP3 players, as well as the Apple iPhone and iPod, the Klipsch IMAGE S4i in-ear headphones offer flexibility and longevity. The extensive use of rubber molding is apparent throughout the design to provide durability in a variety of environments. The large, 3-button inline controller makes on the fly volume or track changes a snap. The remote also allows for use when wearing gloves in cold weather. Oval-shaped tips come in multiple sizes to keep the earbuds in place, while allowing for user comfort and noise cancelation.
How to Buy Earbuds for College Students on eBay
eBay provides buyers a variety of options at their fingertips to quickly locate and purchase earbuds. From specific models or brands to color or style, the search bar on each page allows buyers to find the best available listings. Keywords like "Shure earbuds" display broader search results, while "Shure SE535-V earbuds" net very specific results. The use of available filters for color, price, and features further refines the number of listings available.
College students need earbuds to listen to their music and tune out the chaotic world around them as they study. Researching earbuds ahead of time serves to make informed decisions and helps college students select the best pair based on personal needs.