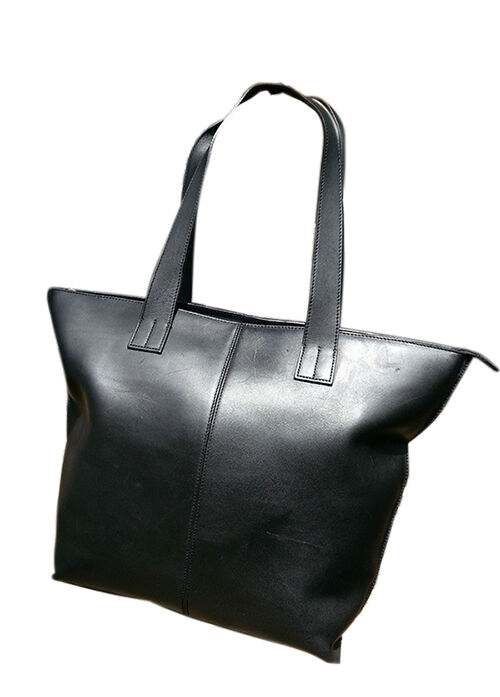 Before the new school year arrives, teachers have to shop for their back-to-school supplies. While common supplies like pencils, pens, paper, and assignment books are always on the list, one overlooked item is a great tote bag. A tote bag is an essential item for teachers. Totes allow teachers to carry supplies, textbooks, and other school materials throughout their day with ease. Teachers can stay organized and have easy access to everything they need during class with a tote bag. When shopping for a tote bag, there are a few standout totes with good style and function.

L.L. Bean Leather Town and Field Tote
Few materials are more luxurious than leather and the L.L. Bean Leather Town and Field Tote showcases the beauty of this material. This tote is not only equipped with plenty of storage space, but has an interior organizer to keep everything in one place. This full-grain leather tote is available in black or brown. It looks attractive in and out of the classroom, and is an excellent choice for male and female teachers.

L.L. Bean Carryall Tote Bag
The L.L. Bean Carryall Tote Bag has rugged features that are still appropriate for the classroom. This bag is great for use outside of the classroom, such as carrying lunch for picnic. The Carryall Tote Bag has a roomy interior, an organizer panel, and features strong and durable nylon. This bag is available in four different colors with straps that easily slide over the shoulders for comfortable carrying. This is a great choice for both genders, and it is sturdy enough to last for multiple years.

Solo Classic Collection Rolling Overnighter
While the Solo Classic Collection Rolling Overnighter is not a traditional teacher's tote, this bag has enough features to make it a solid pick for the classroom. This tote is available in black, so it works well for male or female teachers. Its standout feature is the ability to roll when needed. While it has a comfortable handle for carrying, it features an additional handle that comes out of the top for pulling the pack by its wheels. This is ideal when a teacher needs to carry a heavy load. This tote comes equipped with a padded laptop sleeve and plenty of interior room, so bringing laptops and extra supplies are no problem at all.

Vera Bradley Tote
The Vera Bradley Tote is a good choice for teachers who want to keep all of their classroom supplies together in one stylish bag. It features interior pockets for storage and organization, and it is available in three different colors. This is a durable and fashionable tote made of soft, quilted cotton. The bottom panel is removable, and this tote easily transitions from the classroom to an accessory for a night out on the town.
Comparison of Totes for Teachers
The following chart shows comparisons between the four totes mentioned in this guide to help teachers make an informed purchasing decision for the next school year.

| Tote Bag | Size | Strap Drop | Colors | Material | Special Features |
| --- | --- | --- | --- | --- | --- |
| | 13 x 15 x 7 inches | N/A | Black, Dark Brown | Full-grain leather | Built-in organizer and pockets |
| L.L. Bean Carryall Tote Bag | 14 x 20.5 x 7.5 inches | N/A | Black, Deep Evergreen, Plum, Royal | 420 denier nylon | Zip-down organizer and multiple pockets |
| Solo Classic Rolling Overnighter | 15 x 16.5 x 10.5 inches | N/A | Black | Polyester | Laptop sleeve, rolling design |
| Vera Bradley Tote | 11.75 x 13.5 x 4 inches | 12.5 inches | Cobalt, Magenta, Classic Black | Quilted cotton | Three interior pockets |

How to Buy Totes for Teachers on eBay
When shopping for a tote for the new school year, a teacher should start by checking out all that eBay has to offer. eBay carries a variety of different totes in multiple sizes, colors, styles, and materials. You can find all of the leading brands in totes such as L.L. Bean and Lands End through a simple search in the search bar located on every page.
Buying all of the needed school supplies for teaching is important, and teachers need a sturdy tote to carry all of their supplies. The right tote bag makes it easy for teachers to carry their materials to school each day, and provide easy access to everything they need.