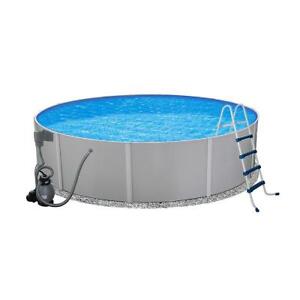 When shopping for equipment and accessories for your swimming pool, spa, or hot tub look no further than eBay's Pools & Spas category. You'll find a wide selection of items to fit your pool and spa needs, including pool heaters, spa heaters, pool cleaners, and pool toys.
Review all safety information before using your pool, spa, sauna, or hot tub.

Select a Pool, Spa, or Sauna
Swimming pools, spas, and saunas provide a relaxing diversion and can add to the value of your home.
Measure for a pool or spa
When installing a new pool, spa, or sauna in your home, decide where you want it to go. Outline the area and take measurements to determine what size pool, spa, or sauna it can support. This will also give you a rough idea of how the finished area might look. Remember to leave a pathway open to get to and from the unit.
Choose a pool
You'll find three types of prefabricated swimming pools on eBay: in-ground pools, above-ground pools, and inflatable pools.
Inground pools: Have your pool builder construct your support system and place an in-ground pool level with the ground. In-ground pools use a vinyl liner that you can replace periodically.
Above-ground pools: Above-ground pools sit on top of a level surface and come in a variety of sizes. Choose an above-ground pool design that fits in with your landscape.
Inflatable pools: Many sellers offer small inflatable pools for the kids. Just set them up in the backyard on hot days and put them in storage for the winter.
Pools are meant to be fun, so remember to buy some pool toys and games.. Also remember to get pool floats so that you can lie out and relax on the water.
Select a spa or hot tub
Select a spa (also called a hot tub) based on seating, jets, and additional features.
Spa Seating: Companies such as Jacuzzi mmarket hot tubs with different seating capacity. You'll want a spa that fits your space and seats your friends and family. If you have older children, make sure the spa has seats at varying depths, so they can enjoy it safely.
Spa Jets: Jets make the spa. Air and water mix together and shoot out of the jet in a high-pressure, massaging stream.
Special spa features: Spas can come with features such as underwater lighting, stereo systems, built-in televisions, or even a wet bar. If you're interested in a special feature, there is a spa out there that has it.
Pick up an umbrella, trellis, and bench to make your spa the centerpiece of your garden.
Search for a sauna
Take a steam bath to open pores and sweat out impurities.
Rock saunas: Rock saunas,, also called Finnish saunas, use heated rocks to create steam.
Infrared saunas: Infrared saunas direct heat toward you to create a gentle massage.
Saunas look like a closet and fit nicely next to an indoor wall. You should buy a sauna that fits the dimensions of your space and has the capacity to support more than two people.

Use Pool Heaters and Spa Heaters
Installing a heater for your swimming pool allows you to avoid icy-cold temperatures, and it also gives you the opportunity to use your pool beyond the summer season. Ideally, you'll want your pool water to stay between 78 and 82 degrees.
Heating systems
Pools and spas often support active heating systems such as a pool heaters and heat pumps. A more cost-effective, eco-friendly method of heating your pool is through the use of solar power.
Pool Heaters: Pool heaters run on propane, natural gas, or heating oil. They use the fuel to heat the water, in much the same way as the hot water heater in your home operates.
Heat pumps: Heat pumps,, or heat exchangers, work like your home refrigerator and require only electricity.
Solar heating: Solar panels,, often mounted on the roof, are used to hold and heat pool water by direct sunlight. The system pumps water into the large black panels where it is heated and then pumps it back into the pool.
Use a thermometer to measure the temperature of your pool. It'll let you know if the water is comfortable and will let you know if your heating equipment is functioning properly.
Pool covers and spa covers
Pool covers and spa covers prevent heat from escaping into the air and in the long run save you money. Plus, they help keep your pool or spa clean. Equip your spa with a cover lift to make moving and storing your spa cover easy.
For additional safety, buy a pool safety cover that meets American Society for Testing and Materials (ASTM International) safety standards. Constantly supervise animals and children around the pool, regardless of the type of pool cover you purchase.

Choose the Right Pool Cleaner
The first thing to do when choosing an appropriate swimming pool cleaner is to consider the type of pool you own. Most above-ground pools can use a variety of pool cleaners, while many in-ground pools are designed with a specific type of cleaner in mind. Be sure to ask your builder, or your local pool supplies retailer, if you have questions about choosing the right pool cleaner.
Regularly clean your pool or spa to keep it looking like new and prevent it from becoming a health hazard. Choosing a pool cleaner means finding the correct mix of chemical and mechanical methods.
Mechanical pool and spa cleaners
Mechanical pool and spa cleaning devices range from simple pool skimmers to complex automated machines. Pool cleaners are a necessity, but you can also purchase hand-powered spa cleaners that operate like a combination scrubber and vacuum.
Pool skimmers: Pool skimmers have a net mounted to the end of a pole. Find a leaf, scoop, repeat.
Pressure cleaners: Pressure pool cleaners use pressurized water from a hose for cleaning. The pressure cleaner traps dirt and debris before it can get into the pool's filter system. Your pool must be fitted for a pressure cleaner during construction.
Suction side cleaners: Suction side cleaners use the pool's built-in filter system and can be attached to any functioning pool filter.
Robotic pool cleaners: Autonomous robotic pool cleaners use the pool's filter system like suction side cleaners. They only require a grounded power supply near the pool.
Chemical pool and spa cleaners
Maintaining the right pH level ensures that you have a safe and comfortable experience with your pool or spa.
Use a testing kit to track the pH balance and chemical levels in your pool or spa. You'll want to maintain a slightly alkaline pH level, between 7.2 and 7.6. These levels help chemical cleaners keep the pool disinfected and won't damage the pipes or pumps. Use sodium carbonate or sodium bicarbonate to raise the pH level. Use muriatic acid or sodium bisulfate to lower the pH.
By using the correct blend of chlorine and bromine you can keep your pool looking clean. Chlorine and bromine will also help keep germ and algae levels from getting out of control.

Find Pools & Spas on eBay
Once you know what type of pool, spa, heater, or pool cleaner you're looking for, visit to the Home & Garden category on eBay, click Pools, Spas, and start searching for item the products you need to enhance your home swimming pool or spa.
Categories: The Categories list on the left side of each page will help you narrow down your listings by item type. You'll find links for Pool & Spa Covers, Pool Chemicals, Chlorine, Pool Cleaners, Pool Filters, Pool Floats, Rafts , Pool Heaters & Solar Panels, Pool Liners, Pool Pumps, Pool Toys & Games, Pools, Spas, Hot Tubs, Saunas, and Other Pool & Spa Accessories.
Keyword Search: Search eBay listing titles for specific words. For example, if you want to find filter cleaners, type "filter cleaners" (without quotation marks) into the Search box. Click "Search title and description" to expand your results. Visit eBay's Search Tips page for more tips on searching with keywords.
If you can't find exactly what you want, try shopping eBay Stores, tell the eBay Community what you want by creating a post on Want It Now, or save a search on My eBay and eBay will email you when a match becomes available.

Buy Pools & Spas With Confidence
Before making your purchase, make sure you know exactly what you're buying, research your seller, and understand how eBay and PayPal protect you.
Know your purchase
Carefully read the details in item listings.
Figure delivery costs into your final price. If you spend a lot of money, make sure the seller will insure the item when it ships.
If you want more information, ask by clicking the "Ask seller a question" link under the seller's profile.
Always make sure to complete your transaction on eBay (with a bid, Buy It Now, or Best Offer). Transactions conducted outside of eBay are not covered by eBay protection programs.
Never pay for your eBay item using instant cash wire transfer services through Western Union or MoneyGram. These payment methods are unsafe when paying someone you do not know.
Know your seller
Research your seller so you feel positive and secure about every transaction.
What is the seller's Feedback rating? How many transactions have they completed? What percentage of positive responses do they have?
What do buyers say in their Feedback? Did the seller receive praise?
Most top eBay sellers operate like retail stores and have return policies. Do they offer a money-back guarantee? What are the terms and conditions?
Buyer protection
In the unlikely event that you don't receive your item or it is not as described, eBay Buyer Protection will cover your purchase price plus original shipping. Learn more.