How to Look after a NEW Tattoo

Tattoo Aftercare Instructions

DO

Wait 2-4 hours after you leave the tattoo studio before removing the dressing.
Where possible wait until you are home to remove the dressing. Make sure you have
antibacterial soap for hand washing only.
Wash your hands with antibacterial soap before removing the dressing.
Use only plain warm water to clean the skin over your new tattoo.
DO NOT use a face/wash cloth. Skin on skin is best. Gently use your hand to remove any old blood, mucous or debris.
(Do NOT use any soap when washing your Tattoo. Using soap including antibacterial soap on a new tattoo can remove precious oils and safe bugs from the skin that aid the healing process)
Pat dry using a paper towel or clean hand towel. Allow to air dry for a few minutes.
Apply a small amount, a light film, of TATTOO AFTERCARE® (THC) from The Aftercare Company. com
Gently massage into
the skin.
Remember your skin has gone through trauma having been punctured with a row of needles thousands and thousands of times while unloading the ink. So gently does it.
Do not recover the skin unless your tattoo is oozing lots of fluid. Loose clothing should be sufficient to protect your skin.
Apply another light film, sparingly, of TATTOO AFTERCARE® (THC) from The Aftercare Company. com 4 hours later.
Remember the less is more rule so as not to over apply and suffocate the skin.
Wash the tattoo again at night and apply another fine layer of TATTOO AFTERCARE® (THC) before bed.
As the healing process progresses washing the tattooed skin with water once a day will be sufficient cleansing.
Apply a light application of TATTOO AFTERCARE® (THC) from The Aftercare Company. com 2-4 times daily until the skin has fully healed.
DO NOT
Show your new ink work to all your friends within the first couple of hours. Try to avoid this temptation as good hygiene practices mean everything. The risk of getting an infection is much higher in the first few hours after tattooing.
Do not share your aftercare product with anyone this helps avoid any chance of cross contamination – be responsible for your own hygiene.
During the healing period, stay out of swimming pools, saunas and partaking in water sports until the skin has completely healed. Soaking a new tattoo can cause it to lose its brightness. It is okay to shower as long as you do not soak the tattooed skin for long periods.

Q. AFTER YOUR TATTOO SESSION - WHAT HAPPENS NEXT?
A. You can expect a little swelling and redness which can last for a few hours.
For some people this will go away very quickly. For others it might take longer as they find their skin has become very sensitive following the tattooing process. There may be weeping and some discomfort.
Each tattoo you have can bring about a different response and for some people no discomfort, redness or swelling. Any symptoms you may have will be temporary.
Tattooed skin will heal on its own without an aftercare but the process can be uncomfortable and the symptoms associated with the process may bring problems. The skin can go very dry and itchy, scabs might form and the chance of picking these due to the itch will increase the risk of infection and loss of ink. The skin could take between 10 – 21 days to heal.

HEALING PROCESS
As your skin begins to heal the weeping should have stopped. There might be some areas
that start to scab (a hard outer layer). Some people are prone to scabbing. Overworked areas can cause scabbing and for some people their choice of aftercare can cause scabs.

Choosing a product like Tattoo Aftercare® (THC) from The Aftercare Company. com can help reduce scabbing.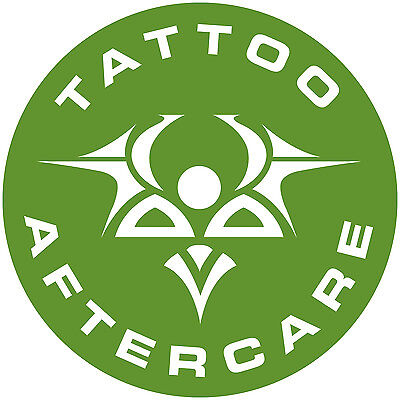 On other areas the skin might start to lightly flake (like skin that peels after sunburn).
This is normal and more noticeable with heavily coloured and full black tattoos.
This light flaking may continue for several days then the skin might go shiny – also a bit wrinkly.
This is the top layer of skin healing. During this time the skin may become itchy
and will be fragile.

Using an aftercare product like TATTOO AFTERCARE® (THC) from The Aftercare Company. com will help relieve itching.

After a few days the skin can look duller. This is not how your healed tattooed skin will be.
The top and middle layer of skin is undergoing a healing process. As both layers of skin heal
your tattoo will start to look brighter. The top layer of skin can appear to be fully healed after a few days but the middle layer can still be undergoing change so continue to take care of your skin.
If your skin does scab do not pick them. This can introduce infection into the skin. It can also pull ink out which will leave gaps in your ink work. Keep the area moisturized and allow the scabs to fall off naturally. Keeping the skin moisturized and supple will help prevent scabbing.

LONG TERM CARE
The ink is placed in the dermis layer of the skin. You view your tattoo looking through the epidermis layer of the skin into the dermis layer. How you care for that top layer of skin will affect how your tattoo looks. Bright healthy skin will give a clearer brighter tattoo. Dull skin can make your tattoo look jaded.
Moisturizing and sun block play an important part in the long term care of tattooed skin. Treat your tattooed skin as you would your face. Apply a regular moisturiser.

TATTOO AFTERCARE® (THC) from The Aftercare Company. com can also be used as a daily moisturiser once your tattoo has fully healed. Avoid harsh soaps and cleaners.

TATTOO AFTERCARE®. (THC) This 100% natural ointment contains ingredients that were specially chosen to deal with the skins changing requirements after tattooing, after healing, and the long term care of all tattoos. It contains no parabens and is approved under the humane cosmetics standard. Not tested on animals. By Shirley Jaffrey from The Aftercare Company. com