Here is yet another installment of many guides that we, REPLACEMENTS, LTD, will be posting to provide some interesting information on several manufacturer's of some the world's most collectible porcelain companies. This one will be about Royal Crown Derby of England, maker's of the several well known patterns such as the famous Old Imari and Aves lines. We'll be highlighting a few of these well-known patterns below.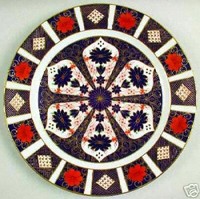 See our OLD IMARI listings, HERE!
History of Royal Crown Derby
The Royal Crown Derby Porcelain Co. opened sometime before 1750, with the exact date of the company's founding not known. The story begins with an entrepreneur named Andrew Planche migrating from France to England to escape the religious suppression of the Huguenots during the early 1700's. After settling in England, Planche decided to open a porcelain factory. He partnered with William Duesbury (a wealthy English merchant) and the two men began work on a factory in Derby, England. Derby is located on the River Derwent near Trent. Proximity to the river allowed Duesbury and Planche to easily import and export raw materials as well as finished product. Additionally, Derby was known for its prolific silk trade and as a haven for artists.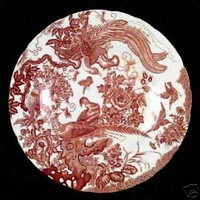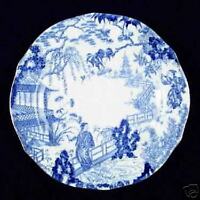 See our RED AVES listings, HERE! See our BLUE MIKADO listings, HERE!
In 1750, the doors of the Chelsea Works factory were opened. The factory brought industry to the small town of Derby and helped the town prosper. As the company's figurines and dinnerware became popular throughout Europe, the Chelsea Works began attracting some of the most skilled artists of the day. Figure painting was done by Richard Askew and James Banford. Zachariah Boreman and John Brewer were hired to paint landscapes, still-lives, and pastorals. Intricate floral patterns were designed and painted by William Billingsley and William Pegg. Under the remarkable guidance of this design team, the company established its reputation for excellence in design, quality, and craftsmanship. In 1770, William Duesbury fully acquired the famous Chelsea Works factory from his partner. He continued to work to grow his small porcelain business. In 1775, Duesbury's hard work was rewarded by King George III. The King issued Duesbury the rare honor of being allowed to incorporate His Majesty's crown into the Derby backstamp. The company then became known as Crown Derby. .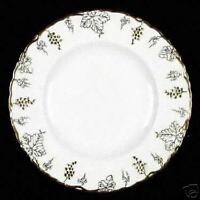 See our BRITTANY listings, HERE! See our VINE-GOLD listings, HERE!
In 1786, William Duesbury died. The company was passed to his son, William Duesbury II. Because he was educated and raised close to the porcelain business, William made an excellent leader. He set to work developing a number of new glazes and body types. Unfortunately, William Duesbury II died in 1797 at the age of 34. The company was passed to Michael Kean, and at this time the reputation of the Derby name began to decline. Many imminent artists working at the Derby factory left in pursuit of other opportunities during this time.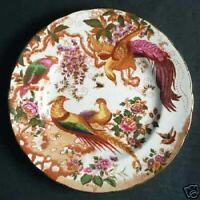 See our OLDE AVESBURY items, HERE! See our BLUE AVES items, HERE!
In an effort to prevent further deterioration of the Derby name, leadership was passed to William Bloor in 1811. Bloor had a reputation as a shrewd business man. He was also recognized as an art lover with an appreciation for works that were richly colored and elegantly styled. Under his leadership, the company began designing brightly colored Japanese imari patterns. These lines often featured intricate geometric patterns layered with various floral designs. New artists were hired as the company set about to restore itself to its former glory.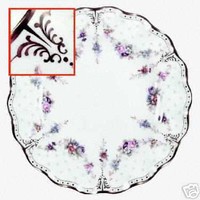 See our ROYAL ANTOINETTE, HERE! See our TRADITIONAL IMARI, HERE!
In 1877, the old Derby factory was torn down and a new one erected. The opening of the impressive Osmaston Road factory would be the beginning of the modern period of Derby porcelain. Crown Derby's patterns became immensely popular during the Victorian era. Victorians relished the romantic and lavish designs that were produced by the Derby factory. In 1890, Queen Victoria appointed Crown Derby to be "Manufacturers of Porcelain to Her Majesty." By order of a Royal Warrant, the company became known as Royal Crown Derby.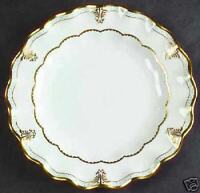 See our LOMBARDY listings, HERE!
Today, Royal Crown Derby is owned by S. Pearson and Son and is part of the Allied English Potteries Group. In 1981, the company introduced a line of paperweights which have become immensely popular. Royal Crown Derby continues to produce patterns in the imari style. Replacements, Ltd. carries many of these patterns, including Old Imari, Traditional Imari, Red Aves, Blue Mikado, and Olde Avesbury.
Click HERE to see ALL of ROYAL CROWN DERBY items in our eBay store!!!