Here is yet another installment of many guides that we, REPLACEMENTS, LTD., will be posting to provide some interesting information on several manufacturer's of some the world's most collectible porcelain companies. This one will be about Mason's Ironstone of England, maker's of the popular Vista-Pink and Denmark-Blue patterns. We'll be highlighting a few of these patterns below.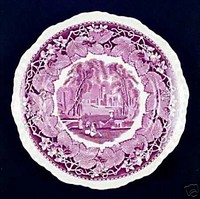 See our VISTA PINK, HERE!
HISTORY OF MASON'S IRONSTONE
Miles Mason began his career in 1796 as a china importer in London, England. At that time, Europe was actively engaged in trade with the Orient. The Orient was expressly efficient at producing quality china and porcelain and the extravagant designs streaming from the East were immensely popular throughout Europe. As the production of china became more and more heavily influenced by Oriental imports, Miles Mason made the decision to leave his job as a china wholesaler and open his own porcelain producing factory. In 1804, Mason officially announced his exit from the import business with an article in the London Morning Herald.
See our DENMARK BLUE, HERE! See our CHRISTMAS VILLAGE, HERE!
Through his work as a china importer, Mason amassed considerable wealth. Using his acquired wealth as startup capital, he opened a pottery factory at Lane Delph, Fenton. In 1806, Mason's factory officially opened and became known as the Minerva Works. Miles Mason solicited his three sons to manage his Fenton factory. Because the Minerva Works was controlled by the Mason family, the factory soon became known as "Masons." Miles Mason's earliest productions were simply marked with the backstamp "M Mason" and were heavily influenced by the Oriental porcelain that he imported to London in 1796.

In 1813, Charles James Mason, the third son of Miles Mason, received a patent for his "ironstone china." This hardened earthenware proved useful in the production of daily china, as well as industrial strength tiles used in furnaces, fireplaces, and flooring. Because of its exceptional durability, ironstone became the most successful product sold by the Minerva Works factory. Soon after the creation of ironstone, the Masons' name became popular throughout England and Europe. In 1815, Charles Mason married Sarah Spode, the granddaughter of Josiah Spode. As a result of the familial alliance, the Minerva Works acquired a second factory that was being held by the Spode family in Fenton.

By 1820, the ironstone productions of the Minerva Works factory had built up an exceptional repertoire of patterns that were Oriental in character but reflected many Italian and English landscapes. In 1822, the Minerva Works was devastated by the death of its founder, Miles Mason. Despite the grief felt by the company and its employees, the Minerva Works continued to successfully produce and sell many ironstone patterns. One reason for the immense success of the company came as a result of a unique marketing technique employed by Charles Mason. Rather than selling his product through catalogues, solicited orders, or door-to-door sales, Charles Mason auctioned his product. Until this time, auctions were used only for estate sales and overstock sales.

In 1829, the Minerva Works became known as Charles J. Mason & Co. The name was also applied to Fenton Factory, the factory acquired from Josiah Spode. Throughout this period, a number of backstamps were used, including "M Mason," "CJ Mason & Co. Lane Delph," and "Fenton Stone Works."
Eight years before his death, Charles Mason decided to sell the "Minerva Works" and "Fenton Stone Works." In 1848, Mason's factories became the property Francis Morley. Two years after Morley's acquisition, both factories were closed and production was moved to Broad Street in Shelton. Charles Mason died in 1856. For the next century, Mason's Ironstone would change hands four more times. The most notable and lasting of acquisitions occurred in 1862, when George Ashworth became partner to Francis Morley.
See our QUAIL BLUE, HERE!
The George Ashworth name was used from 1862 until 1969. In 1969, the company was renamed Mason's Ironstone Ltd. The company began to remake many of its earlier designs. These Oriental designs marry the simple elegance of Eastern art with heavily ornate and brightly colored Derby designs of England. Masons insured continuity of its name and product when it joined the Wedgwood Group in 1973. Mason's Ironstone Ltd. continues to produce finely decorated porcelain. If you would like to view a complete list of Mason's items that we currently have in our eBay stores, CLICK HERE!