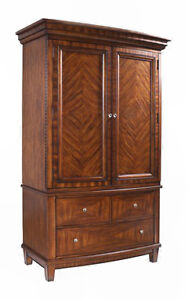 Armoires were originally designed as clothing wardrobes and eventually gained a luxury status as they not only held clothes, but reflected the opulence of the homes in which they were kept as well. More recently, armoires have come to be used to hold televisions and their related components. The juxtaposition of an item that is antique in nature being used to hold modern electronic equipment may be difficult for some to reconcile, but a TV armoire makes perfect sense for those who want to maintain the traditional feel of a room while at the same time equipping it with contemporary entertainment equipment. Choosing the right TV armoire to accomplish this goal can be a trying task, though. This TV armoire buying guide helps ease the process by pointing out the considerations that go into selecting a TV armoire. Armed with this information, readers should know what to look for when shopping for a TV armoire, which will help them enjoy modern entertainment without sacrificing the harmony of their homes' decors.
Considerations
This section highlights the main considerations that go into buying a TV armoire. These include dimensions, storage, the features that a TV armoire offers, and style. Buyers can use these considerations to ascertain whether specific TV armoires are suitable for their homes.
Dimensions
The dimensions of TV armoires vary, so it is important to take measurements and consider the angles from which the TV will be viewed before deciding to buy a TV armoire.
Height
The armoire should be at a height that provides viewers with a comfortably angled sightline to the television. Some viewers prefer to look slightly upwards when viewing a television while others would rather have a level line of viewing to the screen.
Depth
Depth is an important consideration when deciding for which TV the armoire is suited. If a viewer is planning to place a CRT TV in the armoire, it must be deep enough to accommodate that kind of TV. If a viewer is planning to place a flat panel TV in the armoire, then depth is not as much of a concern. Viewers using a flat panel TV can actually look for shallower TV armoires if they would like to try to lower the armoire's profile.
Width
The width of a TV armoire is also important. First, it must be wide enough to accommodate the screen size of whatever television it is designated to hold. The width of a TV armoire is also influenced by the design of its doors. Some armoires have doors that swing open on hinges and remain open, like wings. TV armoires with these kinds of doors need a few extra feet of space on either side of them. Other TV armoires have doors that open to a perpendicular position and then slide back into slots in the armoire so that they are out of view. These sliding-door TV armoires create less of a demand for space around the TV armoire.
Storage
One of the great aspects of a TV armoire is that it allows all of the accessories that accompany a TV to be stowed out of plain view. Accessories such as DVD player, video game consoles, and stereos can be tucked into various cabinets within the TV armoire, and there may also be space for storing media such as CDs, DVDs, and video game cartridges. Many armoires also have sliding shelves to give easy access to the wiring of these components. Best of all, when the TV armoire's doors are closed, all of these components and media are out of sight completely, giving the entertainment system as low of a profile as possible.
Features
The table below points out a few features, including the benefits of those features, that buyers may want in their TV armoires.
| Feature | Benefits |
| --- | --- |
| | These doors can tuck back into the TV armoire so that they are out of sight when the TV is being viewed. |
| Adjustable Shelves | This allows for the customization of the TV armoire, including the adjusting of the space allotted for the television. |
| Storage Slots | These are slots specially designed to hold DVD cases. This helps to keep media in order inside of the TV armoire. |
| Removable Back Panel | A removable back panel gives easier access to the back of the television and components connected to it. |
| Speaker Cabinets | Speaker cabinets house speakers connected to the television. These should have speaker fabric to allow for clear transmission of sound. |
| Glass Doors | Glass doors keep components protected from elements such as dust while still allowing for the transmission of a remote signal. |
| Connection System | A connection system provides slots through which the TV and its components can be connected to one another. |
| Memo Board | A memo board might be cork or dry erase and it allows users to write reminders inside of the TV armoire. |
A TV armoire need not have all of the different features mentioned in the above table, but buyers will want to consider which of these features are most relevant to how they plan to use a TV armoire before deciding which one to buy.
Style
One more consideration that potential TV armoire buyers will want to take into account is the armoire's style. A buyer must first think about the room in which the TV armoire will sit. The armoire should be in harmony with that room's decor. The type of wood, such as cherry or walnut, and its stain should match other colors in the room and the design of the TV armoire can be as ornate or casual as the other furnishings surrounding it. There are even kids' TV armoires that are designed for children's rooms. A TV armoire is furniture, after all, so it is meant to have aesthetic appeal in addition to functionality.
Where to Buy a TV Armoire
It is relatively easy to find sources from which to buy a TV armoire. Those who prefer to shop locally can check home furnishings stores within their locales. These are likely to carry at least a few TV armoires, with larger stores likely to carry broader selections. Employees at these stores can also usually point out the various features that their stores' TV armoires contain and the stores can generally arrange for the delivery of the armoires to customers' homes. This is an added convenience of shopping for an armoire from a local, authorized dealer.
Many large home furnishings stores sell TV armoires online as well. Those home furnishings stores with outlets spread across a wide geographical region may offer a larger stock of TV armoires online than any one of their stores supplies because their online selections are often an aggregate of everything their multiple stores hold. Therefore, shopping online can often yield the most results for those searching for a TV armoire. It is also a convenient way to shop because customers can place orders from home any time of day or night and have their TV armoires delivered, though they may be responsible themselves for placing the TV armoires in their homes.
It is also possible to find pre-owned TV armoires in classified ads and at flea markets, though the available selection may be inconsistent through both of these sources. It is possible to check a set of classified ads or stop by a flea market only to have limited results turn up. However, finding a desirable pre-owned TV armoire can also yield substantial savings over a purchasing a new one, though buyers may be solely responsible for transporting their TV armoires to their homes or arranging a delivery with the seller.
How to Buy a TV Armoire on eBay
eBay is a good online source for buying a TV armoire. There are many TV armoires for sale there, it is easy to search for them on the site, and you have the option of buying a new or used TV armoire. It is also possible to save money on a TV armoire when buying it on eBay if you choose to purchase from a seller who offers free shipping.
Searching for a TV Armoire
Go to eBay's homepage to start your search for a TV armoire. Enter either of the terms "TV armoire" or "entertainment armoire" into the search bar and click Search. You should then get a listing of TV armoires that are for sale on eBay. You can narrow your results by choosing a filter category, such as Furniture. This will help to ensure that you eliminate unwanted results from your search, making it easier to browse the listings of TV armoires. Alternatively, you can add a descriptive word, such as "cherry," to your search term if you are looking for a particular TV armoire. If you want to save money by purchasing a used TV armoire, simply choose the Used option from the Condition menu. By using these search and filter options, you should be able to find the TV armoire that you want.
Free Shipping
In addition to buying a used TV armoire, the other way to save money when shopping for a TV armoire on eBay is by having it shipped to your home for free. To find sellers who offer this service, first pull up a listing of TV armoires in which you are interested, such as cherry TV armoires, and then select the Free shipping option on the Show only menu. This will display all of the sellers offering free shipping on cherry TV armoires, helping you to save money by shopping on eBay.
Conclusion
A TV armoire provides for the perfect reconciliation between modern entertainment technology and old-fashioned style sensibility. It can be ornate in design to harmonize with a surrounding decor, yet it can also function exceptionally well as a home entertainment center at the same time. Finding the right TV armoire to accomplish these goals can be challenging. This TV armoire buying guide has highlighted the various considerations that go into choosing the right TV armoire, including the TV armoire's dimensions, its storage capability, its features, and its style. Since a TV armoire is a piece of furniture, it is important to think both about how it functions and about how it looks. Once buyers have an idea of what they are looking for in a TV armoire, they can begin to search for one. To that end, this guide has provided information about where to buy a TV armoire. Following the advice that has been provided in this guide, buyers should be able to find the perfect TV armoire to marry their senses for aesthetics and their desire to enjoy modern entertainment.