This Guide Is To Give The Reader A General Overview Of The Lens Types, Styles, Colors, And Uses For Sunglasses, Safety Glasses, And Goggles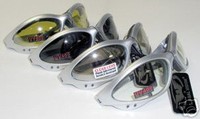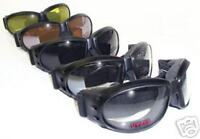 Polycarbonate
Polycarbonate lenses provide superior eye protection from flying objects like bugs and gravel that could shatter a regular lens causing eye injury or even blindness...Look for Shatterproof Polycarbonate Lenses.
About CE
The CE mark stands for Conformité Européen, meaning a product conforms to the high safety and quality standards set forth by the European Union (EU)
Lens Types & Colors
Bifocal - A portion of the lens magnifies for reading small print.

Colored - Color lenses may include yellow, purple, green, blue, orange, red, and other colors.

Clear - Un-tinted for low-light or nighttime eye protection.

Clear Mirrored - A clear lens with a flash mirror coating that provides a one-way mirror for "private eyes". Popular for bright and low-light conditions.

Decentered - A lens that has an offset optical center to maintain optical clarity. (This is used on better quality lenses that have a highly curved surface).

Driving Mirrored - State of the art lenses for daytime use, copper color tint and flash mirror coating that's soothing to the eyes.

Flash Mirrored - A smoked lens with a partial mirror coating

Gradient - A lens that's darkest at the top gradually becoming lighter.

Mirrored - Smoked lens with a silver mirror coating.

Purple Mirrored - Enhances colors

Super Dark - Provides additional sun blockage for bright sunny days.

Smoked - Distinctive gray tint decreases sunlight without distorting colors.

Yellow or Gold Tint - Increases depth percertion, ideal for overcast days.

Yellow Tint Mirrored - The advantages of yellow tint with a partial mirror coating.

Transitional - Can be worn outdoors and indoors because it automatically adjusts to the amount of light.

Brown - Best for enhancing depth perception.

Gray or Green Tinted - Offer the least amount of color distortion, good for all purpose use and clear days.

Amber or Orange - Block blue light, offering a brighter view on cloudy, hazy, or foggy days.

Rose - Have the highest contrast and best low light image resolution.

Polarized - Are specially designed to filter out the components of light that cause glare. Ideal for driving, biking, boating, fishing, skiing, snowmobiling, jogging, golfing and tennis. Grat foe all activities on or around water where glare can be intense.

G-Tech™ - Multi-Layer Technology gives you the benefits from discoveries made by aerospace engineers at NASA. These high-tech lenses have from 7 to 13 layers of titanium dioxide and silica applied onto shatterproof polycarbonate. Cleaning them is easy and they are scratch resistant. Plus you'll receive total ultraviolet protection while enjoying enhanced contrast with minimal glare.
Safety Glasses and Goggles

ANSI Z-87.1 standards for use in industrial applications.
Safety glasses and goggles are made to high quality specifications in order to pass the American National Standards Institute (ANSI). They must pass six different tests for optical quality plus three diferent tests for impact resistance (including one that shoots a 1/4" steel ball at over 100 miles per hour that leaves only a dimple in the lens).
Visit My Store For Sunglasses, Goggles, Safety Eyewear
Thank You
If you found my guide helpful, I would appreciate your vote