What you will need to start a Successful Headlight Cleaning Business.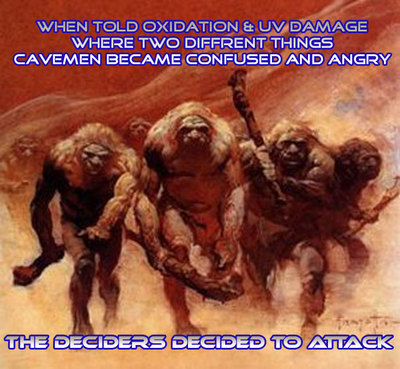 The automotive headlight cleaning business is a booming industry and if you know the basics and have the proper Training and tools you can make a comfortable living.

Fact: Most of the information you get about headlight cleaning does not apply to the most common problem. "oxidation" .
The worst place to get information from are forums dominated by members who parrot each others beliefs. The information they offer are almost always redundant and obsolete.

Most people do not under stand how today's composite headlight are constructed and therefore will advise you to sand away a part of your headlight that is critical to its clarity, the UV layer.
Oxidation is the main problem customers want addressed but the sanding method commonly suggested by inexperienced individuals is one you should avoid.
Sanding is necessary in cases of severe damage and sometimes even sanding won't help. It takes training to know which methods are available and which work best for which problem.
90% of all headlight cleaning requires the removal of oxidation. A naturally occurring opaque coating that builds up on the outside of the headlight.
It can appear to be on the inside to some but it never is. It is an external problem that can be fixed quite easily with a deoxidizer.
The other 10% may require polishing where abrasives are used or even worse resurfacing where sandpaper is used to grind away layers of lens surface and buff it back smooth again. The abrasive method is costly and time consuming. Fortunately it is not required in most cases.
Pricing should reflect the amount of time and labor involved in the job. Resurfacing can take hours per headlight, which limits the amount of jobs you can finish in a day.
Deoxidizing takes less than five minutes per car and the over head cost is nil by comparison.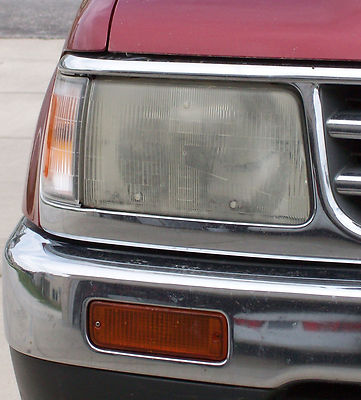 Do you need to invest in a headlight kit to resurface?
No but you will need power tools and an understanding of sandpaper grit, abrasive compounds like polish and the application of clear coat. Once again only severely damaged lights need to be resurfaced. Avoid resurfacing jobs because they will take time away from your easy money job of oxidation removal.

There is both a safety and liability factor involved when you decide to resurface a lens. If you cause damage to the paint or are unable to resurface imperfections or yellow out of the lens, it could end up costing you money and customers.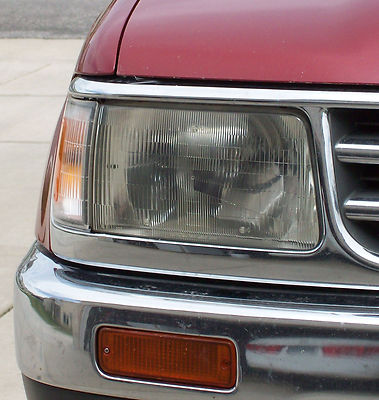 With a deoxidizer you can test a small section of the lens before you begin to be certain the problem is oxidation. There is no danger of damaging the lens or the area around it.
You will have to buy a deoxidizer
Your cost per vehicle is from 10 to 50 cents per vehicle depending on the cost of the Deoxidizer.
Bulk purchases of anything save you big money in the long run.
Knowing if a headlight is Glass or Acrylic is also important.
Stay away from untested methods on customer cars, such as toothpaste. Sure it works on glass because glass headlights can be polished and benefit from the application.. Acrylic or plastic headlights should not be cleaned with toothpaste. It will leave a cloud of scratches on the lens just as polish will.
Wax will not help keep a lens clear, wax has a tendency to yellow. An acrylic conditioner will keep oxidation from reforming on headlights. Cost is about half that of the Deoxidizer per vehicle and it too must be bought.

Knowing the difference between oxidation and surface damage is critical. The average person has no understanding of what oxidation looks like compared to abrasive damage or that it actually cause no damage.

In fact many believe the damaged crusted surface of a headlight is the result of oxidation when in fact it is the result of a previous abrasive cleaning and sealing.
With a deoxidizer on hand you don't have to guess if it is oxidation or abrasive damage. You can give your customer a quote that will be based on the amount of time you expect to spend deoxidizing on their headlights.
Suggested price for headlight deoxidizing: $20.00 to $40.00
Suggested price for headlight resurfacing: $80.00 to $125.00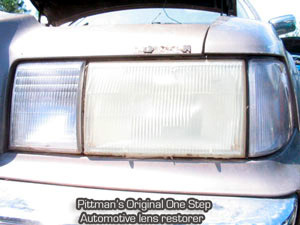 Resurfacing is best done in a shop where you have access to electricity an air compressor and a paint spray gun, needed for applying the clear coat after resurfacing the headlights.
Deoxidizing can be done anywhere from car washes to gas stations. It is the both the easiest and fastest way to make money.
In addition you can offer a yearly service package to re deoxidize the lens when oxidation returns in the future.
In this way you build and keep a loyal following based on good customer service.
Resurfacing does not lend itself to such offers. It would be a costly and time consuming service to offer your customers.
Following oxidation removal an acrylic conditioner should be offered as an additional service which the customer has a option to purchase at any time after the initial deoxidizing.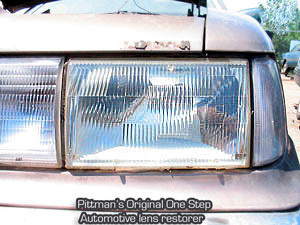 Acrylic conditioning will prevent oxidation from returning to headlights if applied once every two to three months. PITTMAN KMOD ALR/APC 360ID is the only system designed to perform this service.
These concentrated units will service 25 vehicles
Before you professionally service anyone's vehicle, sharpen your skills on junkyard cars.
Some junk yards will be happy for you to improve their chances of selling headlamps by restoring them to a usable condition.
They are unlikely to pay for the service so only practice on ½ of the headlight. You don't want to hurt your business by clearing the whole lens for someone else to buy later.
Good places to start offering your service are:
Car wash
Used car dealer
Detailer
Body shop
Always offer deals on volume jobs and a service plan that keeps you and your customer connected.