Have you ever bought a pair of great looking shoes or boots on ebay only to find that they were too tight or slightly too short when you tried them on? Don't return them quite yet. There are a few great products out there that can help you make tight or oppressive footwear fit!
Shoe Stretch Spray / Shoe Stretch Liquid
Shoe Stretch Spray / Shoe Stretch Liquid allows you to stretch your shoes or boots simply by spraying the Shoe Stretch Liquid on your footwear and then wearing it. The spray relaxes the leather fibers and your foot will do the actual stretching work. You need to wear your shoes or boots until they assumed the desired shape and until the leather is dry. The spray contains a high content of alcohol so it will dry fairly fast. Stretching results may vary by leather thickness and by the amount of stretching you have to do. Also with very delicate leather types you might want to try it out in an inconspicuous spot first to make sure it does not stain. The advantage of using this Shoe Stretch Spray / Shoe Stretch Liquid is that the leather stays soft, it does not cause water stains and it dries a lot faster than water.
Shoe Stretcher / 2-Way Shoe Stretcher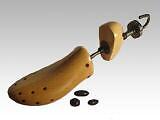 With a mechanical Shoe Stretcher like this 2-Way Shoe Stretcher the painful work of stretching your shoe does not have to be done by your foot. You insert on of these stretchers in your shoe, spread it out to the desired width and leave it inside of your shoe over night. Depending on the thickness of the material and on the amount of stretching you have to do you might have to repeat this process. You obtain best stretching results if you use a mechanical Shoe Stretcher in combination with a Shoe Stretch Spray / Shoe Stretch Liquid.
When purchasing a mechanical Shoe Stretcher make sure to buy a quality product with a haredwood foot piece and a metal stretching mechanism otherwise you will not be able to apply enough pressure to actually stretch your shoe.
A 2-Way Shoe Stretcher offers you the largest amount of flexebility as far as shoe stretching is concerned. Unlike basic Shoe Stretchers it allows you to stretch your footwear not only in width but also in length. If you are part of the majority of people where one foot varies in length from the other foot this is the ideal solution to your problem.
A Set of Bunion Plugs usually comes complimentary with a quality shoe stretcher. Ideally you receive a set of 3 plugs that vary in size and can be incerted in different locations in the front section of your Shoe Stretcher. With these plugs can obtain additional pressure relief if your shoes are particularly tight in certain spots e.g. bunions or hammer toes.
High Heel Shoe Stretcher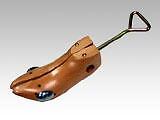 A High Heel Shoe Stretcher has a foot section that is designed to fit into pumps and other high heeled shoes. The foot section is bent and more pointed than that of a regular Shoe Stretcher. This way the High Heel Shoe Stretcher is sure to fit itno the very tip of your favorite pair of high heels and provide you with best steetching results and pain relief for your toes.
Boot Stretcher
A Boot Stretcher is essentially a Shoe Stretcher with a long handle. You need this long handle to activate the stretching mechanism when the stretcher is inserted into your boot. You cannot use a regular Shoe Stretcher in footwear that goes over your ankle.
Boot Stretchers stretch your boots over width and just like with regular Shoe Stretchers you can utilize Bunion Plugs for the relief of special pressure points.
Just like with a Shoe Stretcher be sure to buy a quality product with a hardwood foot section and a metal mechanism. Bunion Plugs are usually complementary.