Late October 2010...I logged into my computer at Starbucks and the 'Sign In / Home Page' had a whole different look! Being so visual, I actually liked what I saw. I love black and there was lots of it with the colorful content clearly popping out.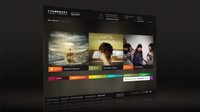 In the 'old days' I paid $40 a month, month to month for a few years so that I would have the ability to access the internet from Starbucks. When I moved to the city and there were more 'crazy' people to bug me at Starbucks, I finally canceled my account. I don't know exactly when, but, Starbucks started to compete with competition and offer Free Wi-Fi. They gave you two hours free if you registered your card.
When I bought my 'black gold card' for $25, I registered it and I too used the free Wi-Fi once in a while to check my emails while I was out on the town. So, one day in late October I stopped to check my emails. That is when I noticed there was a whole different look and feel to the sign in page and I liked it.
This new STARBUCKS DIGITAL NETWORK is in partnership with YAHOO! There are six channels right at your fingertips - news, entertainment, wellness, business, My Neighborhood and Starbucks. If you are not 'old school' like myself, you can even download this app to your phone. There are many articles out there on this partnership if you care to research it further.
Ok...now for the card part! Yahoo! and Starbucks created a custom Starbucks card. To the average person...it looks like a cool black card. To the 'crazy card collector' like myself, I think it is rare because I don't think it is available to the public? Because everyone knows that I collect Starbucks cards and cards in general, I have been fortunate enough to get to see one. The card was stuck onto the paper in the same way as the cards you buy from Starbucks corporate card sales and was sent in the mail.
I think this is the beginning of something new. Something like 'advertising specialty' in which items are customized to display a company logo. This is the first time I recall seeing a card like this here in the states? For some reason I think they did a similar promotion years ago in Japan or another foreign country to promote a vision correction surgery center. I wonder if we will be seeing more and more of this, cards not available to the public but rather through private distribution.
This card begins with the numbers: 6066. It is quite nice as it is solid black. There is no clear strip on the right front side and Starbucks is written in the same place as the newer cards on the upper right near the logo. The back bottom reads c2010 Starbucks Coffee Company.
The card had $15 value loaded onto the card. There are six boxes of brilliant color creating the design. My guess, they represent the six channels mentioned at the beginning of this guide.
I have not been able to write a new guide in a while...so I hope you have enjoyed reading this. If so, please vote 'yes' as it helps to keep me in the 'top reviewers' spot and it does mean a lot to me as well as encourages me to take the time to write.
Sincerely, PaCRat! (01/02/11)