How to spot the fake vs authentic Louis Vuitton Coin Purse

The authentic LV monogram pattern is usually symmetrical from side to side. Authentic designer handbags will have perfect symmetry in the way the pattern is arranged. An asymmetrical pattern is often a dead giveaway that an item is a counterfeit.



Poch Clefs #62650

Hardware is golden brass
Zip top with engraved brass zipper pull
Interior key chain that attaches to the coin purse with a TRIANGLE attachment-not a round ring (see photo's below for example)

Dimensions are ~4.5" x 2.5"
Should have a date stamp inside
Should have the Louis Vuitton heat stamp inside
MRSP $165.00

Item # M62650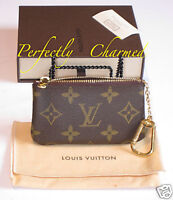 Authentic Monogram Key & Change Purse #M62650

Brass key chain (Authentic)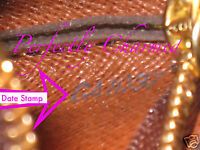 DATE STAMP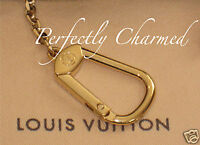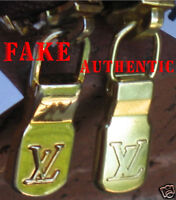 Authentic Notice how the finish is wearing off on

the left zipper pull?


Authentic FAKE

.

Often counterfeits will have date codes that are inconsistent with other stampings on the item. For example, the date code may indicate that the counterfeit item was manufactured in Spain while the stamping indicates it was made in France.
The golden color on the counterfeit was rubbing off the zipper pull. Brass will tarnish and can be polished back to the shiny golden color-but will not rub off.

The interior bottom seam was loose and coming apart and the zipper was pulling loose. The poor quality of material and workmanship was very obvious. Look for overall workmanship and materials. This requires close inspection and handling the item.

. It may be difficult to differentiate a counterfeit from an authentic until the item arrives and you are able to hold it and inspect it. What makes it even more difficult is that some unethical sellers will post stock photos or stolen photos of an authentic item, and that is not the item you will receive. Some designer's utilize characteristic stitching in the construction of their items. For example, Louis Vuitton will have each stitch segment being at even length.

..
COUNTERFEIT: Interior piece that the chain is connected to, should not be round-but triangle (see photo below)

AUTHENTIC (*Note the triangle adapter)
AUTHENTIC will have a 3Y Marking on the interior zipper pull.



I hope this small amount of information will help you when shopping for a Louis Vuitton key and change purse. If this information has been helpful, please vote yes. If not, please email me with comments that can help improve the guide.
Disclaimer: This guide is for reference only and was written in an effort to combat the sale of counterfeits. I am not affiliated with Louis Vuitton or any of the brands we sale.
Please be aware that the items advertised on the right are not endorsed by Perfectly Charmed. They are random ads placed by eBay and may be authentic or they may not be authentic.