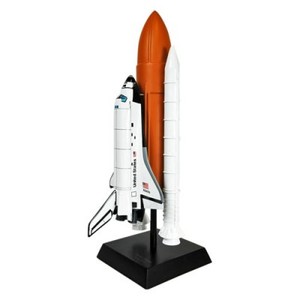 Space toys offer hours of fantasy fun for children of all ages. Toys range from astronaut action figures to remote-control spacecraft. Many are based on popular science-fiction television series and films from the early 20th century. As a result, unique vintage toys as well as new items are available to delight both children and collectors. Investigate types and models to find the right match.
Choosing Space Toys
Space toys are available for everyone from toddlers to teenagers. When shopping, consider the ages of the children who will play with the toy. Some products have small pieces, require building, or are operated by remote control. These types are suitable for older players. Most toys specify age ranges, but a used purchase may be missing packaging or instructions. Also, many vintage items are built out of sturdier materials such as steel and may be too heavy for younger children. Space toys tend to be inspired by either popular science-fiction and fantasy stories or by the space program. Consider which theme might be the best match for the intended recipient. Children often have a favorite subject and may have already begun a collection or would enjoy a starter toy. Some film-based product lines, for instance, have flourished for decades. The creator may be continuing the series, changing manufacturers, or ending the line. If the item is no longer sold, it can probably be purchased gently used or vintage. Toys based on today's space program are available from several brands and many sellers to enthrall any child interested in space travel. For example, the NASA space shuttle can be found in inflatable toys for toddlers, play sets, and intricate model kits. Some of these products offer an opportunity for players to learn about science and technology. Items as diverse as trading cards and rocket replicas teach children while they play. Consider these types of space toys for players of various ages.
| | |
| --- | --- |
| Ages 2 to 6 | Young children will enjoy inflatable ride-on spacecraft, simple space vehicles and figures, age-appropriate games, and coloring books. |
| Ages 6 to 10 | These children have many choices including simpler remote-control craft, play sets, toy weapons, and action figures. They will also enjoy posters and stickers. |
| Ages 10 and Older | Remote-control spacecraft and rockets, model kits, and collectible items will keep older children engaged. |
Toy Spacecraft and Rockets
Spaceships and rockets range from simple plastic versions for young children to electronic craft with light, sound, and movement. Consider these features when choosing a toy.
| | |
| --- | --- |
| Remote Control | Remote-control spacecraft and rockets provide children with precision flying fun. Some rocket models shoot up 100 feet or more while others entertain younger children with a few feet of liftoff. Spacecraft may fly tens of feet high or stay low to the ground for takeoff and landing. Flying craft should be designated as such to distinguish them from other models. Consider the play area where the toy will be deployed. Rockets should be fired in a safe outdoor area such as an enclosed backyard where falling objects are not a concern. Toys for young children are usually intended for indoor use. When purchasing a remote-control product, tailor it to the children's ages and the degree of adult supervision. |
| Lights and Sound Effects | Many models have lights and sound effects such as weapons fire or verbal navigation commands. |
| Interactive | Some ships open to reveal an occupied interior, come with launch pads and detachable capsules, or have other features to encourage active play. |
| Learning Toys | Products based on real craft such as the NASA space shuttle present an opportunity for children to learn about technology while having fun. |
| Accessories | Some spaceships come with accessories such as astronaut or alien figures. |
Space Model Kits
Model kits range from builder sets to nearly assembled replicas of famous spacecraft. Kits often come with a display stand and decals to add authentic-looking markings. The more complex models are usually suitable for ages 10 and up though younger children with good skills can enjoy them under adult supervision. To minimize the chance of missing pieces, look for items that are new in the box. Used kits that were opened and never built should have a refund guarantee. Except in cases of rare collectibles, the safest route is to purchase a new package.
Space Toy Weapons
Many toy space guns are patterned after weapons in popular science fiction. Some models, particularly vintage items, are made of metal and intended for older children. Others are lightweight plastic and suitable for younger ages. To ensure safe play, consider a toy weapon's build and mode of operation.
| | |
| --- | --- |
| Light Effects | Many toy weapons have LED lights that flash when the trigger is pressed. Some models emit light beams of various colors. |
| Sound Effects | Most toy guns produce sound effects when fired. Vintage weapons might make a popping sound while electronic versions imitate phaser fire and other fantasy technology. |
| Projectiles | Some models shoot projectiles such as balls that glow in the dark. Ammunition types range from soft foam to hard plastic discs that can sting on impact. Consider the children's ages when choosing a projectile toy and observe the toy's age rating. |
| Water Pistols | Space guns are a popular design for children's water pistols. As with other water guns and toys, observe the individual item's age rating. |
Other Space Toys
Other types of toys are available in a space theme and provide options for children of various ages and preferences.
| | |
| --- | --- |
| Figures | Figures include action figures of popular science-fiction and fantasy characters. These are usually part of collectible sets and may be sold with other figures and also as solo items. Other products such as robots may produce sounds, lights, and movement. |
| Play Sets | Play sets offer a complete environment populated with figures, spacecraft, and accessories. Some sets are based on popular fantasy and include items such as alien warriors and starships. Others are designed to introduce children to the space program and are built around real-world orbiters, space stations, and rockets. For example, a play set might be a NASA launch center complete with rocket, astronauts, and retrieval satellite. Look for sets with sturdy metal die-cast pieces. |
| Novelties | Space toys can enchant children as novelties for bedrooms and playrooms. A popular example is a set of stars and planets that affixes to walls or the ceiling and glows in the dark. Some models are operated by remote control to adjust brightness or view. Other products, such as miniature figures, make fun party favors. |
Buying Vintage Space Toys
Vintage toys range widely in price and condition. Some items are considered collectibles and may have a higher market value. Many vintage space toys are replicas of props used in films and television shows and are popular with adult collectors. If reasonably priced, they can also be intriguing gifts for children. Research the market for the product of interest and keep in mind that a collectible's value often varies with its condition and packaging. Look for sellers who offer detailed descriptions and photos and have received good buyer feedback. In addition to rating the toy's overall condition, listings should explain any damage or missing parts. Make sure to have a clear understanding with the seller regarding the refund policy.
Finding Space Toys on eBay
To purchase space toys, start from the eBay homepage and select the Toys & Hobbies category. From Toys & Hobbies, choose Robots, Monsters & Space Toys followed by Space Toys. Space Toys categorizes listings by Pre-1970 and 1970-Now. The left pane offers search refinements such as age and brand. Optionally, enter keywords for the desired product in the search box at the top of the page. An alternative method is to search by toy description from any eBay page. For example, to see listings for used rockets, type "used toy rocket" in the search field.
Conclusion
Space toys make engaging gifts for children of all ages and play preferences. When choosing products, consider the ages and abilities of the recipients. Model kits entail precise building skills while play sets appeal to the imagination. Keep in mind that many toys are part of popular product lines and may become collectible or hold special interest for children. If purchasing a used or vintage item, research the market to establish its fair value. With careful selection, space toys can be an exciting part of playing and learning.