Well hello again: I have a new layout underway at this time, and I just added a 32" Sony tv (it's a trin) old school (laugh).
Back soon!
Pioneerspec off.................
Hello: Today I'm going to take some time writing about the Sony Mega CD/DVD changers. I have 5 in all - 1- 300 disc 3- 200 CD changers and 1- 200 DVD changer.
I'm not a spec guy- I'm an audiophile guy. I like all kinds of music, and this is where the Sony CD changers help playback and setup of music- IE jazz in 1 changer, soul
in another changer and so on. You can play the changer 1 at a time or and this is were it get's good - sync all of them to play a random disc- I still think you need a single
play player in your system. Now you can input the name of the CD into the index of all the changers - however I do not use this service- I write the info down in a book
in order to keep a hard copy, if the power goes out you would lose all info saved- but it is a great asset to have and theirs more, a random wheel to spin tray around
to access the CD's.

I'm going - but I'll return with more info and address the Mega DVD Changer.

Hello Again: Now each player has a window to see what track is playing and if the CD has info on the artist it will be displayed - who it's by -name of song etc.
However if you are recording your own CD's - you can input all of that info on your own CD's for viewing from the the mega CD player. Now the random setting.
For me this has been a dream to work with- it allows you to sit back and play all of the tunes you wish to hear for hours at a time from any play in your system.
It works like this, lets say you want to hear 3 tracks off of 1 CD and 1 track from another CD and then on the next mega changer in your system you wish to hear
just 3 songs on 3 different CD's. You can input that on the front of the mega changers and them hit play, It will play all of the tunes you have selected. You can also
play just 1 group of songs off of any play if you wish. Now I have been collecting Pioneer gear for years (vintage) but adding the Sony Mega Changers to my
system took some doing because I wanted to have a system of all pioneer! I can't speak bad of Pioneer but they just didn't work.

I'm off again - next time I will post some pic's of the Mega Changers- I may even address the laserdisc models-Sony vs Pioneer.

Hello again: No pictures to add yet, but I will try to address the Sony vs Pioneer Laserdisc player.
Well first Pioneer was first to have one on the market and first to have the laserdisc movies out, remember the Pioneer VP-1000-with it's turntable
look ( looks like pioneer's stone base look pl-518 or the pl-560 models) anyway the VP-1000 was the top of the line when it first came out. Then Sony came
out with it's models of laserdisc but it wasn't until years later that the Sony laserdisc player for the audiophile came( most Sony models were more to the
computer base) remember the first home computer???????? AMIGA 500- Pioneer and Sony both had models that worked with the Amiga computer and
IBM computers- you had to write code to the Amiga in order to play the the disc-player- I'm off my mark the Pioneer VP 1000 had a great picture and sound
but - and here's where Pioneer went one step further they had a noise reduction unit you could put between the VP output and the preamp or amp input to
control the sound- now again I'm not a tech- I just know sound from what I like to hear - and I think they got it right! However all models of laserdisc were
dead even before it hit it's level along came the DVD or the CD video, and that war stills go on with Blue Ray.( remember the fight over VHS vs Beta) Well
to close, I still have movies on Laserdisc and VHS and I like being able to pull out an old movie and sitting back with a cigar and a glass of iced tea and
enjoying the days gone by with some old tech that still looks good. As a matter of fact I'm going to watch Leviathan on VHS-Sony VHS player.

I off again - later.......

Well I'm back for 1 more thing........This all may seem a bit much for some of you? So here's how I see it, as I've said before - 1 system for games - 1 for everyday
use and 1 for the holidays- the 1 I use everyday can record along with my computer- tapes and records to cds. and to my Dell wave player. I now understand why
Bose says wave? Wave has a bit more umph than mp3 but that's another story or tech! I don't record in mp3. But however you do it -enjoy it - !!!!!!!!

Pioneerspec off.................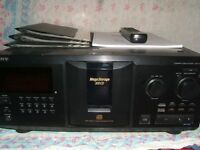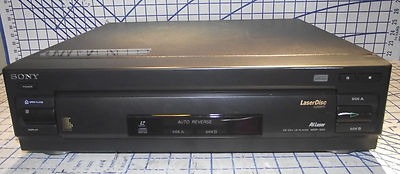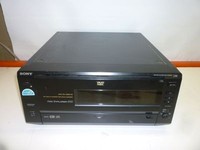 Hello again: I'm adding the picture of the Sony MDP-500 Laserdisc player I've setup in my system.
Note: The picture is of an Ebay posting.

Pioneerspec off.............................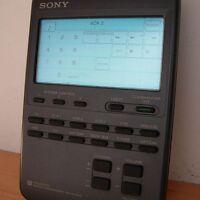 Hello Again: Above are pictures of the Sony 300 CD changer, the Sony 200 CD changer and the Sony 200 DVD changer, also the remote I use, they are all ebay listings.
I use the multi control remote to handle the playback because this can also control my Sony 12 nch color monitor/ tv / radio and my Sony hi-fi vhs . I hope to add back
to my system a Sony laser-disc player.

Pioneerspec off................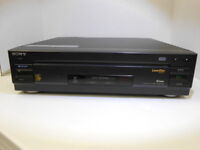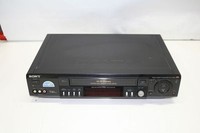 Hello Again: I also added a picture of the Sony VHS that I also use- Sony slv-799hf.

Pioneerspec off............

Hello again: A picture of the Sony 32 inch trin tv I added to my system.
Note: Picture of an Ebay listing.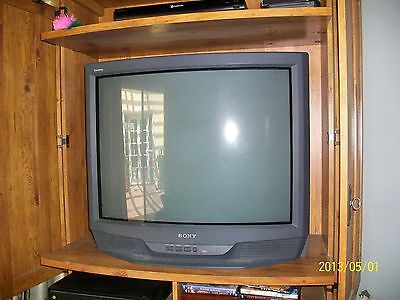 The monitor's I use are 2 - 20inch HP 2009m side by side with an HP computer for all of my nothing work.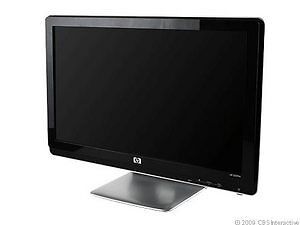 Note: Picture of Ebay listing.

Well I 'm back to add the pictures of the Sony 11" TV/FM/VIDEO monitor (1 in my system)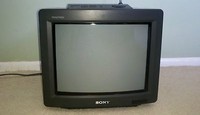 .

Both are color and all work with above remote- the above remote will scan- so I should be able to set the 8" monitor on set 3?
That's what I'm hoping to be able to do? Now my next project is to record my old cassette tapes to CD- for single play or to ad to
the Sony Mega Changer's! Well there you have it - I hope you enjoy music - I sure do and movies too! Have a great time with your system!

Pioneerspec off................
Hello Again: My take is - to be rich - is to never enjoy your time - they only live the moment because they have - no time.
Hello again: Well a few more emails about a video player that was out at the same time as the laserdsic - videodisc - the is a system that plays movie's like a album - with a needle. Think about that a bit, pops an clicks while watching a movie? I'm ok with it in albums, but watching it would be a bit to much and the jumps that happen every now and then -no I could not do it - but there is 1 tech that I would add to my system - The Sony Beta Max video system !
pioneerspec off..........................
Well hello again: I've just added this to my Sony collection - the Sony streaming player - back later with more info.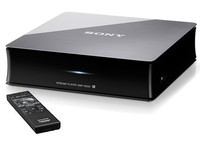 pioneerspec off............................
Hello again: This is one of the great items to date from sony - simple -no - but once you get it set up - wow - I did it wireless - and am very pleased with the sound and video playback - even watched some old Charlie Chan in black and white -great. the menu set up is a little long to do - from computer back to tv -back to computer after upgrade back to tv then back to computer -all codes to enter.
But when all is complete - wow - movies at your finger tip. (netflix for $8.00 a month) and even more free -wow. Equal to Redbox.
Pioneerspec off.............................
Well hello again: Today I'm adding the Sony mini disc player/recorder, I've had this before and now wish I had never sold it- anyway a nice way of recording your music from u-tube- (for me) - great playback sound. Just another toy in my sony system -I don't need but like.I may add the Sony Dat player/recorder next?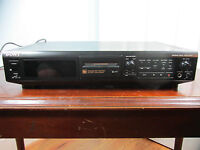 Pioneerspec out........................

Well back again, to address another item added to my system. Sony blu ray player bx37. Now
for the years the fight between DVD - HD DVD and BLU RAY has gone on, HD viewing is still
here HD DVD is just about done -DVD and BLU RAY are going to be around for a while?
Now for Sony Blu Ray player BX37 with it's side by side tech
.
Note: If Sony had did this with it's ps 2 an ps 3 and the next gen game system -Halo would be
the only reason to have an XBOX!

The side by side tech is BLU RAY - DVD - Media Player, (Netflix) all from one device -wow!
I watch movies the old way on crt tv's Sony trinnitron's only my computer has LCD monitor's.

I even play game's from my Sony tv.



Pioneerspec out.................