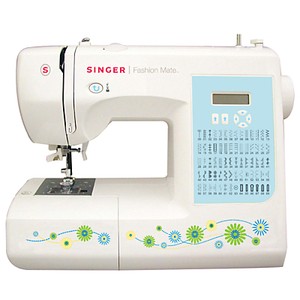 It is hard to imagine life without a sewing machine. Thanks to this incredible device, people can make clothes at home, fix clothes at home, and companies can mass produce garments in factories around the world. When it comes to sewing machines, the Singer Corporation is one of the most famous names on the market.
About Singer Sewing Machines
In 1851, the I.M Singer & Co. was created by Isaac Singer. In 1865, the company was renamed the Singer Manufacturing Company. Since then, it has been a leader in its industry. The machines produced today run via an electrical or computer system. This makes operating a modern sewing machine easier and more efficient.
Singer Sewing Machines As Collector Items
Older sewing machines produced by Singer have been valued at hundreds or even thousands of dollars. This means that a sewing machine can be considered as much of an investment as something you buy to help you sew fabric. The good news is that there are many vintage Singer sewing machines available for sale on eBay.
Factors That Determine The Value Of A Vintage Singer Sewing Machine
There are many factors that will determine the value of a vintage Singer sewing machine. The condition that it is in will go a long way toward determining how much a vintage sewing machine goes for. Other issues that collectors need to consider are the state of the market, how many of a particular model are on the market, and if there is any unique back story associated with the sewing machine.
What To Look For In A Sewing Machine
While some people may be buying a sewing machine as an investment, the vast majority of sewing machine buyers are looking for something that they can use today. What should you be looking for when you buy a Singer sewing machine?
It Should Be Able To Handle A Variety Of Fabrics And Stitches
A sewing machine is not going to be useful if it cannot handle a particular fabric or type of stitch. Therefore, it is important to research the capabilities of each sewing machine model available. Certain machines may have a stitch count of 750 a minute while others may go as high as 1,300 stitches per minute. Some machines may have the ability to handle 23 different functions while others have the ability to handle 100 different functions. This means that a sewing machine that fits the needs of one person may not fit the needs of another person.
Ease Of Use Is Important
Consumers should make sure to test out any machine that is being considered for purchase. While it is not possible to try out a machine that is purchased online, a friend or relative may have a similar model that could be used for testing purposes. When considering ease of use, also consider how easy it is to switch between stitches, as well as how easy the foot press pedal is to operate.
The Decibel Level Of The Singer Sewing Machine Should Be Low
Prolonged periods of exposure to noise can wreak havoc on the human ear. Therefore, anyone who is planning on purchasing a sewing machine should do research into the potential decibel level of each machine. The lower the decibel level, the quieter a machine will be, which reduces the potential for loss of hearing or other injury to the ear while using the machine.
Features Should Be Plentiful On Your Singer Sewing Machine
Your Singer sewing machine should have as many features as possible. An automatic buttonholder, feed-dog adjustment, free arm, and needle-down feature should come on many new models that are available for purchase. These features make it easier to customize your sewing projects to your unique specifications. These features also make it easier to sew without having to stop to adjust the machine.
Beginners Can Enjoy Using A Singer Sewing Machine
Not everyone has had experience using a sewing machine. However, it doesn't mean that it isn't possible to learn. Singer offers a wide variety of sewing machines that cater to the beginner.
The Singer 7258 Is Perfect For Beginners
This model includes a computerized thread cutter, a top drop-in bobbin type, and an adjustable foot pedal. This makes it easy for a first-time sewer to get started with their first sewing project. This machine gives you 750 stitches per minute as well as 100 different stitch patterns and functions. A speed of 750 stitches a minute means that it will go slow enough for the beginner to keep pace while the 100 different functions means that the beginner still has flexibility to produce whatever their imagination comes up with.
The Singer Pixie Plus 4 Stitch Is Great For Quick Mending Jobs
The Pixie Plus 4 Stitch is a lightweight and portable machine that can be used wherever you are. Its biggest benefit for users is that it is small and takes up a limited amount of space. Beginners and those who don't need many functions will appreciate the ease of use that this machine provides. Mothers and fathers can use it to make quick repairs to a school or athletic uniform or fix a costume before a school play.
Purchase A Singer Sewing Machine For The Classroom
Students can learn how to sew using a Singer in the classroom. Simple projects can be completed that will help students gain an understanding and appreciation for the sewing machine. As an adult, knowing how to fix or make your clothes can really come in handy. The good news is that Singer does have specific models of sewing machine made especially for children. The NKOK A2202, A2301, and the A2203 are all models that should be specifically sought after for use in schools.
Singer Sewing Machines Are Known For Using Quality Parts
The best part about buying a Singer sewing machine is the quality delivered to the customer. Singer sewing machines have been long known to be rated among the best sewing machines on the market.
Singer Sewing Machines Are Lightweight And Durable
Singer sewing machines are lightweight, which means that they can be transported wherever you go. While supervised, they are light enough for children to use if they wish to learn how to use a sewing machine. Since no part can last forever, replacement parts are widely available should a sewer ever need them. This means that a Singer brand sewing machine can be passed down from generation to generation without having to be replaced.
The Warranty Cannot Be Beaten
Singer has a 25 year warranty that will cover most damage to the machine head. A limited two year warranty is available for all motors, wiring, electronic components, and other aspects of each sewing machine. A 90 day warranty is in effect for belts, bulbs, and other attachments. Consumers who buy a Singer sewing machine know that they have a brand name that can be counted on.
Where You Can Find Singer Sewing Machines On eBay
The good news is that Singer sewing machines are relatively easy to find on eBay. These machines can be found by typing the keywords Singer sewing machine into the search box when you first get to the eBay site. Alternatively, you can find them by clicking the links to different categories on eBay. For example, Singer sewing machines are available by clicking on the link to the Sewing category.. Singer sewing machines an also be found in the Quilting,, Fabric,, and Antique Sewing categories. Those who are still having trouble finding what they are looking for should check out the crafts category as well.
Conclusion
The Singer sewing machine is an item for anybody who wishes to sew or mend their own clothes with ease. There are so many different things that you can get done with your machine. The best news is that a beginner can use a sewing machine from their very first attempt. When it comes to durability and ease of use, it is hard to beat anything made by Singer. Most importantly, you can find a Singer sewing machine available at any price point. Whether it is being purchased as a gift, as a beginner's sewing machine, or simply because it looks good, a Singer sewing machine is always worth buying.