Sigvaris Running Socks, Leg Calf Sleeves and Athletic Recovery Socks for Men and Women are helping athletes enjoy their exercising more and with increasing their recovery speed. Sigvaris recently introduced an Outdoor Merino Wool Sock to their athletic product line for active people who enjoy the outdoors.
Sigvaris Sport Performance Running socks offer optimal support and comfort while training for that marathon or taking the everyday jog. The real advantage of wearing the Sigvaris Performance Sock is the graduated compression starting from the highest around the ankle and gradually diminishing towards the top. When blood is properly circulated, it provides much needed oxygen and nutrients to tired muscles that have been, or are being, deprived during workout. Unlike the Sigvaris Sports products, many compression socks and sleeves do not feature "True Graduated Compression." In the United States Sigvaris Sports products are rapidly gaining popularity among runners, athletes and triathletes.
The Sigvaris 20-30 mmHg Performance Compression Socks also have a reflective material that make these a great choice for running at night or after dark or in low light areas.
The Compression Leg Calf Sleeves also feature a 20-30 mmHg of true graduated compression, is work around the lower part of the leg and is constructed from a waterproof, fast-drying fabric that may be worn on land or in the water. The calf sleeve is tightest at the ankle and decreases in pressure going up the leg. The sleeves are available in a variety of colors and sizes to ensure a proper fit. They recently released a new purple and pink sleeve color. These followed the spring release of the orange and lime green colors.
See our Sigvaris Running Socks New Sigvaris Outdoor Merino Wool Socks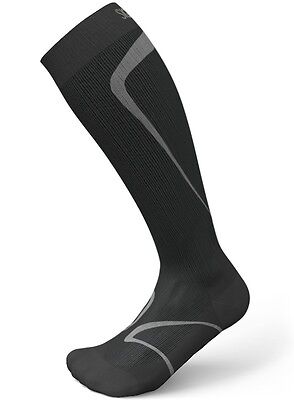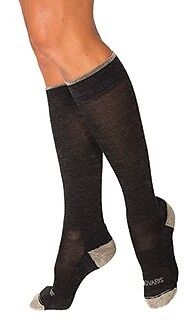 See our Sigvaris Running Sleeves