Most of us admire painted furniture and home decor with that well-loved "shabby chic" look. We see wooden tables & chairs in antique booths that someone had painted white & then given that "antiqued" look like it had been beaten around for 100 years or so...

Sand the corners
It wasn't until I was helping my friend Linda rearrange her antique booth that I found out the secret - she just uses a sanding block to rub the paint off the corners that project out the most - and any high spots on the carving were gently abraded also.
That allows the original dark stain to show through the white paint, accenting the carved details beautifully.
Beat it Up
Some people also hit their furniture with chains on the feet or other places typically timeworn. Or a set of keys on a string.
Faux "Worm holes" are created with a small wire nail and hammer.
The look of ages old time-speckled paint is created with a toothbrush and some watered down brown paint.
Sometimes I will use a wire brush in addition to the sanding block.
So simple! Now all my old mismatched furniture is "shabby chic" lovely! (This guide assumes you already painted your furniture - check out this guide if you need tips on how to paint your furniture)
Crackle Finish
You can also crackle finish your furniture before distressing it - this adds more age and patina:


You can find detailed instructions for crackle finishing your furniture in my guide Easy Cheap Crackle Finishes: Shabby Chic Furniture
Instant Patina with Gel Stain
Another way to add "instant patina" is with gel stain. It looks like 100 year old patina when you rub it in.
Oh how I wish I would've taken a "before" photo of this dresser. It's hard to express how ugly it was - dark dark 70's stain, bright gold hardware - it was hard to use my imagination, but I could definitely see the potential.
On the dresser, after a basecoat of french vanilla I did a crackle finish on some parts. Then rubbed the entire piece in two different colors of gel stain, to give it an aged, patinized look. I rubbed it in with a rag, alternating the colors in about 12 inch irregular patches.
Gel stain works great for this, because it dries slowly so you can work with it until you have the look you like.
You'll get the hang of this technique pretty quickly - you just glop the gel stain on with one rag or a sponge brush, and then rag it off with a clean rag.
Try to clean more off in some places and leave some spots darker, and leave plenty in the nooks & crannies to accentuate the carving. This really brings out the details of a furniture piece.


Once that was dry, I added the decals for a hand painted look and got an instant french country masterpiece - for about $15! It looks like an expensive hand painted antique, and I've gotten so many compliments on it.
Get a Vintage Hand Painted Look
I like to adorn my furniture with Shabby Rose Decals also - they are perfect for "Shabby Chic" or "Garden Style" decor
Here are some great Decal Tips
I did a beautiful guestroom "B&B style" remodel all done on a shoestring with shabby white paint & rose decals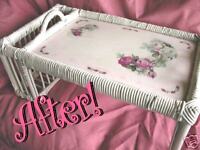 Here's a link with tips for Painting Furniture - "Confessions of a Lazy Painter - How to Paint Stuff Quick" Messy but fun! Even if you don't do the "Dunking Station" idea, there are lots of great time and labor saving shortcuts there.
Have a great time being creative! Get in the "creative flow" and make yourself a beautiful indoor garden. You'll love it and so will your guests!
Hope this "Distressed Furniture" Guide has been helpful! Please vote below!

View more guides by cosycottage here!