Determing the sex of your guinea can be a easy process.
How many times have you went into a pet store and bought a guinea pig only to be told it is a male? You bring your little delight home and within 3 weeks your male has given birth to 3 more pigs?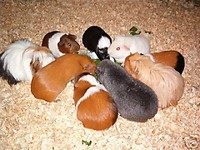 This happened to my daughter with the purchase of her first guinea pig. Within weeks, we had 4 pigs. How could of this happened?
The pet store associates were not trained properly in sexing a pig.
When purchasing a pig, gently sit down and turn the pig over. You may want to put gloves on for this-
Gently push down on the pigs gential area. If it is a female, it will remain the same. If it is a male, You will know.
The male gentials stay up inside of the pig and you must press on that area to determine the sex.
I hope this helps, future guinea pig owners in choosing their correct sex of a pig. If you notice females and males mixed together at a pet store, please tell the associates to seperate the sexes.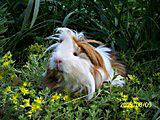 Please take a moment and vote
YES
to my guide. You never know your little one will say- "mommy can I get a guinnea pig"?