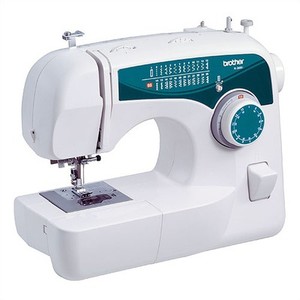 Sewing Machines offer multiple purposes. With a sewing machine, crafters can make their own clothing, home décor items, and gifts. In today's busy world, quilting is becoming a lost art. However, with a sewing machine, crafters can retain the skill while making heirloom items for their children and grandchildren.
In addition to making new craft items, sewing machine owners can fix clothing hems, tears, buttons, and zippers.
Selecting a Sewing Machine
Before purchasing a sewing machine, consumers should assess their crafting needs. For instance, if they need to take their machine to different places, then they should purchase a lighter device for easy transport. Also, today's machines offer numerous enhancements, and crafters should avoid buying units with accessories that they will never use.
Crafters should buy a machine that can do every task they require while making sure that the machine won't overwhelm them with too many knobs and buttons.
Basic Sewing Machine Parts
Crafters should assess each machine closely to ensure it contains essential parts. For instance, a basic sewing machine should sew several stitches such as straight, button, and zigzag. The machine should also backstitch, which will hold a stitching section in place. In addition, it should complete a backstitch at a section beginning and end.
Basic sewing machines must have a foot pedal for proper use along with several different feet, and users should review the machine's accessories to make sure it features a zipper foot, automatic bobbin winder, light, and double needle. Basic machines should also include an automatic needle-threading device.
Sewing Machine Types
As consumers begin shopping for their new sewing machine, they'll discover a variety of options including electric, computerized, and mechanical along with different sizes and capabilities.
| | |
| --- | --- |
| | Sewing machine shoppers will find that most modern sewing machines are electric. When crafters bring home a new electric sewing machine, they'll have a device that will use two threads to create a straight stich, which will have the same look on both sides of the project. |
| | If a crafter is considering an antique unit, then he or she will be buying a mechanical machine. However, manufacturers continue to make the sewing machine style today. With a mechanical device, users will have a machine that will make a lockstitch or a chain stitch. When crafters are on a tight budget, they may consider a mechanical unit as they are more affordable. |
| | Manufacturers have added small computer microprocessors into modern sewing machines, and as a result, sewers have an abundance of crafting options. For instance, computerized machines can sew fancier stitches along with embroidered designs, which is in the device's programming. However, crafters should be comfortable with a traditional electric machine before adding a computerized unit to their craft rooms because the large number of functions may overwhelm a new sewer. |
| | Specialized sewing machines have one purpose. For example, a specialized unit may complete blind hemming, embroidery, or quilting. Therefore, crafters who frequently sew one type of project will benefit from a specialized unit. In most cases, sewers already have a basic machine and decide to purchase a specialized device as their second unit. |
| | When crafters need a portable sewing machine in order to make small patch-ups, they will benefit from a mini unit. Young sewers can begin learning the craft on a small machine while parents can typically add accessories to the unit in order to increase its usefulness. Consumers should keep in mind that mini sewing machines only sew straight or chain stitches. |
What to Look for in a Sewing Machine
When sewing machine shoppers begin searching for the right unit, they should look for a quality machine and review different brands. In addition, consumers should consider each machine's functioning capabilities along with their budget and the device's size.
Sewing Machine Quality
Often, modern sewing machines include a large amount of plastic, which permits manufacturers to sell them at lower prices. However, the plastic sections are less durable and may break down more frequently. As sewing machine shoppers begin searching for the right unit, they should buy the best machine that they can afford.
Sewing Machine Functionality
When crafters require a machine in order to mend clothes and complete basic stitches, such as straight or zigzag, they can purchase a traditional sewing machine. However, quilters should consider investing in a unit that will complete decorative stitches while clothing makers will need a machine that can accomplish utility stitches and buttonholes in addition to sewing through unique fabrics.
Sewing Machine Price and Size
Sewing machines vary considerably in price, and before shoppers select the most expensive unit that fits into their budget, they should review the unit's capabilities. They should also consider that a less expensive machine may complete the tasks that they need. In addition, crafters should review their home's space to ensure that they have storage room for their new sewing machine.
Common Sewing Machine Problems
Once crafters begin using a sewing machine regularly, they can troubleshoot common issues. For instance, the unit's bobbin may need rethreading while the wrong needle can cause fabric problems. In addition, users may incorrectly thread the machine or the unit may have an abundance of lint.
| | |
| --- | --- |
| Wrong Needles | When a sewing machine owner places the wrong needle in their unit, the machine may wind up snagging the fabric or making wavy lines instead of straight ones. With ballpoint needles, crafters can sew through knit fabric since the rounded tip won't snag the material while sharp needles work well when a project includes woven fabric. Sewers may also consider using a universal needle, which sews through most materials. However, the results may vary. |
| Empty Bobbins | An empty bobbin will prevent a sewer from making stitches because the mechanism will not have thread to run through the machine. Before beginning a project, sewers should always check their bobbin for thread. |
| Lint | If a sewing machine sits unused for a while, then dust and debris may accumulate, which can cause knotting or uneven stitches. Even with consistent use, a sewing machine will accrue lint, but users can limit its accumulation by purchasing a high quality thread. Another way to reduce lint is to keep the sewing machine clean with a small lint brush and canned air. |
| Bent Needles | When a machine has bent needles, it may skip stitches, which can ruin a project. As sewing machine users run over pins or pull fabric through the unit too fast, needles can bend. If a machine has a bent needle, then users will need to change the mechanism, which is a quick and easy process. |
| Dull Needles | A dull needle may cause wavy lines or fabric snags. Therefore, users should change their needles after every two or three material projects. However, crafters should also consider the size of the item that they are sewing as an extremely large project, such as a quilt, may require several needle changes while several small projects can be completed with one needle. |
| Worn Bobbin | When a sewing machine's bobbin wears out, it will cause uneven stitches. In most cases, metal bobbins don't wear out, but when users install plastic bobbins in their machines, the edges will wear down and cause wobbling. Before beginning a project, crafters should check their bobbin. |
| Improper Threading | If a user threads his or her machine incorrectly, then it will release uneven stitches. In some cases, crafters can repair uneven stitches when they rethread their upper thread section and bobbin. In order to complete the process, they should remove the thread from both areas and make sure that the pressure foot is in the up position. |
Locating Sewing Machines on eBay
Once crafters choose to purchase a new sewing machine, they can locate a large number of options on eBay. After reaching the company's homepage, Internet shoppers can type in the brand name or a specific sewing machine into eBay's search window, which will result in a number of purchasable results.
Internet consumers can also review more of eBay's options by selecting Home, Outdoors & Décor followed by Crafts. After selecting Crafts, shoppers should click on Sewing & Fabric and then Sewing where they'll find Sewing Machines & Sergers.
Conclusion
Sewing machines are available in different styles with handy accessories and extra capabilities. In fact, consumers may select basic machines or units with enhancements that include embroidery, quilting, and unique stitches. Once consumers purchase a sewing machine, they can easily create their material-based projects.