Selling jerseys on eBay can be difficult. Should you do an auction or should you do a Buy It Now? How much do you want for it or how much do you think you'll get for it? What information do you need to put on the posting? These are all valid questions that need to be thought about before selling a jersey.


Auction or Buy It Now
The first question is do you sell it via auction or Buy It Now option? This is all preference. You might be quicker to sell the jersey if you do the Buy It Now option, because people can buy it right away and not have to wait days to win an auction. However, there's the possibility that people won't want to pay a fixed price for the jersey. If you don't have a set price in mind that you want to sell the jersey for it might be best to do an auction sale. This way people can purchase the jersey at a price that's most convenient for them. You also have a better chance at selling the jersey this way.


Selling Price
The next question you need to ask yourself is, how much do you want to sell it for or how much do you think you'll get for it? Do you have a fixed price that you want minimum? If the answer is yes you should contemplate doing the Buy It Now option. You could possibly put a reserve if you do an auction. A reserve is basically your way of saying, I want at least this much for it but if it goes above that even better, however if it doesn't reach the reserve price the item won't be bought. Also think how much will this item sell possibly if I do it via auction. Check to see if there are similar jerseys to the one you're selling, whether it be the same player or team. This way you can get a decent estimate of how much people are willing to spend to own the jersey. Please note that this is not a guarantee price but only a rough estimate of how the buying market is.
Inside Description
The third question and possibly the most important one is, what information should you put in your listing. First and foremost is the title. This is what is seen when people check listings. Make sure that your title is both eye-catching, honest, and not too overdone.
Ex. 1: Detroit Lions Jersey
Ex. 2: Medium New Detroit Lions Jersey
Ex. 3: Authentic Detroit Lions Jersey NWT sz M

Here you can see the difference a title makes. The first example is very bland, while it tells the potential buyer that you are selling a Lions jersey it doesn't tell them what size, if it's a knockoff or homemade, or what condition it's possibly in. The second tells the potential buyer the size and its condition but leaves out if it's authentic or not. The third example clearly states that it's a Lion's jersey; it's an authentic product, the size, and the fact that it is a new product with the tags on to prove it. Make sure to remember not to use too many abbreviations. Also make sure to list the name&/or number if it's a jersey of a particular player or even just a numbered jersey.

Inside the listing make sure to post as much information as possible. What size is the jersey (a re-clarification for the potential buyer)? Are there any stains or other cosmetic problems with the jersey? If it's been worn how used is it, have you worn it multiple times, a couple times, or just once? Is it jersey material and are the numbers stitched on or screen printed. Has it been autographed? Who made the jersey (Champion, Reebok, Nike, etc.)? What are the measurements since sizes s, m, l, etc. aren't very descriptive when it comes to jerseys? What is the shipping cost and does it cost more to ship out of country? When is payment due by? Also make sure to leave information about the ability to contact you for more information and if there are any problems with transactions if they buy the jersey.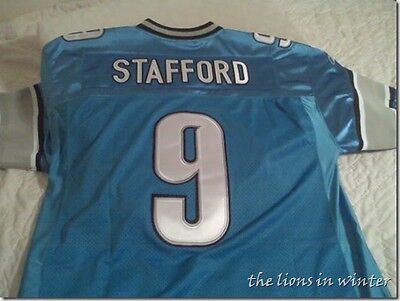 Including Pictures
Another large piece of selling a jersey is pictures. Don't just post one generic photo you found on the web. Take pictures of the actual jersey you are selling in good light to show the color, numbering, logos, front and back. If there are any cosmetic damages to the jersey make sure to take an up close picture of the problems. If the jersey is signed make sure the signature is visible in one of the photos to ensure the buyer that they are in fact getting a signed jersey.
The picture used is from thelionsinwinter (all credit goes to them for the picture).


Final Tips
A few final tips… Make sure to state what options of payment you are willing to accept; paypal, credit card, etc for the jersey if it is bought. If someone buys the jersey you're selling make sure to be courteous towards them and ship it as quickly and safely as possible. Someone might be buying this as a gift or for going to an actual game & want/need it by a certain date. Make sure to leave notes to seller option open in case there is a rush or any other things the buyer wants to ask/say.

Just remember there are two sides to a transaction, if you aren't courteous in a transaction then the buyer could leave a bad review which could adversely affect future sales you might want to make. Make sure to leave feedback for the buyer, such as quick payment or transaction went through easily, that way they are more likely to leave good feedback from you and possibly purchase future sales from you. Ratings mean the entire world on eBay a good rating means the better chance of a sale!

Don't get your hopes down if your jersey doesn't sell. It might mean that people can't afford it at the time or it's just not a good time to sell a jersey. Try selling a jersey right before a season or during the crucial point in the season when teams are via-ing for a chance to make it to the Superbowl, or if the team makes it during the Superbowl.

Also make sure to check out these helpful links:
http://ebay.com/selling

This will link you to your own selling page, give more information about selling on eBay, and the actual ability to list your jersey!

http://pages.ebay.com/sellerinformation

This is a link to gain more information about selling on eBay. It has lots of useful information that is much more detailed then what I could ever think to put in this guide.

http://pages.ebay.com/sellerinformation/tips-for-selling-online/effective-ebay-listings/product-photos/index.html

This link in particular really shows what I was trying to convey about using pictures and just how helpful they are in selling a jersey and tips on how to take good pictures of the jersey!
Have fun selling!!!

Just remember do you really want to sell this jersey and will you regret it in years to come? ;)