I was doing some research and noted my Schrade Tang Mark Chart from my Knife World June 2004 article on "Schrade 100 Years of Markings"was being used to try to decipher the new Taylor made Schrade's from old Schrades on a website. I reprint the Chart here with the caveat that Schrade Tang marks were pretty constant from 1904 until the early 1970's when they started to come in various designs and wordings over the next 34 years that made them hard to period date. I have had several people claim they would work on this and create a tang mark date code from 1970 on to 2004 but no one has to my knowledge. Another caveat is that Schrade knives made after 2004 have tang mark wordings that recently look closer and closer to the old Schrade's tang markings and a collector should be looking at the font and etch on the knife versus tang mark wording as well as the total knife makeup itself as one's best guide. Many old experts have always told me do not read the Tang Mark but read the knife.
Unfortunately this Chart is as big as I can post the picture in eBay's guides despite enlarging it to try to increase its size and eBay supplying no tool to increase its size. A better view of the chart can be found at the original discussion site: https://www.allaboutpocketknives.com/knife_forum/viewtopic.php?f=64&t=30441

The Chart does not include the SCHRADO over D.G.R.M. tang marked knife I have found which could have been: (a) part of 1904 order from Germany that was rumored to have been made to meet runaway sales demand of Schrade's switchblade or (b) a competitors ripoff knockoff or (c) Mark Erickson's suggestion that they were for export to Germany but American Made or (d) from when George Schrade went off and started a factory in Pre World War One Germany (my favorite theory) only to have said factory confiscated when World War One started. D.G.R.M. basically means PATENT PENDING in German.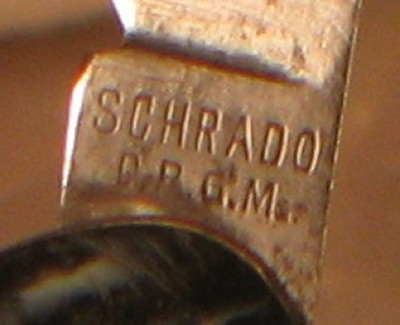 Schrado is a mystery knife much like that of the Edgemaster which I was told from the factory rep/ historian back in 2003 was never made by Schrade Cut Co although a prominent expert I know claims Edgemaster is Schrade. Colonial Knife also denies making Edgemaster. Of interest Colonial knife came out with a PRONTO switchblade which immediately resulted in a law suit by George Schrade as the name was to close in spelling to his PRESTO. Thus the short life span of Colonial's Pronto switchblade which after said law suit became SHUR-SNAP.
Happy Schrade Collecting!
B K Brooks
I decided to comment also on George Schrade's Knives and Tang marks not covered in my Schrade Cut Co Tang mark chart, noting the following examples, which may not be complete:
PRESTO over PAT. PEND-G on one side and G.SCHRADE over B'PORT,CT on the other. Please note there are two types on was early with a smaller stamp and the more common is a large stamp.
PRESTO over PAT. JAN 30-40 over MADE IN USA and GEO. SCHRADE over KNIFE CO. INC OVER B'P.T. CONN on the other
PRESTO over MADE IN USA and G.SCHRADE over BRIDGEPORT over CONN on the other
PRESTO over MADE IN USA and GEO.SCHRADE over BRIDGEPORT over CONN on the other
G.SCHRADE in an arch over B'PORT.CT and PATS over 11-9-37 over 10-10-44 on the other
G.SCHRADE in an arch over PAT OVER 11-9 37 and B'PORT, CT ON THE OTHER
G.SCHRADE in an arch over B'PORT.CT and PATS 11-9-27 over 10-10-44 on the other
G.SCHRADE in a straight line over KNIFE CO INC over B'PORT, CT USA and PATS 11-9-27 over 10-10-44 on the other
Geo Schrade in an arch over Pat over 9-21-28 over BRIDGEPORT over CONN (on a wirejack)
George Schrade was also a prolific Knife Maker who was involved in the invention and making of the Press Button Knife and the FLYLOCK KNIFE CO.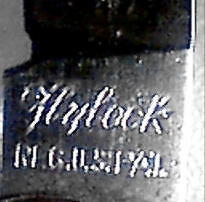 Some fun Schrade Stuff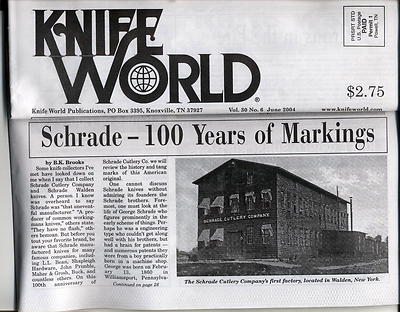 Schrade Cut Co Billing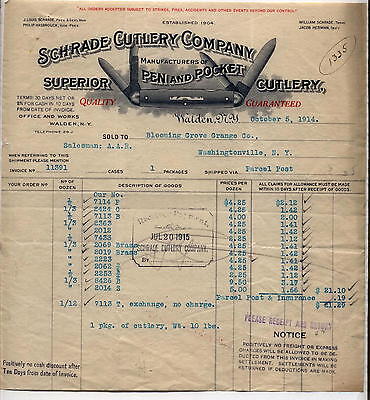 George Schrade Letterhead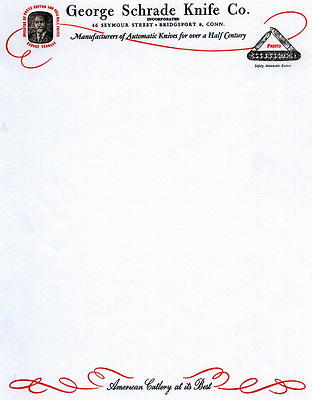 Famous Schrade Switchblade display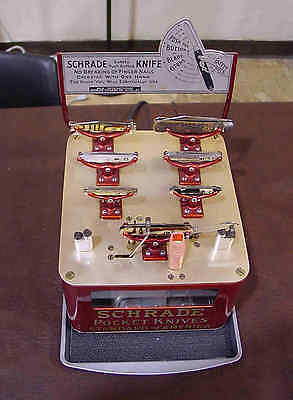 The old arch Tang below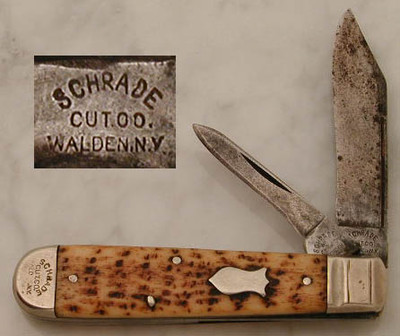 Early Large Switchblade of Schrade Cut Co. with only two Patent Dates- normally you see three dates