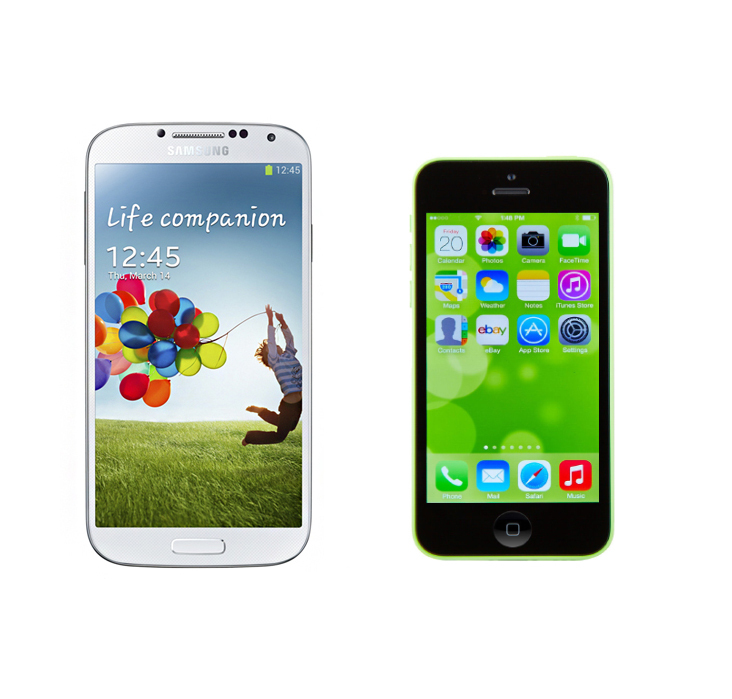 When it is time to choose a new smartphone, one of the biggest choices is Android vs. Apple. Consumers have a choice of several phones in the Android market, but Samsung's Galaxy S4, launched in 2013, is a top contender. One of Apple's seventh-generation smartphones, the iPhone 5C, also launched in 2013. Buyers should compare the specifications and features of these two smartphones and decide which features better suit their needs. Although the phones share similar physical traits, they differ in their cameras, storage capacities, and battery lifespans, among other key features. Both these phones can be found on eBay, where sellers offer a choice of colors, capacities, and carriers.
Samsung Galaxy S4
The Galaxy S4 is the fourth generation of Samsung's flagship phone line. Running Android 4.2.2, the phone lets users download applications from the Google Play store. As far as hardware goes, the phone as a 1.9 GHz quad-core processor and 2 GB of RAM for smooth performance. Beyond powerful specifications, the phone comes loaded with a solid camera and other features.
The S4's rear camera is set at a 13 MP resolution that records 1080p full HD videos. It features a variety of shooting modes to choose from along with a dual shot mode that can combine photos from the front and rear cameras. The front camera has a 2 MP resolution and records at 1080p HD. Beyond the camera, the Galaxy S4 comes with an IR blaster that allows the phone to work as a TV and set-top box remote. Features such as Group Play and ChatON let users connect their devices to other S4 phones to share files and even play music. AirGesture allows users to control the screen without touching it, and SmartPause freezes content when it senses no one is looking at the screen.
iPhone 5C
Apple's iPhone 5C runs iOS 7 natively, featuring a new and streamlined interface, and applications are downloaded via iTunes. In terms of specifications, the 5C features a 1.3 GHz dual-core processor and 1 GB of RAM, giving it comparable performance to its predecessor, the iPhone 5, rather than its sibling, the 5S. Feature-wise, the phone emphasizes simplicity rather than an extreme amount of features, though it does offer Siri, the voice-activated personal assistant.
In keeping with tradition, one of the most notable features of this iPhone is the camera. The rear-facing iSight camera features an 8 MP resolution and can record 1080p full HD videos. It comes with panorama and face detection features along with a new 3x zoom. The camera lens is also protected by a sapphire crystal, which is nearly as hard as diamond, and therefore difficult to scratch. With iOS 7, the iPhone 5C also gets an updated camera application that lets users apply all sorts of filters to photos. The front FaceTime camera has a 1.2 MP resolution and records 720p HD video. It comes with an improved backside illumination sensor and larger pixels for better image quality.
Comparison of the Samsung Galaxy S4 and the iPhone 5C
One notable similarity between the Galaxy S4 and the iPhone 5C is the casing. Both are made from polycarbonate plastic reinforced by a steel frame, though the S4 has a textured back while the 5C is smooth. Both also offer users an assortment of color options. The iPhone comes in white,blue,green,yellow, and pink colors, while the S4 comes in white,black,red,blue,pink,purple, and brown.
The Galaxy S4 has the larger screen of the two at 5 inches. It provides 1080p full HD resolution graphics with a pixel density of 441 ppi. By comparison, the 4-inch retina display on the iPhone 5C is capped at 1136x640 pixels, which is not an HD resolution, and a pixel density of 326 ppi. The iPhone 5C measures 4.9 inches tall by 2.33 inches wide by 0.35 inches deep, and it weighs 4.65 oz. The S4, by comparison, measures 5.4 inches tall by 2.8 inches wide. It is just 0.3 inches thick and weighs a fraction less than the 5C at 4.6 oz.
Both phones have 4G LTE support as well as Bluetooth 4.0 and 802.11 a/b/g/n dual-band Wi-Fi, which offers phone users a more reliable and faster Internet connection. The S4 also incorporates an NFC chip, a feature lacking in the 5C. The Galaxy S4 also offers a larger storage capacity. Users can choose from 16 GB,32 GB, and 64 GB models and even add up to 64 GB of storage via a microSD card . The 5C, by comparison, is only available in 16 GB and 32 GB varieties, and it lacks a microSD card slot.
Also worth noting on both phones is battery life. The 5C features a 1507 mAh battery, while the S4 has a much larger 2600 mAh device. As a result, there are some noticeable differences in battery life.
| | | |
| --- | --- | --- |
| | Galaxy S4 | iPhone 5C |
| | 17 hours | 10 hours |
| Standby Time | 370 hours | 250 hours |
| Audio Time | 62 hours | 40 hours |
| Wi-Fi Browsing Time | 10 hours | 10 hours |
The S4 offers one other benefit over the 5C. Its battery is user-replaceable, so phone owners can carry around a spare battery if needed. The 5C's battery is non-removable.
How to Buy
When buying a smartphone, whether the Samsung Galaxy S4 or the iPhone 5C, buyers must know the capacity and carrier they need. Apart from locked phones for Verizon, Sprint, AT&T, and T-Mobile, Samsung and Apple offer unlocked varieties of the Galaxy S4 and iPhone 5C. From there, shoppers can narrow down the choice by color. A simple keyword search on eBay will turn up the phones that users are looking for. As they browse, they can also look for accessories such as cases. However, when buying a phone, read an item listing carefully and check a seller's feedback history to see what other buyers have said about their experiences. By shopping smart and taking advantage of great offers on eBay, consumers can find the perfect iPhone 5C or Galaxy S4 at affordable prices.