Check out our wide range of colors and sizes!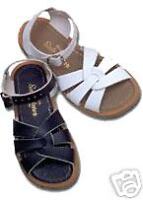 Saltwater Sandals are Americas favorite summer footwear!
Saltwater Sandals are available in lots of exciting colors & sizes for both children and adults. They have been around for over 60 years and this guide should help you with some tips on fitting.... and the care and feeding of these great sandals!
The company was started in 1940's in St. Louis. Using some leftover leather scraps from a military boot making factory, an enterprising shoemaker constructed a unique pair of sandals for his children. Leather was hard to get in WWII, as were any kind of childrens footwear. The shoemaker discovered that the waterproof leather and brass buckles that he used, lasted a long time in harsh conditions and people starting asking him to make shoes for their Kid's. The rest is history.... and now several generations of people have worn and enjoyed the durable comfort of Saltwater Sandals!
Things have come a long way in the last 60 years and Saltwater Sandals come in both childrens sizes and ladies adult sizes. The adult Sandals are marked in European and US sizes. The first number you will see, in the center of the shoe, is the European size. Don't worry...the US size is also stamped on the sole, near the heel, with a (W) beside it. Children's sizes are universal and no Euro conversion is needed. The Adults are available in Ladies full sizes.... from U.S. 5 thru U.S. 11.
Childrens sizes start at infants size 3 and go up to Childs size 13...then the scale rolls over to Childrens 1 and 2. After that, the next size would be a adult ladies size 5 ....and on up into the adult scale.
May people mistakenly think that the straps are too tight to begin with. Saltwater Sandals will conform to the foot as they are worn and there may be a brief break in period. It's a good idea to loosen the sandals up, before you wear them for the first time... and it's easy to do! Just place your thumbs inside the straps and pull out towards the sides. This will stretch the interlocking leather straps. Then.... hold the sandal in the palm of your hand and squeeze the sides together, to cup the inside of the sandal. This will also flex the straps and pre-stretch the sandals.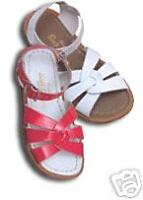 A good leather conditioner is always a help, especially if you plan to store the sandals thru the winter. Thank you GOTLEATHER