Sewing is more and more a Lost Art... start making Some Money with Your Talent !
Every household has something to be sewn but never find the time to do it. Moreover, with the multiple weight loss and gain people are facing these days, the need for clothing adjustments is increasing every day. And this is not going to stop soon, different work schedules, bad eating habits and the increasing gyms of all kind will put everyone in the need of adjusting their clothes.
You could be more qualified than you think ! If you have any sewing experience from high school, after making some basic skirts, drapes, Halloween costumes or any sewing projects around the house, it could be the time to put that sewing machine to good use and start making some extra money.
1. DECIDE at first what you would like to sew. General alteration sewing includes pants hemming, zipper installation, button sewing, etc. Patches and badges installation are also very popular. Curtains and drapes are more and more back to popularity altough you will need some basic knowledge (easily found on the internet). If your sewing machine is powerful enough, camping equipment is a huge market. Broken zippers on tents, sleeping bags as well as broken back packs of all kinds will bring business to you.
2. MAKE a detailed price list of what you will be sewing. Keep in mind every work done has to be priced. People are willing to pay for a service they don't have time to do. As an example, you can charge a basic fee of $3.00 on each garment to be repaired to cover your installation time, machine set up, thread, etc. then charge an estimated amount depending of the work to do. For example, many seamstress charge $18.00 to replace a 20 inches zipper on a coat. The customer has to bring the new zipper. In this example ($18.00), $3.00 are for the basic fee and $15.00 for one hour of work, consisting of removing the old zipper and installing the new one. Pants hemming for example are done for $13.00 ($3.00 basic fee) and each leg ($5.00 each). If you feel comfortable making drapes, you can make an estimate of the work before accepting any contract. Most seamstress works at an average of $15.00 per hour for long jobs. While shorter jobs needs some basic preparation also, many seamstress will charge a fixed price for specific jobs (button hand sewing: $1.00 per button, portion of a hem to be repaired: $3.00, patch installation: $8.00). All these small jobs together makes an average income of $30 per hour to most seamstress.
3. PROMOTE yourself. The first step is the business card. Go to your local printer, they usually have good deals for basic cards (black ink on white plain card). You don't need any expensive color and glazed cards which cost a fortune, a business card is a message to alert people you started something new in your area. NEVER make your own business cards on a home printer. Professionally printed business cards is the only way to impress your future customers. So many home based business failed without knowing what was going on... simply by printing their own cards at home. By doing so, when a potential customer look at the card, the feeling is simple, it was done by an amateur! Professionally printed business cards will always makes a great professional look and you never know where a business card ends... Very often, it can lead to big contracts. On the business card, you can print your full name or first name only, your address and phone number. Here is an example of a simple but winning business card: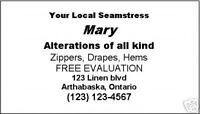 Now that your business cards are printed, separate them. One to two dozens in your wallet or purse, a few hundred in your car, and some close to your sewing room. Whenever you go, always tend a business card to the people you already know. Gas station, convenience stores, your local bank, hairstylist, etc. can make people very happy to have a new service in their area. When visiting fabric stores, you may ask the cashier to leave some cards (usually a 100 bundle) on the counter. Most of the time they will be pleased because many customers ask them if they know a seamstress. ALWAYS leave a few business cards with every jobs you've done.
4. MAKE RULES FOR EVERYONE. No garments held over 30 days, print a list of the jobs you don't want to do so nobody will take advantage of you. You may ask for a small deposit on bigger jobs. To avoid any fees at your bank, do not accept checks for any job under $50.00. For example, a seamstress was paid by check ($12.00) for a small job, deposit the check and discovered 10 days later the check was not good and the bank charged her a huge $30.00 NSF fee. Never promise a job on a tight schedule unless you are sure you can do it on time. If it's done earlier then the customer will be happy. At the inverse, if you promise something and you are late, you may lose this particular customer and many others.
5. YOUR LOCAL NEWSPAPER. Once your business gets off the ground, your local newspaper is all indicated. Place a small ad inside the newspaper AND in the classified ads. You will reach both group of readers. This will bring you more and more business on a long term basis. Many seamstress run these ads for 6 months and then had to stop. The mouth to ears word spreading brings them regular customers.
If you've enjoyed this guide your vote would be appreciated :-)
Good Luck and Happy Stitching !!
Andre (alcnational)