Hello,
I am writing about sore earlobes! I was a sufferer what about you?? I began my search years and years ago for jewelry I could wear without breaking out or getting sore ears, I was looking for earrings specifically. I wanted ones I could sleep in if I wanted to or wear for days if I wanted to, without getting sore ears or skin rash.
I finally found it!!!! I found Lady Jayne jewelry, I found her at at Trade Show in Tampa Florida 2 years ago. I bought bunches of her pieces, they were unique, they were interchangeable. The designer and mfg was a WOMAN and the jewelry was made in New York, USA! I loved it! I loved that the jewelry was made by a WOMAN and it was made in AMERICA! The selection of pieces I bought could be changed around different ways and it was as if I had bought twice as many earrings! The most fantastic thing was I could wear it as long as I wanted, for days and not break out or get sore earlobes. Lady Jayne jewelry is 100% Nickel Free = 100% Hypoallergenic. She also only uses and sells hoops with the safety release clasp to protect the wearer from torn earlobes if someone should pull on thier earrings (see pictures) How many women do you know with torn earlobes?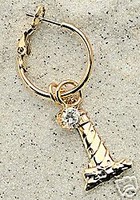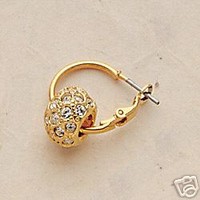 Since I found Lady Jayne jewelry I have watched for other collections or pieces at Retail and on eBay that was 100% Nickel Free, I didn't find any. I have decided that this is what I wanted to offer in my eBay Store Brens Mart USA Unique NEW and USED features Lady Jayne Charm Earrings. There are literially hundreds of unique individual pieces available to create hundreds of custom looks all your own. Here is a picture of a model with earrings using 5 different pieces to create this look: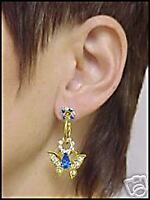 Jaynie Jackets, Hoops, Crystal LO, Crystal Butterfly and Medium Teardrops.

Now here is a brief note on how Lady Jayne got started from the founder and creator....

It all began with PAIN.....in the earlobes to be exact for me too!

I used to sing for a living and of course, part of entertaining is dressing for the part. After an evening of wearing earrings I would have sore ears for days! I didn't realize I was having a allergic reaction to the nickel.
One night during my break I was sitting with a jeweler friend and his wife and they told me I needed nickel free. From that day on I searched for nickel free, I soon discovered that jewelry companies could claim their product was nickel free if it contained less that 40% nickel. This meant that those earrings were still causing allergic reactions.
I continued my search for 100% nickel free jewelry, and I was having a very difficult time finding them. I would even take the earrings I had that I liked and try to put a plastic post on the back so I could wear them, that didn't work too well.
After years of research I came to realize there was a need for educating and servicing the public. No matter where I go, if I am talking to four girls at least one of them has the same problem. Wouldn't you think that the manufacturers would like to make us happy? Not if it is going to cost them another processing expense. So, sorry girls, most of the manufacturers are owned and run by men who don't have our problem!
So I decided to create my own, I decided to take a chance and research my new idea. After about eight months we began to make our first charms in the Spring of 1993. Lady Jayne is 100% Nickel Free, it contains absolutely no nickel what so ever and therefore is 100% Hypoallergenic. I also wanted to keep them affordably priced and have done so. Of course we girls still want some bling, so I chose to use Genuine Austrian Swarovski Crystals for good quality bling at affordable prices. Now you can have it all, earrings, hoops, charms, necklaces, bracelets, pins, all 100% Nickel Free, allergy free, PAIN FREE and affordable. On top of all that I give you a Life Time Replacement Warranty against any defects.
Thanks for your interest!
Nanci
Founder of Lady Jayne, Ltd.