The purpose of this short guide is to clear your doubts about SD, SDHC, micro SD and micro SDHC standards and compatibility issues.
First and foremost, electronic devices which accept SDHC memory card standard have a proper SDHC logo displayed or printed in the manual. These devices are backwards compatible with SD standard, what means that you can use both SD (up to 2GB) and SDHC (up to 32GB) memory cards.
Second, if your digital camera or other device uses SD memory cards (and in manual it is clearly stated that your device uses SD cards), it will not accept cards in SDHC standard.
Similarly, devices which accept mini SDHC will also accept mini SD and these which use micro SDHC will take micro SD cards as well. To make sure what is the primary standard of memory cards, which your device accepts, please refer to your instruction manual.
Third, there are three classes of the speed of SDHC cards: Class 2, Class 4, Class 6. Numbers represent average continuous writing speed in MB/s. Therefore SDHC Class 6 cards are the fastest, since they offer writing speed of 6 MB/s. Please be aware that there are many slower Class 2 and Class 4 cards on the market, so you should take it into consideration when making purchase.
The following pictures present recently released PQI SDHC and micro SDHC Class 6 memory cards.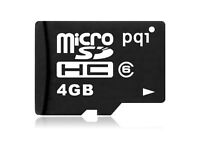 I believe the above information will help you to make a good decision when choosing a memory card for your electronic device.