It should be no surprise that after covering how to identify Farrar & Rinehart 1st printings in
my first 'publisher' guide
, the second publisher I will cover is Rinehart and Company. When John C. Farrar left in 1946, Farrar & Rinehart became Rinehart and Company. Like Farrar & Rinehart, determing first printings of Rinehart and Company publications is easy:
---
Identifying Rinehart First Printings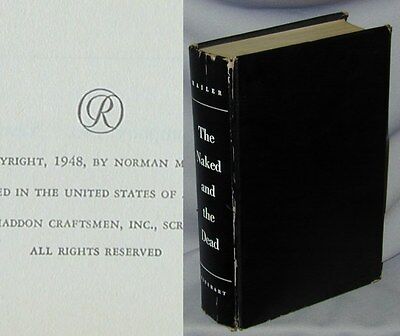 Turn to the copyright page (for Rinehart books, nearly always the verso (back side or reverse) of the title page. If you see a circled 'R' emblem (generally located just above the publisher's imprint/copyright information), then the book is a first printing. If there is no circled 'R,' then it is not a first.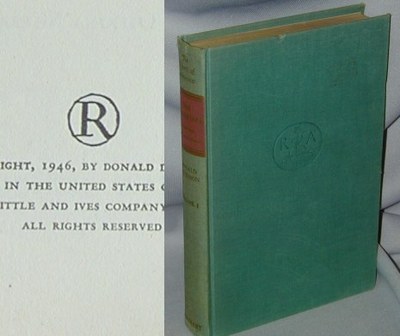 I've supplied images of two versions of the imprint, one with the 'R' 'blockier' than the other. The more curvy/cursive version seems far more common in my experience
Like Farrar & Rinehart, I know of no exceptions to this general rule for books published by Rinehart & Company. Both F&R and Rinehart are oddities in that they violate a rule I frequently quote when discussing book collecting in my shop or on line: "There are always exceptions" (derived from the more general rule: "Nobody's Perfect.") So I would not be surprised to discover a title or three that turn out to be exceptions. But the evidence would have to be pretty compelling. If you know of any, please contribute in the comments below.
---
Notable authors, titles and series published by Rinehart
Rinehart is best known for publishing early Norman Mailer (including his debut novel
The Naked and the Dead
), early Charles Schulz Peanuts titles, a couple of Langston Hughes titles, the 1958 reissue of
Islandia
, Mary Roberts Rinehart, early May Sarton and they continued publishing the Rivers Of America series that began in the Farrar & Rinehart days.
in 1960, Rinehart merged with Henry Holt and John C Winston to form Holt, Rinehart & Winston which marked the end of the use of the Publisher's Device to indicate first printings for this family of publishers.
---
One last example...