We who collect teapots are so sad to see a teapot without a lid I thought to start this guide with teapot lids only! Happily some of the complete pots are pictured lower in the guide.
From the upper left we have an oval lid from 1. Aladdin in Cobalt with Special Gold decoration. All gold decoration on Hall teapots is 22 karat gold.
2. Philadelphia 6 cup Hearth Scene decoration.
Regarding the Hearth scene:
Kitsch to many but endearing to me the Hearth scene includes a portrait painting of a man in a raccoon skin cap, a black cat resting by a rocking chair and an ancient rifle displayed on the wall all very Davey Crockett or Daniel Boone-ish. This particular pot dates from the 1960's. It has the pre 1970 Hall stamp. Many other pots like this are later as they display the square stamp. The Hearth scene is related in design to Sillhouette and to Minuet decals. Silhouette decal coffee pots were given away free mid century to coffee customers.
3. Daisy Gold Label French teapot 6 cup
4. Monterrey Green Gold Label Los Angeles 6 cup
5. At left, Standard Gold Black Aladdin with oval lid
6. French style Hall teapot in Warm Yellow for Lipton Tea Company (marked Lipton Tea on bottom)
7. Standard Gold Maroon Aladdin with round lid 6 cup standard body
8. NOT Hall! With tiny Gold flowers, Turquoise Blue (aqua) Standard Gold Drip-o-Lator Coffee Pot made by Pearl China Company for the Enterprise Aluminum Company. You will see the pot listed on eBay as Hall. The backstamp is different from Hall pots made by Hall for Enterprise. This backstamp includes one extra line of text: The Better Drip Coffee Maker. You will not see this statement on the bottom of coffeepots made by Hall.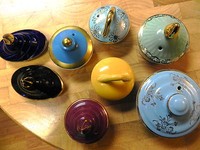 Below from the left
1. Emerald Green New York Standard Gold with Flowers 6 cup
2. Pink Gold Label Eva Zeisel Basket Philadelphia
3. Autumn Leaf for Jewel Tea Aladdin 7 cup wide body
4. Canary Yellow Standard Gold Aladdin 6 cup round lid
5. Maroon Gold Label Baltimore 6 cup
6. Turquoise Standard Gold Windshield 6-cup
7. Cadet Blue Gold Label Eva Zeisel Star decal Hook Cover 6 cup
8. 1920's Cobalt Standard Gold Philadelphia with Gold Loop pattern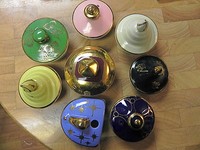 Below from the left:
1. French Flower decoration in Black with Standard Gold French 6 cup teapot
2. Cobalt with Rose decoration in Cobalt with Standard Gold decoration Airflow 6 cup
3. Autumn Leaf Standard Gold Nautilus 6 cup 1993 re-issue for China Specialties
4. Cobalt with Leaves Standard Gold Parade 6 cup teapot
5. Maroon Standard Gold Streamline 6 cup teapot
6. Cadet Blue Gold Label Hook Cover with Eva Zeisel Stars decoration
7. Plain Green Lustre Novelty Automobile re-issue #21/100 for China Specialties
8. Marine Blue Standard Gold Aladdin 6 cup teapot
9. Ivory Gold Label Windshield teapot with Dot decoration by Eva Zeisel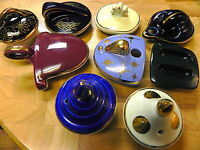 Below from upper left
1. Medallion Silhouette 8 cup teapot
2. Yellow Pearl China Company Coffee Pot Drip-o-Lator, 22k Gold mini-fleurette?
3. Ivory Pearl China Company Drip-o-Lator for The Enterprise Aluminum Company with small gold bouquets of flowers
4. Panel with potted Flower decal Drip-o-Lator for The Enterprise Aluminum Company
5. Waverly with Tulip decal Drip-o-Lator for The Enterprise Aluminum Company
6. Blue Turquoise Gold Label Kitchenare #3063 Drip Coffee Pot with Daisy decal (Terrace shape pot) 10 cup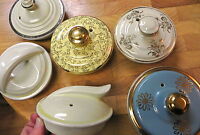 Below on the left is a Maroon Standard Gold Streamline 6 cup. Note the loop as finial atop the lid. The Streamline looks like a car!
Below on the right look to see a Hall teapot that is a car! Plain Green Lustre Novelty Automobile re-issue #21/100 for China Specialties ( I need to adjust the photo as I believe the car color is a bit more green)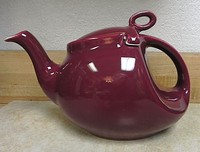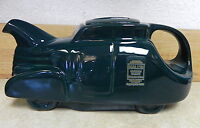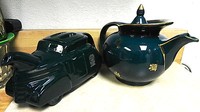 Above on the far right see the Windshield in Standard Gold Turquoise. Note the subtle color difference between the vintage Turquoise and the re-issue Automobile.
Below is a double spouted Tip Top 10 cup Hall Coffee Pot made for Forman Family. The big knobs on the front are also on the back-- all 4 knobs were used to help suspend the pot over a scaffold like contraption so as to hold a candle beneath that would keep the tea or coffee warm. In the middle is the stamp on the bottom of this same pot.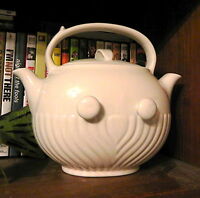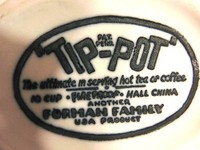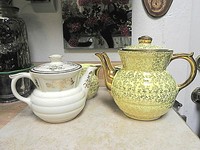 Above at the far right are 2 coffee pots both stamped Drip-O-Lator for The Enterprise Aluminum Company which made the giant aluminum contraption designed to fit between the lid and pot which allowed the coffee to brew by dripping through tiny holes in the aluminum. Both pots have the backstamp by Enterprise with the text added: The Better Drip Coffee Maker. These pots are not Hall. They are from the Pearl China Company. The yellow pot here on the right has tiny flowers that resemble mini-fleurette but the matching creamer and sugar bowl are both stamped Pearl China Company.
Thanks for reading! I will continue to update this guide regularly. I hope you read my other guide Collecting Hall Teapots :)