WHAT?
In recent years you may have seen or even purchased a 64-bit PC. They offer the immediate advantage of up to 32 GB of RAM. So, if the key benefit of a 64-bit PC is more memory, why do I need 8, 12, 16 or even 32 GB of RAM? 4GB of RAM was still 'a lot' until just a year or so ago. Most new PCs would come with 2, 3, or even 4 GB and that was 'OK' as Windows XP lasted longer that Microsoft, or most of us, expected. In fact 3 or 4 GB is/was 'just right' to get the best performance from Windows XP (32-bit)!
WHY?
The more things change...
In 1991 my new 386sx PC with 8 MB of memory almost seemed extreme, but I'm growing out of what techies call 'x86' or 32-bit computer architecture I need more memory. One way I know with certainty is that I use Norton SystemWorks (See our guides on it titled "80+ Copies of SystemWorks 2006-2009 and still buying..." and "Norton System Doctor, (w/SystemWorks) What, Why & How?") and it's WinDoctor tool to monitor 'Committed Memory' (e.g. use of the paging file). We routinely have that tool running in the 'red' (e.g. Indicator says there's not enough with 4GB of RAM and another 2 to 4 GB of paging area.) you can monitor the Windows Task Manger's 'Performance' tab to see the use of CPU, memory and the page file as well. For me, the result is some slowdown, the urge to terminate programs to relieve the situation, slower processing and eventually, in hours or sometimes days, the need to re-boot my system.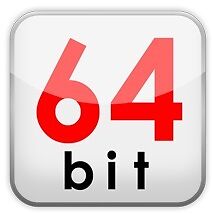 HOW?
For many folks the first BIG issue in breaking the 4 MB memory barrier is determining the availability of software.
It's hard just to commit to the process of...
Finding the needed software,
Downloading or even buying upgraded software titles,
Installing it all, and maybe even
Learning new software versions and features.
Then when you do commit, the hoped-for end result is to get you to about where you already were, but now with...
...more performance and stability (<--the real motivators!)
Choose Windows ?
So starting with software the logical course for most folks will be to use Windows 7 64-bit and we strongly recommend any business users be sure to get Windows 7 Professional 64-bit version. Our own analysis is that it's a good upgrade from Windows XP and significantly better than the bad impressions created by Windows Vista. (WARNING: Don't accidently get Windows 7 32-bit or your new PC that has 5+ GB of RAM. It will be be limited to finding and using only 4 GB.)
Compatible hardware and software
Building on a decision to use Windows 7 you may next want to spend some time at Microsoft's 'Windows 7 Compatibility Center' (www=Microsoft=com\windows\compatibility\windows-7, copy, past and replace '=' with "." as appropriate) where you can look for the hardware (e.g. printers, cameras, etc.) that you currently use as well as a large number of software titles. Be sure you are finding the 64-bit compatible check mark on any items you looking up.
Windows XP Mode
After assembling your software, or at least the minimum list you can live with, it's reasonably down-hill. Windows 7 has a feature that may help both your transition and your needs for old software called 'Windows XP mode'. If you've seen a TV with picture-in-picture capability you get the idea. XP Mode is Windows 7 software that launches a window which is a Windows XP 'virtual PC' on the desktop of your Windows 7 PC. It can be used to install any software that you need and that will not work directly in Windows 7.
As an example we use the an old version of ACT! 6.0 software that installs fine on a 32-bit PC with Win XP or Win 7. However, it won't even start the installation process on a Win 7 64-bit PC. But, inside Win 7's 64-bit 'XP Mode' it installed and is working just fine.
. . . . . . . . . . . . . . . .
If you found this guide interesting or useful would you vote [YES] below. We're trying
to build a reputation on eBay one-person-at-a-time, and we'd like your help to do it! THANK YOU!