Rayovac IC-3 15 minute Rechargable Battery System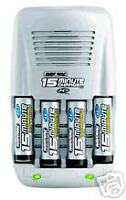 This little item is a gem for the mobile digital enthusiast. The four-position charger will charge AA or AAA Rayovac I-C3 NiMH batteries in as little as 15 minutes. Each battery can be charged up to or more than 1000 times.
The batteries last about 4 times more than a standard non-rechargeable battery, though under use in testing it was concluded that these batteries can last far longer. In these tests, various batteries were used in multiple devices.
One example is a digital camera. One camera that was used was a 1.3mp HP Photosmart camera. The challengers in this test were the Energizer E2, Duracell M2, EverReady rechargeable, and the IC-3 system. The E2 and M2 batteries allowed the user to take and preview about 30 pictures at top resolution. The EverReady rechargeable batteries lasted about 180 pictures. The IC-3 batteries lasted for over 180, which is where the test was ended.
The common batteries used are the AA version. The common rating for these batteries is AA 2000mAh. These batteries never required more than 15 minutes to recharge and when completely dead, recharged in almost exactly 15 minutes. This was done with a timed test after the batteries were drained of their capacity. 2300mAh AA batteries are also available.
This charge is not just for the IC-3 batteries but can also be used for other rechargeable batteries from ones that take a couple hours to the overnight rechargeable batteries. This has not been tested and nothing more can be said about this topic point.
When using this product make sure that you do not touch the batteries or the fan section of the charge. They do not seem hot enough to burn you, but it is still a saftey issue to look out for. The system will automatically shut off and turn the lights out when the batteries are recharged. When in use also make sure that the top of the charger is in an open area. It contains a cooling fan that needs the space to cool down the charging unit.
The cost of the charger system (which usually comes with 2 AA batteries) is between 20 and 30$. A pack of AA batteries cost between 9 and 15$ from place to place.
Overall the total satisfaction of this system has been the best I have used in years. I have used many different brands and systems but this surpasses them all.