It took quite a while and a lot of thought to write this guide. If it is helpful, PLEASE take a second to rate it (in the blue box below) and let me know!! Thanks! :0)
As a seller of Kirby vacuum parts and supplies, I know a lot about common repairs and have much experience. If you have any questions or need a part, PLEASE ASK! There are NOT enough FREE help forums on the net for this subject! With this instruction guide, I will hopefully enable you to do your own Kirby repair and I hope to save you LOTS OF MONEY!! (please keep me in mind for parts and supplies for your Kirby)
COME VISIT MY STORE (click on link) FOR NEAR WHOLESALE KIRBY VACUUM PARTS, BAGS, SHAMPOO, HOSES, ATTACHMENTS, STAIN REMOVERS AND SUPPLIES!! Use the searchbar on the left of the store homepage to narrow your product search.
This is a common repair that I have many inquiries about. I will do the best I can to make this repair easier for you. HOPE THIS HELPS!!
*******************************************************
FIRST, ORDER YOUR NEW PEDAL (if you need one) BY CLICKING HERE... KIRBY N/D PEDAL
If the pictures aain this guide don't all load, try hitting the refresh button.
To reassemble or replace the neutral/drive transmission pedal and cam bracket assembly....
1) First, depress the "D" side of the lever like this...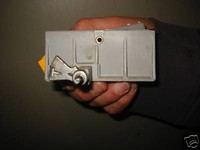 2) Hold the cam bracket assembly like this...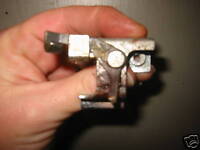 3) Hold it just like this and put the two parts together...theres a little metal peg for the hole in the bracket and a little notch up below my index finger (in the pic) that the assembly rests in.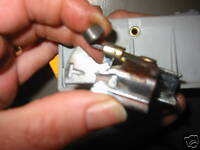 4) And it should look like this...(note the metal peg through the hole in bracket)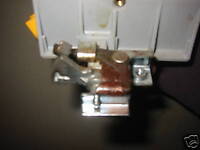 5) Now, hold all that in place and put this little peg...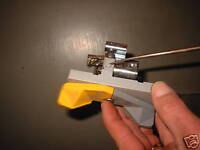 6) In this little hole...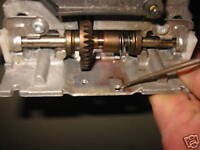 7) Like this... (note position of pedal)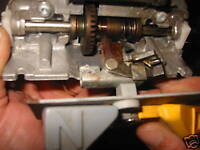 8) And it should look like this...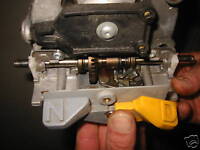 9) Now, hold it all together and replace the screw.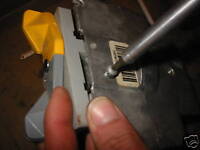 I hope this guide has helped you solve your problem and....
PLEASE DON'T FORGET TO CLICK "YES" BELOW IF I'VE BEEN A HELP TO YOU!! :0) THANKS!!