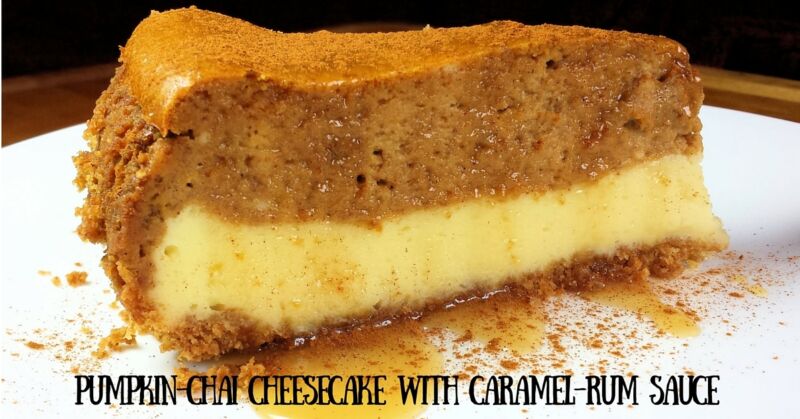 For the love of cheesecake...
Anyone who knows me knows that cheesecake is one of my favorite desserts and since that's the case, a few years ago I purchased a
cookbook
with nothing but cheesecake recipes in it. I thought that overtime, I would like to try to make most of the 200+ recipes. I started baking these wonderful tasty recipes for every possible event I could think of. Everyone seemed to be just as excited as I was to try the different flavors of cheesecake! Over the course of an entire year I made approximately 25 - 30 cheesecakes. I really did have fun but I have to admit, it was hard on the ole' waistline. Yikes! Since then, I have slowed down my experimenting just a little but I am still on a mission to try all of those recipes before I die! Ha!
Today, I would like to share with you just one of my all-time favorite cheesecake recipes. This Pumpkin-Chai Cheesecake with Caramel-Rum Sauce is just perfect for fall, although I serve it all year round.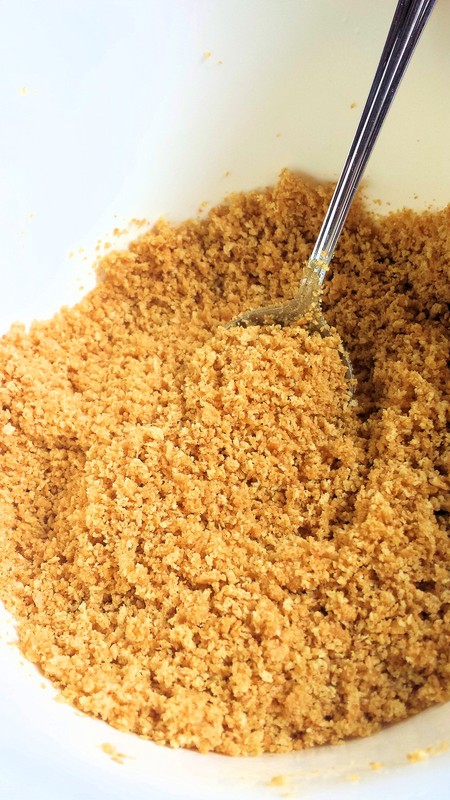 Gather Your Supplies:
As with any recipe, start by gathering your supplies. You will need several
mixing bowls
, a 9 inch springform pan, a
mixer
, a small
sauce pan
, and a
silicone spatula
to start with.
For the CRUST:
2 cups crushed cinnamon graham crackers
**Gluten free option - use gluten free graham crackers
1/4 cup butter or margarine, melted
For the FILLING:
4 packages (8 ounce each) cream cheese, softened
1 1/2 cups granulated sugar
4 eggs
1 cup canned plain pumpkin (not pumpkin pie mix)
2 teaspoons pumpkin pie spice
3/4 teaspoon ground cardamom
For the SAUCE:
1/3 cup packed brown sugar
1/3 cup light or dark corn syrup
2 tablespoons butter
1/3 cup whipping cream
1 tablespoon spiced rum OR 1/4 teaspoon rum extract
**Gluten free option use gluten free Rum or rum extract
GARNISH:
Dollop of whipped cream and/or dusting of ground cinnamon.

CRUST
Heat oven to 300 degrees F.
Spray 9-inch
springform pan
with cooking spray. In a
mixing bowl
, mix crushed graham crackers and butter together. Press mixture in bottom and 1 inch up the side of pan. Bake 8 - 10 minutes or until set. Cool 5 minutes.
*To minimize cracking, place a shallow
baking dish
half full of hot water on lower oven rack.

FIRST CHEESECAKE LAYER
In a large
mixing bowl
, beat cream cheese and sugar together until light and fluffy. Beat in eggs, one at a time, just until blended. Spoon 3 cups of the mixture onto crust; spread evenly.

PUMPKIN CHEESECAKE LAYER
To remaining cream cheese mixture, add pumpkin, pumpkin pie spice and cardamom; mix until smooth. Spoon over mixture in pan. Gently smooth top of cream cheese mixture with spatula.

BAKE
Bake at 350 degrees F for approximately 1 hour 20 minutes, or until edge of cheesecake is set at least 2 inches from edge of pan and center of cheesecake still jiggles slightly when moved.
Run small metal
spatula
around edge of pan to loosen cheesecake.
Turn off oven; open oven door at least 4 inches. Let cheesecake remain in oven 30 minutes. Cool in pan on
cooling rack
30 minutes. Carefully loosen, and remove the sides of the springform pan. Cover loosely; refrigerate at least 6 hours.

SAUCE
In small
saucepan
on medium-low heat, combine brown sugar, corn syrup and 2 tablespoons butter; stirring constantly.
Bring mixture to a rolling boil for 5 minutes, stirring occasionally.
Stir in whipped cream; heat to boiling.
Remove from heat; stir in rum.
Cool until warm.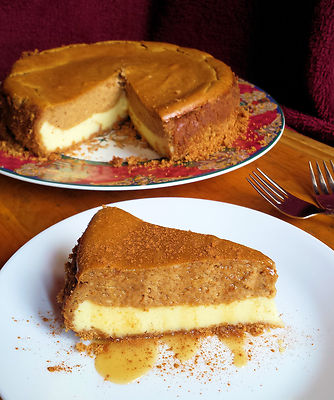 SERVE
Cut into individual serving slices.
For great presentation, serve slices on cute
dessert plates
.
Top slices with a drizzle of warm sauce, a dollop of whipped cream and/or a sprinkle of ground cinnamon. Cover and refrigerate any remaining cheesecake.
A Great Dessert
This Pumpkin-Chai Cheesecake with Caramel-Rum Sauce is a perfect dessert to serve at your Thanksgiving meal; or at any holiday or family gathering. Your guest will enjoy the wonderful flavors of cream cheese + pumpkin + Chai + caramel + spiced rum! What's not to love?

I hope that you and your loved ones enjoy this recipe as much as my family and I do.
Happy Baking!
Linda
Nutritional Facts:
PER SERVING: Calories 440; Total Fat 28g; Sodium 300mg; Dietary Fiber 1g
EXCHANGES: 2 Other Carbohydrate, 1 Milk, 4 Fat
CARBOHYDRATE CHOICES: 3
*This recipe is originally from
Pillsbury
.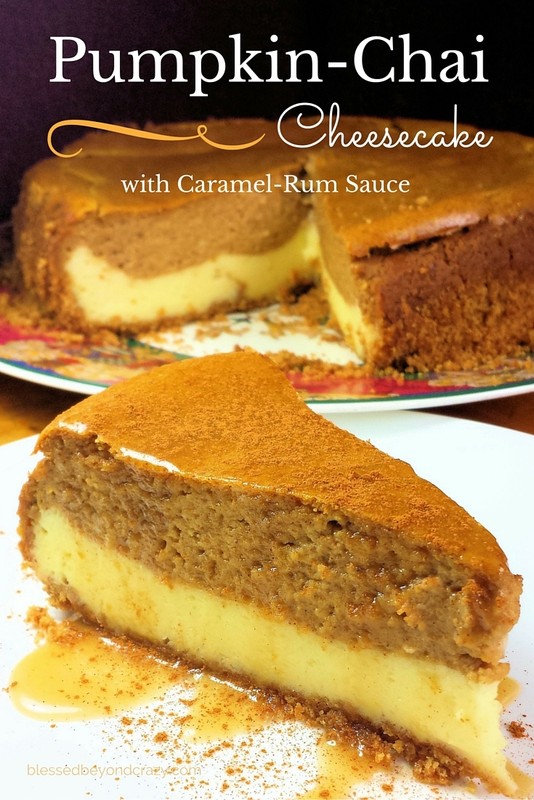 Add a caption
Click to see more ideas and tools for making cheesecakes.
Be sure to check out Blessed Beyond Crazy on Pinterest, Twitter #blessedcrazy, Instagram #blessedbeyondcrazy, and Google+.