Last updated - May/18/2009
One of the best deals going on shipping, for many items, is the US Post Office (USPS) FLAT RATE packages. Priority mail claims 2 days shipping to most US addresses (and this is true), but taking into account any time cut offs, 3 days all together is about guaranteed in any case.

There are 5 sizes of packaging to choose from with Flat Rate Shipping.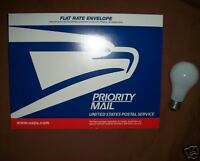 The light bulb is for size comparison.
1st is the FLAT RATE ENVELOPE (pictured above) which costs $ 4.95 to ship anywhere in the USA.
This is a very sturdy 12 1/2" x 9 1/2" envelope with no weight limit. The main stipulation is that you can secure the flap as it is (without modifying the package).
2nd is a small FLAT RATE

BOX

(not pictured) which also costs

$ 4.95

to ship anywhere in the USA. (HI and AK included)
This box measures
8 5/8" x 5 3/8" x
1 5/8"
and is similar in size to the old style VHS cassette movie tapes.
________________________________________________________________
3rd is a FLAT RATE BOX

- FRB2 -

(pictured above) which costs $ 10.35 to ship anywhere in the US (domestic).
This is a box with an inside diameter of about 13 5/8" x 11 7/8" x 3 3/8", which is similar to a size that would fit a dress shirt, and as all of these Flat Rate packages, has a 70 # weight limit.
______________________________________________________________________
4th is another FLAT RATE BOX

- FRB1 -

(above) which also costs $ 10.35 to ship in the USA (aka Domestic addresses which include Alaska and Hawaii).
This box has an I.D. of 11" x 8 1/2" x 5 1/2", and would be similar to a size that would accommodate a stack of standard 6 red building bricks. Again, 70 # weight limit.
_______________________________________________________________
5th, and lastly, is a newer, and larger FLAT RATE BOX, 12 1/4" x 12 1/4" x 6" (not pictured here yet) package that runs $13.95 to ship in the USA (Domestic addresses), or

$ 11.95

to APO/ FPO destinations.
This box is an 1 1/4" longer and 3 3/4" inches higher than the box pictured above, and again has a 70 pound weight limit.
________________________________________________________________
<<<<<<<<<<<<<<<<<<<<---------->>>>>>>>>>>>>>>>>>>>>>>>>>>>>>>>
The boxes are free, and will be delivered to your front door in a week or so, by placing your order at the USPS web site (your local Post Office should also carry them, but it may be necessary to ask, as they may be behind the counter). Later, free pick up of the items you have packaged can also be scheduled with the US Postal Service. More info can be found at "usps.com".
There are many other Priority mail packages & supplies to choose from on the USPS website, and all except those with postage already attached should be free. The Flat Rate boxes are Priority Mail items, and they can be found through a link, by searching Supplies here --> USPS.com
eBay & USPS also offer some of the Priority mail boxes branded with the eBay logo in a few of the common sizes. They may be found here --> ebaysupplies.usps.com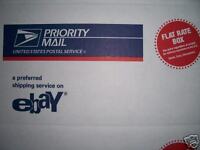 Also, with regards to eBay, if you use the option to "Print Shipping Label" in "My eBay"" after a buyer has won, and paid for the item, there is now an option for you to print the US Postal Priority Flat rate Envelope or Box shipping label right on your own printer, by paying for it through PayPal.
The US Postal Service web site also allows you to print Postage labels directly to your printer. This is useful for those not involved with eBay, or for those wishing to print their postage for other needs. Also, when printing postage at the USPS web site you may use your debit or credit card(s) to set up, and pay for, that shipping process. There is also an online address book you can work with.
It is very easy and straight forward after you try it a few times.
Also, by using Priority mail, your customer, or recipient gets the items quickly. Secondly, if you ship with one of the many USPS Priority mail boxes, that are free of charge (as opposed to the average single box price of between $1.50 to 4.50) you offset your shipping fees, by adding speed and reliability to the shipment.
By printing your label online you will also automatically be able to look up any delivery confirmations, and by adding either a signature confirmation, or the reasonably priced insurance, to the shipment you should have all the protection you need should something happen along the way. The tracking information, for your shipments is also available to you, or the recipient, online, at the USPS web site.
* Please note though, that the USPS online tracking runs a few days behind what you might be used to with some of the other online services. So, do not panic, as it will always shows up, just not as quick as you would wish.
Let it also be noted that Priority mail travels by air, which is very gentle on the shipment. With reasonable care taken in your packaging it is very likely you will never see any damage claims. We have yet to have a damaged Priority mail shipment. Also remember though, that when shipping by other Postal methods such as Media Mail, or Parcel Post, for example, that your shipment may be subjected to bouncing around in the back of a semi trailer for a few days.
This article mainly refers to articles shipped inside the US and APO/ FPO destinations, but Priority mail is available for shipments leaving the USA.
* The envelopes are $9.95 to Canada and Mexico, and $11.95 to all other countries.
* The smaller boxes are $25.95 to Canada and Mexico, and $41.95 to all other countries (up to 20 pounds).
* The largest box described above runs $32.95 to Canada and Mexico and $53.95 to other countries.
Lastly, the boxes and envelopes, as pictured here, are being redesigned with a different design and colors, by USPS, at this time.
--> www.usps.com/shipping/flatrate.htm <-- for official info.
Thank you for the interest, and hopefully this will help out a bit.
Hornwaddler aka Paul Malessa