This is the third and final portion of the guide to the sets and series of postcards issued by the Boy Scouts of America from 1910 to 1970. It covers cards published from 1960 to 1968.
For additional information about Boy Scout Postcards in the United States see:
Collecting Boy Scot Postcards From The United States
(- -) Curt-Teich Souvenirs for the 1960 Jamboree.
(12 cards)
This time Curt-Teich repackaged standard Air Force Academy postcards from Colorado Springs, and also Garden of the Gods Postcards from Colorado Springs, Colorado as Jamboree souvenirs. Each set contains six cards. The individual postcards have nothing to do with the Boy Scouts or the Jamboree. The wrappers in which they came are Boy Scout Jamboree collectible items.


(11) Scouts of the World - Boxed set of 1964.
(68 cards)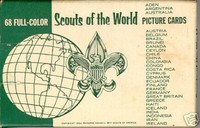 In conjunction with the National Jamboree held in Valley Forge, Pennsylvania, the BSA published a boxed set of sixty-eight chrome postcards. Each card depicts a Boy Scout from a different country or territory dressed in his official Scout uniform. All of the cards are in vertical (portrait) format.
The postcards were printed for the Boy Scouts by Dexter Press. The spine on the back of the cards carries the BSA logo and copyright notice with the 1964 date. The company name does not appear on the cards, but its numbering scheme is evident.
Although many dealers have broken up sets to sell the cards individually, neither the individual cards nor the complete boxes are very difficult to find.
Search eBay for Scouts of the World
(12) New York World's Fair of 1964/65.
(6 cards)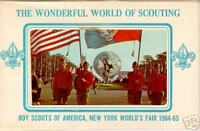 Continuing its relationship with the BSA, Dexter printed this attractive set of six postcards depicting the
Wonderful World of Scouting
exhibit as well as the activities of the Boy Scout Service Corps at the World's Fair. The cards were sold in packets similar to the one shown above.
(13) Scouts of the World - Boxed set of 1968.
(111 cards)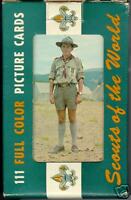 At least partially due to the popularity of the previous boxed set, the BSA updated the series in 1968. By including more countries that had Scouting programs, they were able to expand the new set to 111 cards in the same vertical format. Since the cards from both series look similar from the front, it is necessary to carefully examine the back for the copyright date when examining individual cards. The boxes themselves are totally different.

Go to part 1.
Go to part 2.
Stan Lipson