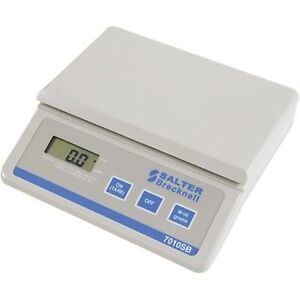 Postage scales can help increase mailing efficiency by reducing overpayment on outgoing mail, saving the typical business 10% to 15% on postage. For processing large volumes of mail, the easiest option is to buy a scale that can efficiently integrate with the rest of an existing postage system, including the postage meter, feeder, and sealer. Smaller companies can also benefit from affordable stand-alone scales that do not connect to a larger internal postage system. When looking for a postage scale that will be used by multiple people in an office, it's a good idea to consult with all the staff members who will use the postage scale regularly. This way, everyone gets a chance to evaluate possible features. Those who will be using the postage scale will have the best understanding of which features to look for when selecting a model.

Manual vs. Digital Postage Scales
Postage scales are available in both manual and electronic formats. The most crucial factor when deciding on a postage scale is whether or not it will meet the needs of the user. For a busy mail room that regularly ships a high volume of heavy packages, a high-end electronic scale is worth the investment. If the purpose of the postage scale is simply to save an occasional trip to the post office, a basic manual scale will get the job done. Knowing the differences between manual and digital postage scales can make it easier to make an informed decision.
An Overview of Manual Postage Scales
Manual postage scales, also called mechanical or analog postage scales, use a balance or a spring to weigh envelopes. Manual postage scales simply give the weight of your item. To determine the postage rate, it's necessary to reference a table of current postage prices. Manual postage scales can be accurate, but require users to read the weight from a mechanical needle, which increases the likelihood of human error. Over time, the inner workings or overall structure of manual postage scales can become damaged and render the scale inaccurate. There are small handheld varieties of manual postage scales available which are especially prone to breaking or bending. The larger models that look similar to a triple-beam balance are much sturdier. Manual postage scales typically cost substantially less than electronic postage scales.
Vintage Mechanical Postal Scales
For buyers interested in a piece of history that may still serve as a functional tool, vintage manual postal scales are available in several styles and sizes. At times, these older models can still be found in working condition, though scales that were imprinted with postal rates at the time they were manufactured will no longer be accurate. Many vintage manual postage scales have a fairly high weight capacity, since at one time, all packages were weighed on manual scales. After electronic scales were developed, the popularity of high-capacity manual scales diminished because they lack the same precision of digital postage scales and were often much larger in size.
An Overview of Digital Postage Scales
Digital postage scales, also called electronic postage scales, use a pressure-sensing microprocessor to provide a clear, unambiguous digital readout. Many digital postage scales are programmed with rate information, so they can display the exact price of postage, but they must be adjusted each time the postal rates change. Digital postage scales typically cost more than manual postage scales. Electronic models that can compare prices for multiple carriers, handle heavier weights, and can download rate updates typically cost more than simpler models with fewer features.
Postage Meters With Built-in Digital Postage Scales
For the best of both worlds, there are all-in-one units available that bundle a scale and a meter together for greater functionality. These postage scales can quickly weigh a package or envelope, assign a postage grade and rate, and print out the results. Depending on the model, it can be possible to print the postage directly onto the mailing envelope, or onto a piece of adhesive paper for a quick stick to any package. These units are handy for buyers that don't already have a postage meter but are looking to print their own postage. For a larger business that requires a top-of-the-line mail system, manufacturers offer a wide variety of mail management systems that house complex internal computers. For situations that only require the ability to weigh packages, it would not be advisable to spend the extra dollars on the bundle if its full capacity would not be put to use.
Benefits and Drawbacks of Manual and Digital Postage Scales at a Glance
| | | |
| --- | --- | --- |
| Price | Tends to be inexpensive, even for vintage models | Varies greatly, more features means higher price |
| Ease of Use | Fewer controls to understand before use | Features can be complex but helpful |
| Compatibility | Not compatible with electronic postage meters | May be compatible with existing postage meters |
| Available Features | Few features available | Many features available |

Features to Consider on a Digital Postage Scale
When evaluating postage scales, consider overall ease of use as well as specific features. Manual scales tend to have limited capabilities, while digital postage scales are more suitable for a professional setting or continual home use. Every business has different needs and not every office has the same existing equipment, so there are a wide range of digital postage scales available with many features from which to choose. Before beginning a search for digital postage scales, the buyer should get to know the features available on various models.
Ease of Use
Since many different people will share the scale if it will be used for business mailings, a postage scale should be as easy as possible to operate. A scale that is intuitive to use can be quickly incorporated into the daily workflow. Scales that have an easy-to-read keypad with large buttons and a display with clear prompts for operation are easier to manipulate accurately. Some digital postal scales are designed with a remote display connected to the base by a cord. This way, the individual reading the weight information can stand away from the weighing platform if the environment or package size requires it.
Weight Capacity and Units of Measurement
The size of the weighing platform and the maximum weight capacity are two important features to consider when buying a postage scale. Almost all postage scales can handle small documents weighing less than 2 lbs. If the scale will be used to weigh a more diverse mix of outgoing documents, a model that handles over-sized packages and heavier weights is a better option. An automatic lock feature that stores the weight reading can be useful for large packages that block the display from view. For occasional shipments that exceed the capacity of the scale, there are models that can calculate the postal rate based on a manually entered weight.
Ability to Compare Current Postage Rates
One of the most useful features to look for in a postage scale is a comparison shopping option. This enables the user to determine the most economical rate among the different classes of mail, and will usually include First Class and Standard Class rates from the U.S. Postal Service. Some postage scales also include pricing for alternative package carriers such as DHL, FedEx, and UPS. Some postage scales will even include the cost of postal services such as certified or registered mail. Older scales required a chip (or chips) to be replaced every time postal rates changed, which was a pricey and potentially frustrating task. Now, some digital postage scales can download updated postal rate information from the Internet.
Compatibility With Other Devices
To further reduce the likelihood of error, many digital postage scales can be connected directly to a postage meter to automatically set the meter to the appropriate amount. Each postage meter manufacturer offers scales designed to work with its mid-range and high-end postage meters. There are also third-party scales available, but they often require special connectors. If the scale will be connected to an existing postage meter, an interface may need to be purchased as well. A postage meter interface typically adds a few hundred dollars to the price.
Accounting and Security Features
Postage scales with accounting features allow postage and other handling to be charged to any number of clients or departments. In many cases, it is less expensive to obtain management reports from the postage scale than from a postage meter. If there is concern about unauthorized use of a postage system, there are scales available that can be locked with a password.

Finding the Perfect Postage Scale
For all but the most casual user, a digital postage scale will be the preferred type of scale. There are numerous places to buy an electronic postal scale. If a professional quality scale is needed, it can be purchased directly from the manufacturer, but in this case, they often come as part of an integrated postage scale and meter package. If you don't need to connect your postage scale to a postage meter, you can buy postage scales from any manufacturer. Simple postal scales for home use can be purchased at many retailers, while professional models are easier to find at electronics and office supply stores. There are also online retailers to consider, as well as online auctions sites like eBay. Shopping for postage scales online gives the consumer a chance to thoroughly review the product and its features before making a purchase, which can lead to a more satisfying experience overall.

Locating and Buying Postage Scales on eBay
Once you know what type of postage scale you want, go to the Business & Industrial category portal and select the Shipping & Packing Supplies option from the list. Then choose Shipping & Postal Scales from within that category. The available postage scales can then be narrowed down by capacity.
Use the search tool to look for eBay listings containing specific keywords. For example, if you want to find a digital scale that can calculate UPS rates, type "digital postage scale ups" (without quotation marks) into the Search box. Search titles and descriptions to expand your results. Visit eBay's Search Tips page for more tips on searching with keywords.
If you can't find exactly what you want, try shopping the eBay Stores, tell the eBay Community what you want by creating a post on Want It Now, or save a search on my eBay to receive an email when a match becomes available.
Buy Postage Scales on eBay with Confidence
Hundreds of postage scales listed on eBay in the Business & Industrial category will likely interest you. When trying to select the right postage scale, get to know exactly what you're buying, research the seller, and understand how eBay and PayPal protect you.
Research Items Before Making a Purchase
Many sellers put a lot of time into creating their listings, making an effort to ensure they include all the information buyers need. It's important to carefully read the details in each listing to be sure the postage scale you select meets your specific needs. Before placing a bid or buying an item make sure that all your questions have been answered sufficiently. If you still have questions after reading the listing and reviewing the photos, contact the seller directly or use the "Ask a question" link at the bottom of every postage scale listing. Request additional photos if you want to see the scale from a particular angle that isn't shown in the photos included in the listing. If you have more questions than you can address in email, some sellers even include their phone number so you can call them directly. Remember to calculate and include delivery costs into your final price.
Research the Seller
Getting to know the seller is just as important as researching the postage scales. Take time to research the seller so that you can feel positive and secure about the transaction. Look for a high number of positive feedback ratings and successful transactions. Read reviews from previous buyers to get a better understanding of the seller's approach. Find out how long the seller has been a registered eBay user and look at the types of items he or she typically offers. Be sure to fully understand and agree to the terms and conditions of the sale before you make a purchase. Communication is the key to a satisfying and successful experience.
Buyer Protection Programs
Always complete your transaction on eBay (with a bid, Buy It Now, or Best Offer). Transactions conducted outside eBay are not covered by eBay and PayPal protection programs. Never pay for your eBay items using instant cash wire transfer services such as Western Union or MoneyGram. These payment methods are unsafe when paying someone you do not know. Instead, pay with PayPal for amounts less than $2,000 (including deposits), a money order, or a direct bank-to-bank fund transfer. In the unlikely event that you don't receive your item or it is not as described, eBay Buyer Protection may cover your purchase price plus original shipping.

Conclusion
An accurate postage scale is a necessity for any business of any size, as it pays for itself with reduced postage costs. Extremely small-scale operations may do well with a simple manual postage scale, while most large businesses will find investing in a high-end digital postage scale is the best course of action for handling complex postage needs. Digital postage scales come with a wide variety of features, so understanding the benefits of each feature is fundamental to picking the proper scale. Buyers looking to incorporate a postage scale into their existing system are advised to carefully investigate the specifications for compatibility before making a purchase. When comparison shopping for postage scales, Internet auction sites like eBay offer a wide range of choices and are a great alternative to the limited options found in most office supply chains and electronics stores.